Kwaati is hearty, nutritious and colorful sprout beans soup prepared from supposedly nine different types of legumes. Newa community prepare this delicacy during Kwaati Punhi or Gunhu Punhi. The same day is the Hindu festival Janai Purnima.
Here is a simple easy Kwaati recipe with ghee and ajwain tempering. Ajwain, which is called Jwano in Nepali, gives special pungent aromatic flavor to the dish and adds nutrition.
More Info of Kwaati and Other Kwaati Soup Recipe
Mutton and Kwaati Soup Recipe
Ingredients
2 cups of sprouted kwaati beans
(For this, soak the kwaati beans overnight, drain them, and wrap them in muslin cloth for around 2 days for sprouting)
1 half thumb size Ginger
2-3 Garlic Cloves
1-2 Dry Chilies
2-3 Bay leaves (Tejpatta)
1 tsp Ajwain (Jwano)
½ tsp Fenugreek seeds
1 tsp Cumin and Coriander powder mix
½ tsp Turmeric powder
1 tbs Vegetable Oil
1 tbs Ghee
Salt
Method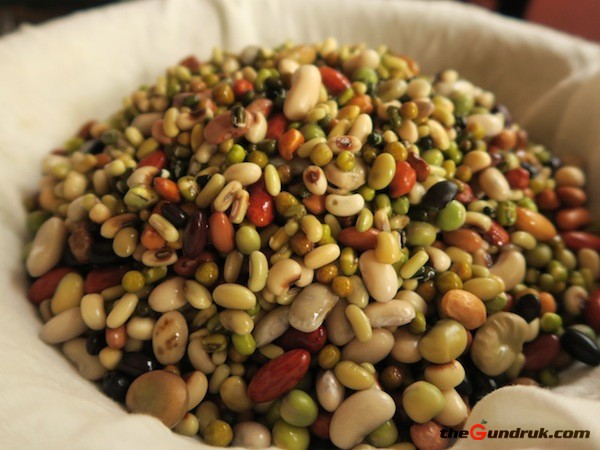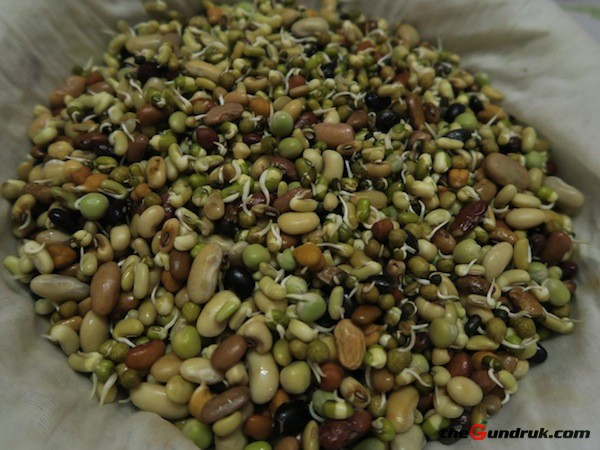 Add two cups of Kwaati beans, two cups of water, smashed ginger, smashed garlic, bay leaves, salt, and vegetable oil in a pressure cooker. Put the lid on and boil them on low heat for around 4-5 whistles (or around 15-20 mins).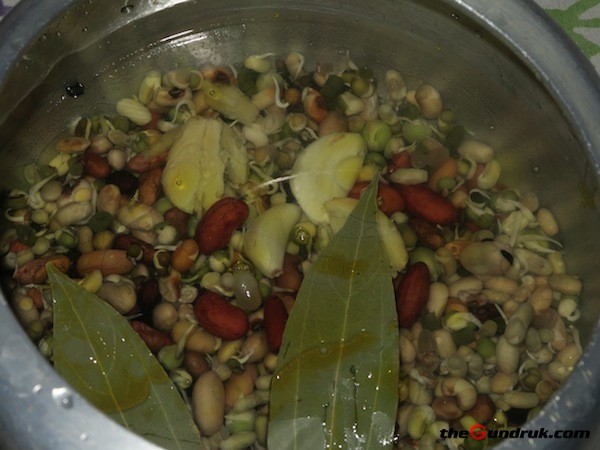 Leave the pressure cooker to cool, take off the lid and remove smashed ginger, garlic and bay leaves as their job is done.
Add a cup of hot water or more depending on how much soup or how thinner soup you want. Give it a good stir and cook further for around 8–10 mins in low-medium heat. Remove the pressure cooker from the heat.
For tempering the spice, heat a tbs of ghee in a small pan (sauce pan), and fry finely sliced garlic, dry red chilies, fenugreek seeds, and ajwain. When the seeds start to blister, turn off the heat, and add turmeric powder and cumin-coriander powder mix. Immediately pour the tempered spices into the soup.
Soup is ready, serve hot, and you may garnish with fresh coriander leaves.