Sherpas are renowned worldwide for their mountaineering skills, but their food culture is little known to the world and even in Nepal. Sherpa, an ethnic indigenous communities living in mountainous Himalayan regions of Nepal, is believed to be migrated from Tibetan region crossing the Himalayan pass. Sherpa in Tibetan language means 'Eastern People ('Shar'-East and 'Pa'-People).
Potato, barley, wheat, corn, meat and other food products from Yak and Sheep, radish, green vegetables and beans are the major traditional staples and foods of Sherpa. The food culture is largely similar to the Tibetan, but they also have their own authentic traditional dishes.
Wondering where to find Sherpa foods, the Lupi's Himalayan Bistro at Lazimpat (map here) offers you taste of various Himalayan Sherpa dishes including experimental fusion dishes inspired from Sherpa and Tibetan cuisines. Here are some of the dishes served by the restaurant. Visit them and get to know more about the diverse Nepali cuisines.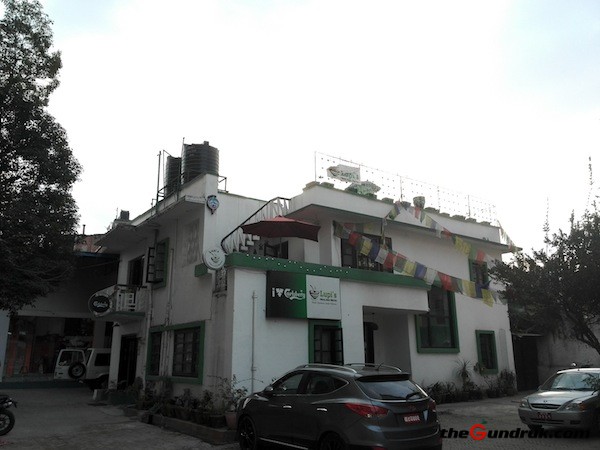 Aalu Roti (Riki Kur)
Potato is the main staple of Sherpa communities, and they make various dishes from potato. Potato pancake is one of the popular Sherpa dishes, which is called Riki Kur in Sherpa language ('Ri' means Potato and 'Kur' means pancake) and simply Aalu Roti in Nepali language. Grated potato and flour batter is made to pancake and served with yak butter and freshly made cheese-spring onion achaar or sauce.
Recipe of Riki Kur by Cuisine Nepal
Shyakpa/Thenthuk
Shyakpa, popularly known as Thenthuk (which means hand-pulled noodles in Tibetan language), is a hearty soup or stew made from freshly made hand-pulled noodles, dried or fresh meat (usually from yak or sheep), potato, radishes, carrots, spinach, spring onions, and spices. It helps to keep the body warm in the colder mountain regions, and is eaten any time of the day.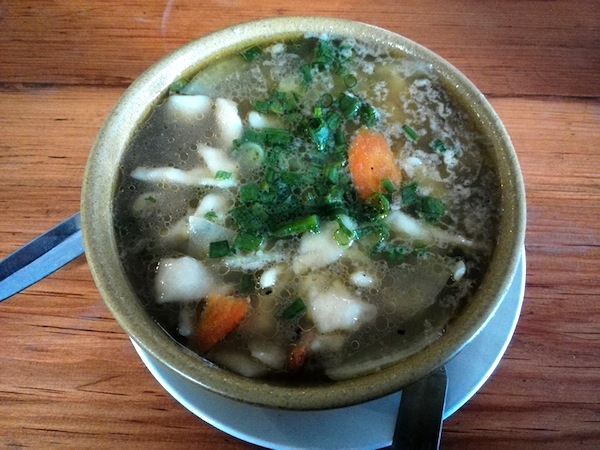 Recipe of Shyakpa/Thenthuk by thegundruk
Momo
Momo is undoubtedly a popular snack in Sherpa communities. The fillings of the dumplings are either meat or vegetables. Sherpa momo are bit different from regular momo in taste. The spices/herbs used are garlic, onion, spring onions and salt.
Rildok
Rildok is an authentic traditional Sherpa dish made from potato. Boiled potatoes are traditionally smashed in large wooden mortar and pestle with little salt and yak butter until it forms sticky dough, then made into small balls, and served with fresh achaar or soup.
Tingmo/T:momo
Tingmo or simply called T:momo is fluffy steamed bun shaped into peculiar flower pattern, and made from dough and yeast, and served with soup or fresh achaar.
Gyuma
Gyuma is Sherpa/Tibetan blood sausage traditionally made from yak or sheep's blood, and may include rice or roasted barley, spices, and natural casing using yak or sheep's intestine. But Lupi's offer gyuma prepared from goat's blood as yak and sheep's blood are not easily available.
Shyaphale/Shabhalep
It is deep fried pastries/bread stuffed with minced meat and spices.
Da Pau
Da Pau is Tibetan influenced dish, which is basically large steamed bun filled with minced meat, vegetables and spices.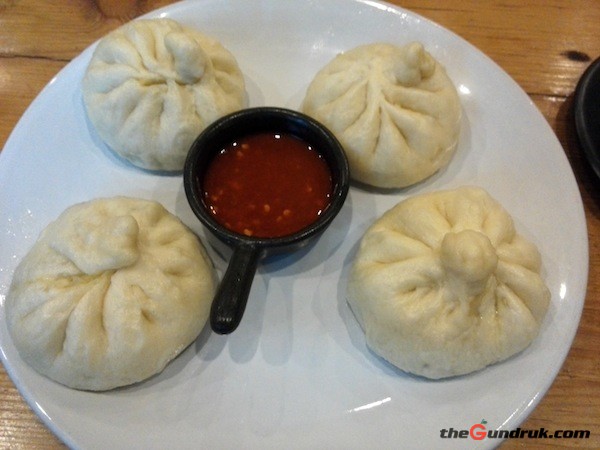 Laphing
It is a cold, spicy and savory noodle dish made from starch from potato, mung bean or wheat flour. Spices and condiments such as soy sauce, garlic extract, Szechuan pepper, red chili paste, sesame oil and vinegar give Laphing a peculiar and perfectly balanced flavor.
Also try their popular delicious Tibetan dry noodle (not authentic Sherpa dish though) made from homemade noodles, other ethnic traditional dishes and also other various Tibetan/Sherpa inspired dishes.
I would like to thank Mr. Lhakpa Thendup Sherpa, owner of the Lupi's Himalayan Bistro, for providing information on traditional Sherpa cuisines.
Lupi's Himalayan Bistro
Address: Nursery Galli, Lazimpat, Kathmandu
Contact: 01-4418683; 9851121541
Facebook page here