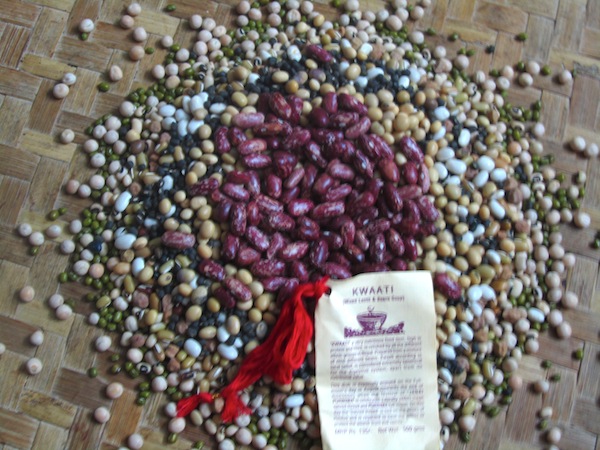 "KWAATI", a very nutritious delicacy high in protein and fibre, is relished by the Newa community, and nowadays, also by other communities in Nepal. Prepared from a mixture of nine different legumes, kwaati according to local belief is considered extremely beneficial for the digestive system, apart from its nutritional value.
This dish is especially enjoyed on the full moon day in August (towards the end of monsoon), during the Kwaati Punhi or Gunhu Punhi festival. Also on the same day, "Janai Purnima" is celebrated. 'Janai' means 'sacred thread' and 'purnima means 'full moon day'. On this day, Hindus tie the 'sacred thread' on the wrist, and regard that it will protect the wearer from evil spirits.
Here is a simple recipe of kwaati.
Ingredients
200 gm kwaati beans/legumes
1 large onion, thinly sliced
3-4 bay leaves (tejpatta)
1 tbs garlic and ginger paste
1 tsp turmeric powder
1 tbs cumin and coriander powder
2–3 tomatoes, chopped (optional)
½ tsp black pepper powder
Red chilli powder (according to taste)
2-3 tbs evgetable oil
Salt (according to taste)
Fresh coriander leaves, chopped
For spice tempering:
1 tablespoon ghee
½ tsp ajwain (jwano)
Method
Soak the beans overnight in water. Drain and wrap the beans in a muslin cloth. Sprinkle water a couple of times to make it moist. Ideally, let it sit for 48 hrs for beans to sprout.
Heat oil in pressure cooker over medium heat, add bay leaves, and then chopped onions, ginger and garlic paste, and turmeric powder. Saute them for about a couple of minutes or until the onion browns.
Add in the sprouted kwaati beans, cumin and coriander powder, black pepper powder, red chilli powder, chopped tomatoes (optional), and salt. Mix well and continue to stir fry for another 8–10 minutes or so.
Pour  2–3 cups of hot water, put the lid on, and pressure cook for about 15 minutes or for about 3–4 whistles.
Turn off the heat and let the pressure cooker cool down.
Take the lid off the pressure cooker, put on the heat, add 3–4 cups of hot water (or depending upon the quantity of soup required), and cook for about 10–12 minutes.
Take the pressure cooker off the heat. Heat a small pan, add ghee, and fry the jwano. Turn off the heat and pour over the kwaati.
Garnish with coriander leaves, and serve hot. Kwaati can be consumed on its own or with rice.
Total nutritional value of Kwaati per ½ kg of mixed Kwaati beans
Fat                               16.5%
Fibre                           21.2%
Energy                        16.22 Cal
Protein                       112.0 gm
Carbohydrate            268.3 gm
Ca                                611.5 mg
Iron                             21.82 mg
Thiamine                    2.32 mg
Riboflavin                   0.66 mg
Source of information and recipe: EAN Multipurpose Co-operatives (a women producer's c-operative)