In an earlier post, I have posted information on Kwaati and a simple recipe to make Kwaati (Newa's original recipe). Here is a recipe of Kwaati cooked with goat meat or mutton (Khasi ra Kwaati ko Jhol). This is adopted version of recipes. Traditionally, Newas don't cook with goat meat instead sometimes with buffalo meat, momo, or gwarcha (wheat flour dumplings). I personally like the recipe and make it at least once a year during Janai Purnima or Kwaati Punhi. Mutton provides delicious flavor to the dish.
Ingredients
250 gm Kwaati mix
300 gm Mutton (with bones)
1 large thin sliced Onion
3-4 Cloves (whole)
3-4 Green cardamoms
3-4 Bay leaves
1 Cinnamon Stick
1 tsp Garlic and Ginger paste
½ tsp Turmeric powder
3 tsp Meat masala
1 cup full fresh chopped Tomatoes
½ tsp Black pepper
½ tsp Thyme seeds (Jwano)
2 whole Garlic (smashed and finely chopped)
Ginger (smashed and finely chopped)
Red chilly powder (according to taste)
2-3 tbs Vegetable oil
1 tbs ghee
Salt (according to taste)
Chopped fresh Coriander leaves
Method
Prep work:
– Soak the beans overnight in sufficient water. Drain and keep the beans in a clean muslin/cotton cloth. Let it sprout for at least two days. Sprinkle some water once a day to keep it moist.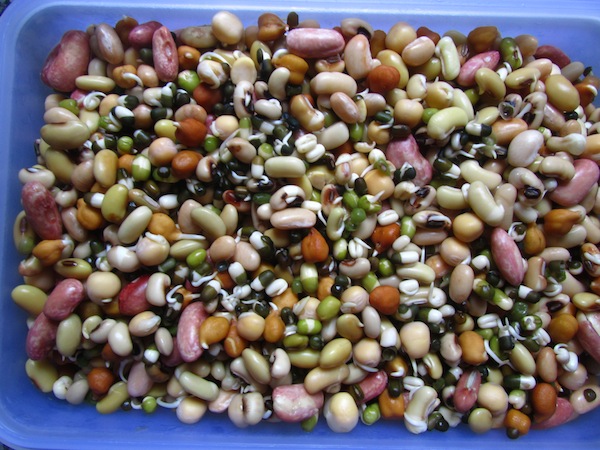 – Marinate the chopped meat with a tsp of garlic and ginger paste, a tsp of meat masala, a pinch of black pepper, a pinch of salt and a tbs of vegetable oil. Leave it to marinate in the refrigerator for 4-5 hours or overnight to let the spices infuse with the meat properly.
Heat 2-3 tbs of vegetable oil in pressure cooker, add cloves, cinnamon stick, green cardamoms and bay leaves and then lower the heat while adding the onions, turmeric powder, finely chopped ginger and garlic. Saute them at low heat for about 2-3 minutes till the onions turn light brown.
Add meat and cook it for around 6-8 minutes in high heat until the outer layer of meat becomes brown.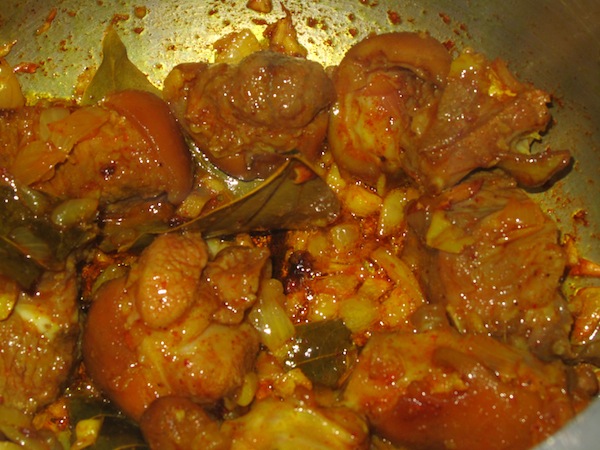 Then add kwaati, chopped tomatoes, meat masala, black pepper, red chilly powder, and salt. Mix well and continue to stir fry for another 7-8 minutes.
Pour in 2-3 cups of hot water, cover the pot and pressure cook for 10 minutes in low heat (or for around 3-4 whistles).
Turn off the heat and let the pressure cooker cool down for a while.
Take the lid off of the pressure cooker, turn on the heat and add 4-5 cups of hot water (or depending upon the quantity of soup you want to make) and continue boiling for about 12-15 minutes without pressure in low medium heat. Take the pressure cooker out of the heat.
In a small pan, heat a tbs of ghee and fry thyme seed. Pour it into the kwaati mutton soup. This process is called jhanne in Nepali.
Serve Khasi ra Kwaati ko Jhol in a bowl when hot, garnishing with chopped fresh coriander leaves. This serves for around 3-4 people.
Happy Janai Purnima and Kwaati Punhi! Beat the monsoon cold with this traditional Newari soup.