Probably all of us know and love Thakali Khana (Daal Bhat Tarkari), but many of us are unaware about other Thakali cuisines and delicacies. Buckwheat, wheat, millet, barley, varieties of beans, seasonal green vegetables, potatoes, meat, milk-based products as well as rice, maize, lentils were the key traditional food items grown and consumed by Thakalis. Thakali cuisines are influenced by Himalyan and lowland cuisines. One of the examples is wide use of black lentil (kalo mass daal) and rice, which are grown in lowland areas. As Thakalis weren't able to grow crops all year round, they have culture of preserving and drying foods for winter and dry season, and were also involved in trade with lowland and trans-Himalayan for necessary foods and household items.
Dhopra is traditional Thakali food prepared from young buckwheat greens, which is dried and then ground to flour. It is generally eaten by making daal or soup. In Thakali language, 'Dho' means 'edible greens' or 'Saag' in Nepali and 'Prah' means 'flour'. As Rai and Limbu have Sargemba, Sherpa has Gyuma and Newar has Jhuku, Thakali also has tradition of making blood sausage. It is known as Ghinti, and prepared from blood and offal of yak, sheep or mountain goat incased in their intestines. There is also tradition of making it using buckwheat flour. It is either eaten fresh or preserved by smoking for later consumption.
Dhopra daal is a traditional delicacy but now almost forgotten. It is easy to make if you can find the ingredients, and very delicious to eat. Avoid consuming lots of Dhopra as it is found to contain 'fagopyrin', a naturally occurring substance in buckwheat plants, which might make skin sensitive to sunlight. Here is recipe of Ghinti-Dhopra daal, and also contact of place to buy Ghinti and Dhopra, and place to eat. It is very comforting and delicious to eat.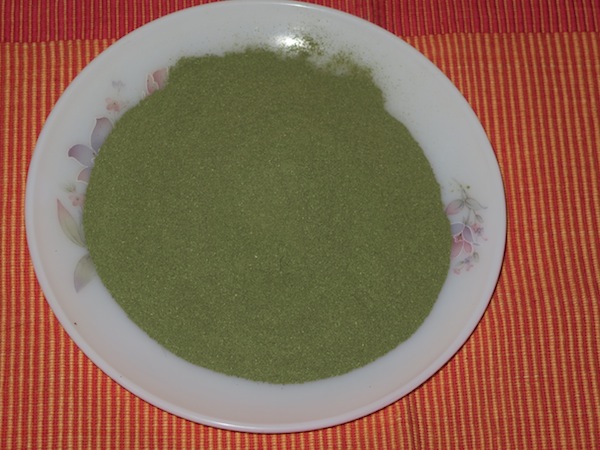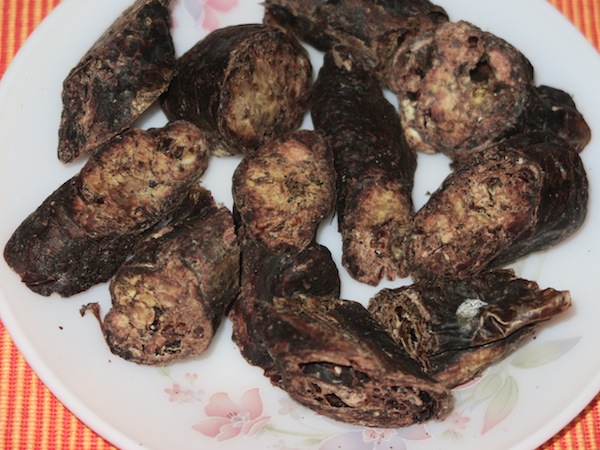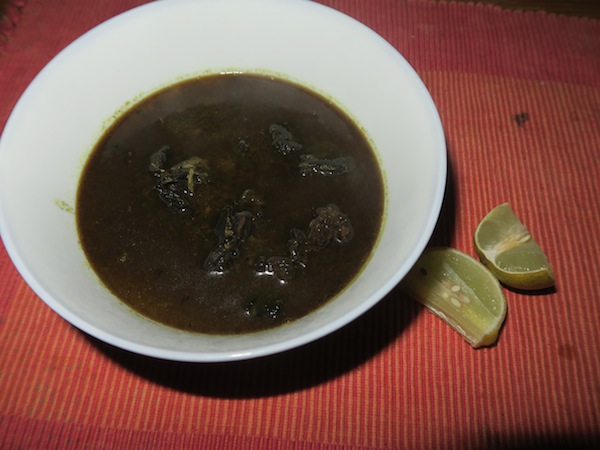 Ingredients
A bowl of smoke-dried Ghinti
2-3 tbs Dhopra
3-4 Garlic
½ thumb size Ginger
1-2 Fresh or dried Chilies
½ tsp Cumin seed
½ tsp Coriander seed
½ tsp Turmeric powder
Lemon
Salt
1-2 tbs Ghee/Vegetable Oil
Method
Soak the Ghinti in hot water for 10-15 mins, and cut into bite size pieces if required. Soaking in hot water helps to make it soft and easier to cook, and also lessens any off flavor.
Grind garlic, ginger, chilies, cumin seed and coriander seed with mortar and pestle, and make fine paste.
Heat pressure cooker in medium heat and add 1-2 tbs of ghee or vegetable oil.
Add Ghinti and fry for 1-2 minute, and then add spice paste, turmeric powder and salt according to the quantity of soup you are making and to your taste.
Fry them for a minute until raw flavors are gone and then add 1-2 cups of water. Put the lid on and pressure-cook it for few whistles.
Let the pressure goes off the cooker and add more water according the quantity of soup you want to make. Bring it to boil and then add 2-3 tbs of Dhopra. Cook it for few more minutes and Ghinti-Dhopra daal is ready. Avoid adding more tbs of Dhopra. It makes soup very thick and overpowers with its taste.
Serve it in a bowl when hot with lemon slices. It is very important to squeeze some lemon juice to bring the flavor of the dish. It can be eaten with buckwheat bread, dhido, rice or simply as soup.
Place to buy Ghinti, Dhopra and other products from Mustang: Marpha Mustang Koseli Ghar, Shivalaya Chowk-Pokhara (Ph: 061-541428; 9846036212; 9846153108); Also try some departmental stores in Pokhara
Place to eat Dhopra Daal: Fewa Thakali Bhancha, Lakeside-Pokhara