Nothing can beat the delicious sumptuous flavor of Thakali Khana. Daal is the major highlight of the dish. The secret of its rich flavor, creamy texture, peculiar greenish color and unique aroma lies in the way it is cooked and ingredients used for cooking.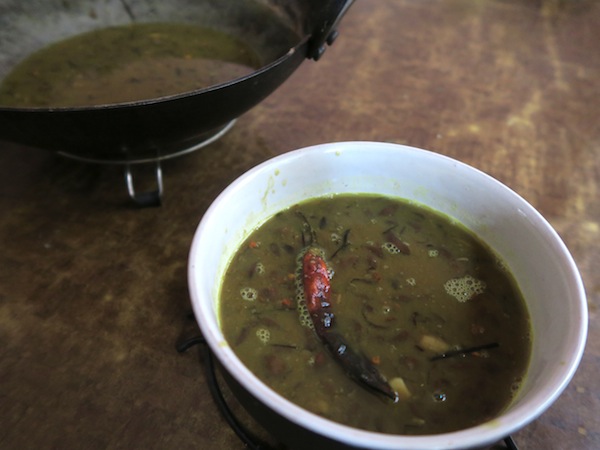 Generally black lentil (Kalo Maas) grown in lower hilly regions and beans (Simi) grown locally in high altitude are used for making Daal in Thakali culture. Traditionally, these split beans or lentils are cooked slowly in cast-iron pot over firewood, which makes Daal extra creamy and gives earthy flavor. The unique flavor and aroma comes from the tempering process in which ghee is heated in small cast-iron saucepan, aromatic Himalayan herbs (locally known as Jimbu) are fried along with spices, and then added to the Daal. Cooking and tempering of Daal using cast-iron pot/pan helps in developing peculiar greenish color in Daal.
Here is easy hack to traditional slow cooking process that will give very comparable flavor, texture and taste. You need pressure cooker, cast-iron pot, small cast-iron saucepan and wooden spatula. A secret is to cook beans or lentils in pressure cooker for around 40-45 mins over low heat. This will help to cook beans/lentils perfectly giving it smooth creamy texture but also keep shape of the beans/lentils whole. Cooking time depends on kind and where the beans/lentils are grown. Same beans/lentils grown in different regions have different cooking time. Doing hit and trial couple of times will give you sense of perfect cooking time.
Method
Put a cup of split Mustang Simi (red beans locally grown in high altitude in Mustang region of Nepal) in pressure cooker and add 2½ cups of water. Never soak the beans before cooking as it will cook sooner and won't create creamy texture. Smash half thumb size of ginger and 2-3 cloves of garlic, and add to the pressure cooker along with a teaspoon full of salt and a pinch of turmeric powder. Put the lid on and cook it over low heat for around 45 mins (for several whistles- around 7-8).
Once the beans are cooked for around 45 mins, leave it to cool down on its own. Do not force the steam out of pressure cooker. Beans will still cook inside because of the build up pressure. After steam inside the pressure cooker fully comes out, remove smashed ginger and garlic.
Transfer cooked beans into cast-iron pot. Cook it further for around 5 mins with continuous stirring and rubbing wooden spatula against the pot slowly-not to break or mash beans. This will help to ensure that beans do not stick to bottom of the pot but also help to develop earthy irony flavor. Add 2-3 cups of hot water, and cook it further for around 8-10 mins on low-heat. Taste and add more salt if required.
Heat 1-2 tbs of ghee in cast-iron saucepan. When ghee starts to smoke, reduce heat and add a tsp of finely chopped garlic, 2-3 dry red chilies, ½ tsp of fenugreek seed and a tbs of wild Himalayan herb. Turn off the heat and add a tsp of turmeric powder and a tbs of cumin and coriander powder mix. The residual heat in the pan will cook it further. Pour this mixture immediately to cast-iron pot with Daal– gives a hot sizzling sound while pouring. This tempering process gives aromatic, garlicky, buttery and smoky flavor to the dish. You will also see that the Daal color changes to peculiar greenish color.