Hey, if you are wondering where to find Rai and Limbu ethnic cuisine to eat and craving for it, there are two restaurants in the capital serving varieties of delicious ethnic dishes. These ethnic foods are very peculiar- very different from what we eat everyday. Kinema curry (made from fermented soybeans), Sargemba (blood sausages with Yangben-wild edible lichen), Sungur ko Sekuwa (barbecued local pig meat), Yangebn-faksa (local pig meat curry cooked with blood and yangben), and Sungur ko khutta ko achaar (Pork leg meat pickle) are some of the major ethnic cuisines you will find in these restaurants. If you haven't tried them, you should definitely visit these restaurants.
Noyoz Eatery Khaja Ghar, Bhatbhateni
(Contact no.: 01-4439857; 9815372966 | Facebook)
Noyoz Eatery Khaja Ghar is located in Bhatbhateni in front of Chinese embassy (map here). This small restaurant serves very delicious foods, including some Rai and Limbu cuisines. You can't afford to miss their delicious blood sausages- Sargemba (Rs. 250). It melts in your mouth, and it has good earthy flavor from the yangben. According to the owner/chef of the restaurant, they use high quality of yangben directly sourced from the village- a key ingredient for making delicious Sargemba. Smoked pork (Rs. 275) is another best dish you should try there. They also serve delicious juicy pork momo (Rs. 150), spicy-tangy-crispy Aalu nimki (made from boiled potatoes, tomato gravy, spices and flour-black cumin crisps) (Rs. 100) and spicy pork leg curry and pickle (Rs. 250/220).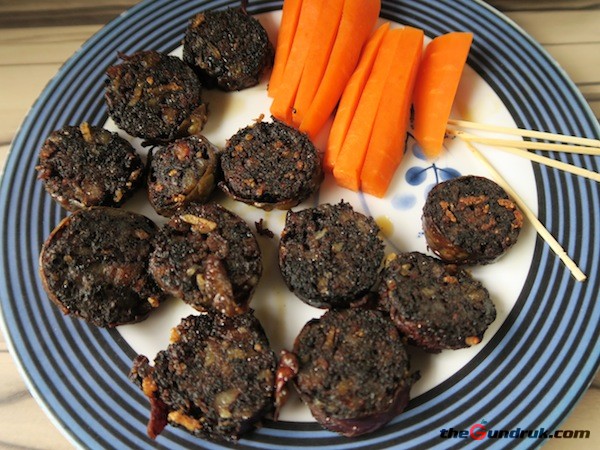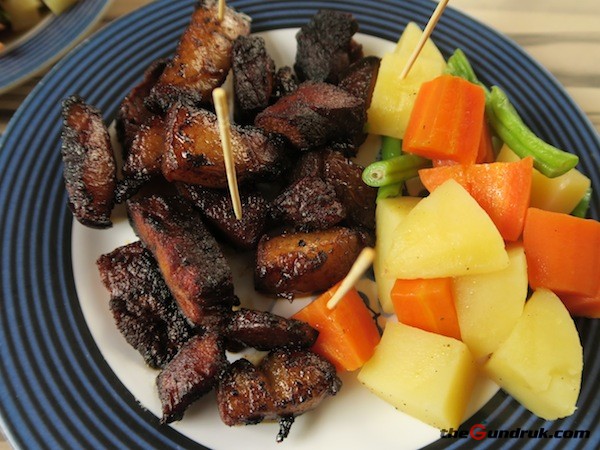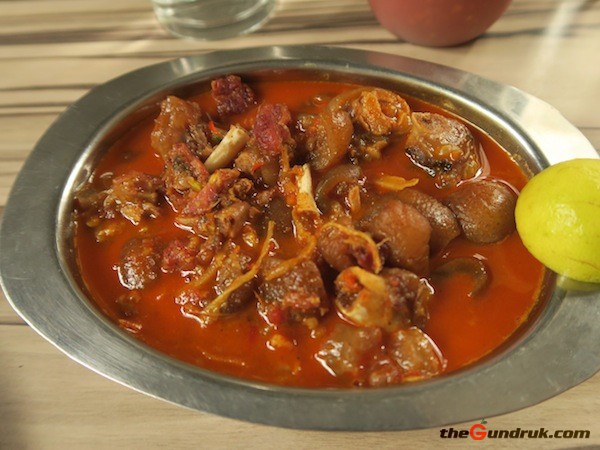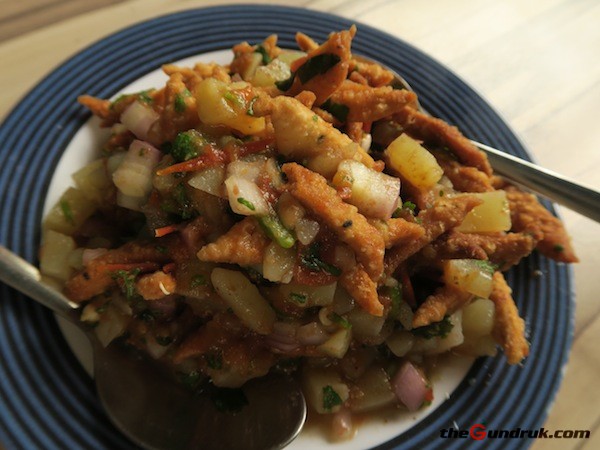 Tareba Restaurant and Sekuwa Ghar, Bishal Chowk
(Contact no.: 01-5151431; 9808518548 | Facebook)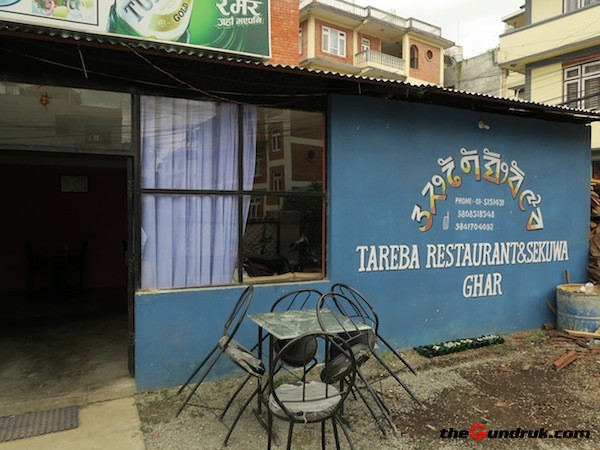 Tareba Restaurant and Sekuwa Ghar (Tareba means Pahuna/Guest in Limbu language) is located in Bishal Chowk that is in between Taachikhel and Nakhipot (map here– from the point, take west road for around 200 meters). It is a restaurant specialized in Rai and Limbu ethnic dishes.  One of the ethnic foods you shouldn't miss to eat there is Yangen-faksa (Rs. 160 a plate). They also have Kinema curry, Sargemba (Rs. 160 a plate), fried pork ear and tongue (Rs. 160 per plate), and pork sekuwa (Rs. 700 per ½ kg) in their menu. Next time I am going to try Limbu daal-bhaat-tarkari set with Kinema curry.