Yangben-faksa, a pork curry cooked with yangben (wild edible lichen), pig's blood and spices, is a popular delicacy of Rai and Limbu communities. Yangben is one of the peculiar ingredients only consumed by these ethnic communities as food. According to the locals, availability of yangben has decreased nowadays because of pollution from vehicles and dusty roads built through the jungle. Yangben doesn't have its own flavor but when cooked with pork meat and blood, it absorbs fats and provides very deep earthy flavor to the dish. It elevates flavor of the whole dish and gives very unique taste that most people outside these ethnic communities haven't experienced.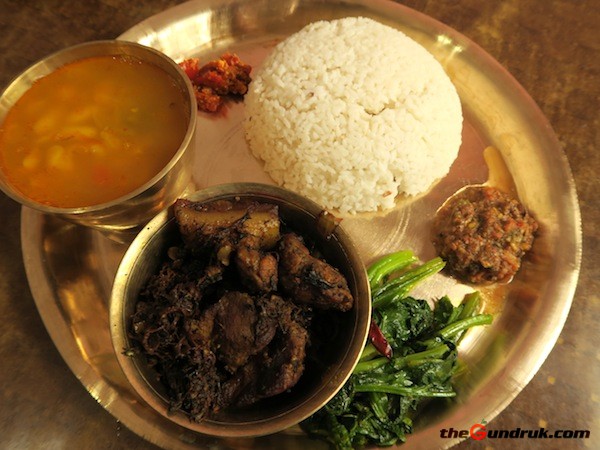 Yangben is prized food item, and expensive. I got it from my friend. One may find it in local domestic pig (sungur) meat shop in Nakhipot area in Kathmandu, and in cities like Dharan where there are large Rai and Limbu communities.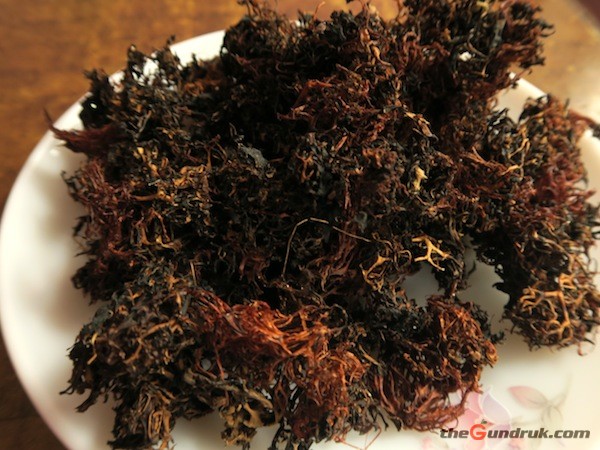 See: Ethnic Cuisines-Delicacies of Rai and Limbu
Ingredients
500-600 gm Pork meat (preferably of local domestic pig or sungur with fats)
A handful of Yangben (pre-processed and dried)
1 cup fresh Pig's Blood
5-6 Garlic cloves
A thumb size Ginger
1 medium size Onion
1-2 medium sizes Tomatoes
1 tsp Cumin seed
1 tsp Coriander seed
1-2 Fresh or Dry Red Chilies
2-3 Bay leaves (optional)
Salt
Vegetable Oil
Method
Grind together garlic, ginger, cumin seed, coriander seed and chilies in mortar and pestle or electric grinder to make spice paste.
Heat one or two tbs of vegetable oil in a wok or frying pan in medium heat. As the pork meat has its own fats, use just one or two tbs of vegetable oil to help the fats melt.
Add bay leaves (optional) in hot oil, and then turmeric powder. Add chopped pork meat immediately after you add the turmeric powder.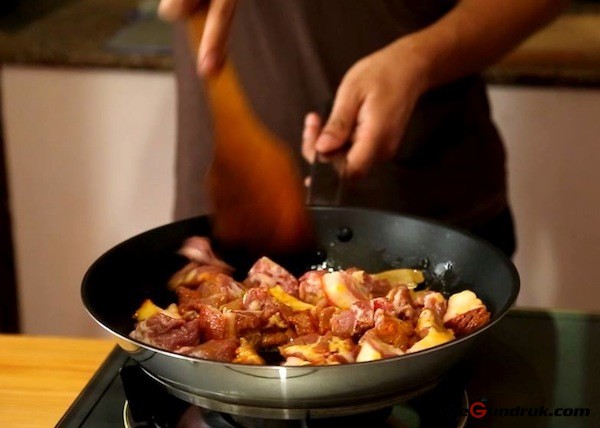 Cook it for around 15 mins with frequent stirring and lid on, until fats are melted and meat is almost cooked and lightly browned. Add some salt in between the process.
While meat is cooking, soak yangben in a cup of warm water for around 5 mins. After 5 mins, squeeze out water, add fresh pig's blood, some spice paste and some salt, and then mix them together with your hand.
Add finely chopped onion. Once the onion becomes soft, add the remaining spice paste. Cook until the spice paste is lightly brown and raw flavor disappears.
Then add finely diced tomato, and finally add yangben-pig's blood mixture. Cook them together with frequent stirring and lid on until the ingredients are fully cooked.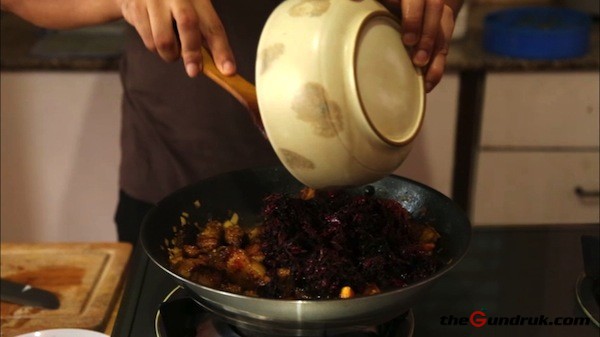 The blood and yangben soaks up all the fats and gives a unique texture and earthy flavor to the dish. The dish yangben-faksa is ready. Serve it with rice or selroti, or can be just eaten as snack.