The dish is inspired from a comfort food of many Nepali pork eating communities, especially Rai and Limbu, prepared by cooking fatty pork with mustard greens (Rayo ko Saag in Nepali), and use of 'Kinema' (traditional ethnic food of Rai and Limbu prepared by fermenting soybean) for flavoring, as in Chinese and Southeast Asian cuisines where fermented black beans or soybeans are used as key flavoring ingredient. In our culture, Kinema is largely used as key ingredients of the dish rather than for flavoring.
Ingredients
300-400 gm Pork, preferably of local black pig or Kalo Sungur (Serving for 2-3 people)
A handful bunch of Mustard Greens (Rayo ko Saag)
2 tbs Kinema
½ tsp Timur (Sichuan pepper)
4-5 dry Red Chilies
3-4 Garlic cloves
A thumb size Ginger
½ tsp Fenugreek seed
½ tsp Mustard seed
1 tsp Turmeric powder
Salt
Vegetable Oil
Method

Place 2 tbs of Kinema and ½ tsp salt in a small bowl, and sprinkle a tbs of hot water to add moisture to the dry Kinema. Then add coarsely ground Timur and a tbs of vegetable oil and mix them together. This makes the flavoring base for pork and mustard leaves curry. You can make it in quantity, jar and refrigerate it for making handy for later use.
Clean thoroughly mustard greens and cut them into sizes you prefer. Finely chop the garlic cloves, ginger and dry red chilies (deseed for less heat), and set aside. Then slice pork into thin slices together with fats and skin on.
In a pan, heat two tbs of vegetable oil. When oil starts to smoke, add thinly sliced pork and stir-fry it for around 10 mins until light brown. The process also helps in rendering pork fats that will add flavor to dish.
Push the fried pork in the side of the pan, and add fenugreek seed and mustard seed in the hot oil. Then add finely chopped garlic, ginger, red chilies and Kinema mix. Add turmeric powder when garlic and ginger starts to get brown, and aroma starts to come from Kinema. Mix them together with spices.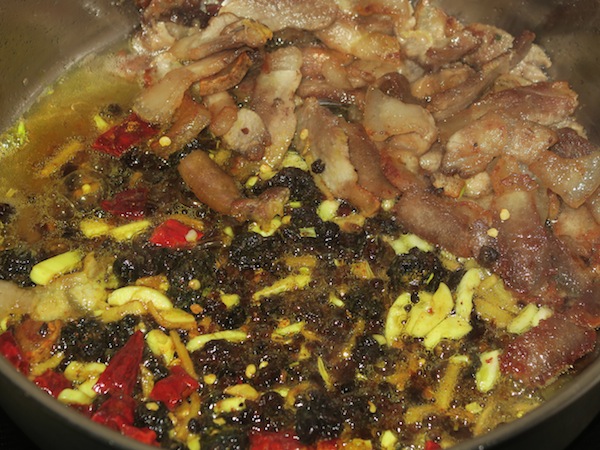 Then add mustard greens in, sprinkle some salt and stir-fry for around 4-5 mins until the greens are cooked but yet hold its texture, color and crunchiness. The greens soak all the fats, while Kinema gives a unique flavor and aroma to the dish. The other ingredients fenugreek seed, mustard seed, Timur, ginger, garlic and red chilies add more complex flavor to the dish, and flavor intensifies in your mouth when you bite them.