Many of us don't know that we have culture of eating fermented soybeans in Nepal. Ethnic communities in eastern hilly region "Limbu" ferment whole-soybeans (known as Kinema) and consume it as a delicacy. It has stinky pungent smell, sticky texture, slightly brown tan color and unique fermented flavor. The fermentation helps in breaking proteins of soybeans into easily digestible amino acids. The common word Kinema is derived from "Kinambaa" of the Limbu dialect in which 'Ki' means Fermentation and 'Nambaa' means Flavor. Thus it is assumed that the Kinema originated from Limbu communities, who reside in the eastern Himalayan region- Therathum, Taplejung, Panchthar, Dhankuta, and Ilam, of Nepal. It then spread to communities in northeastern India, Bhutan and Myanmar.
Process of making Kinema: Local varieties of soybeans are cleaned/washed and soaked overnight in water. The soybeans are then drained, and boiled in clean water until cooked. Excess water is drained and beans are slightly cracked using large wooden mortar and pestle traditionally. It is placed in bamboo basket lined with locally grown fresh fern fronds or banana leaves, covered with jute bag and let it ferment for 2-3 days over an earthen firewood oven to keep it warm. In some communities, fresh firewood ash is also added during its production. The fermented beans can be consumed within 2-3 days in summer and within one week in winter without refrigeration. The fermented beans can also be sun-dried and stored for several months. (Reference: Kinema)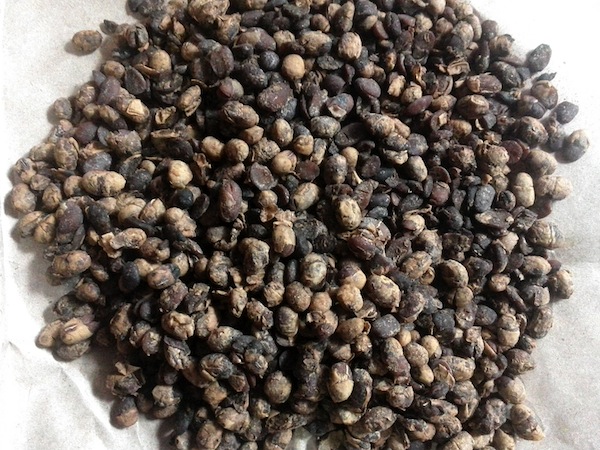 Kinema is commonly used to make curries/soup, and eaten with steamed rice. It has pungent stinky smell but has very delicious flavor… no wonder why it is one of the most loved delicacies in Limbu and Rai communities.
This is the first time I have cooked and eaten Kinema curry. I loved the flavor and I am going to cook it more often. It's very easy and simple to make. But be prepared for the stinky pungent smell (or aroma for the Kinema lovers). Here is a recipe of Kinema ko Jhol– a traditional ethnic cuisine of Limbu and Rai communities.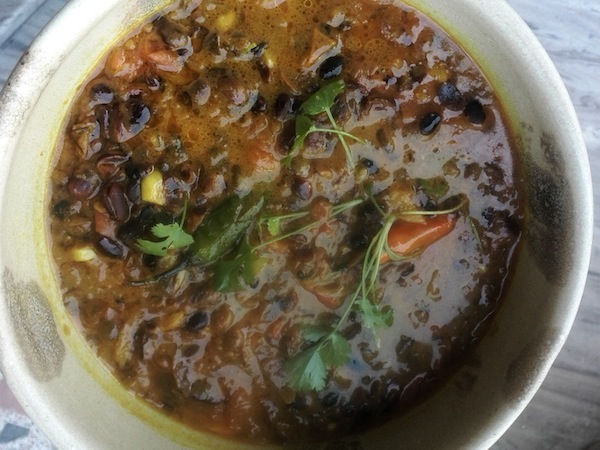 Ingredients
1 cup Dry Kinema (serving for 2-3 persons)
1 medium size Onion
1-2 Garlic cloves
3-4 medium size Tomatoes
1 tsp Turmeric powder
2-3 tbs Vegetable oil
Fresh Coriander leaves
Salt
Method
Rinse the dry Kinema once to remove any impurities, and soak in two cups of clean water for 10-15 mins.
Drain the soaked Kinema, but save the water for later to make the soup.
In a pan, heat 2-3 tbs of oil in medium heat, and fry finely sliced onion and garlic until lightly brown.
Add turmeric powder and drained Kinema and fry it for around 2-3 minutes. Add finely sliced tomatoes including salt (according your taste) and cook it for other 3-4 minutes.
Add the water drained from soaked Kinema, and cook it for around other 6-8 minutes.
Garnish with fresh coriander leaves and serve hot with steamed rice.