Maghe Sakranti or Makar Sakranti is the first day of the month Magh of Bikram Sambat Calendar. In Tharu and Maithali communities, the day is known as Maghi and celebrated as New Year. In Newar communities, it is known as Ghya Chaku Sanhlu named after the foods eaten during the day ghee and hardened molasses.
Every communities and ethnic groups have their own way of celebrating the day, and food is at the center of the festival. It is also celebrated as winter festival and the day is regarded as the coldest day of the year. The tradition of eating calorie-intense foods such as Ghee, Chaku (hardened molasses), Tarul (yam), Teel ko Laddu (sesame and molasses balls), and also ginger is believed to keep the body warm and healthy during the coldest winter days. Varieties of root or tuber vegetables especially Tarul (yam), Sakharkhanda (sweet potatoes) and Pindalu (Taro) are cooked a night before and eaten during the day. The tradition of eating Batuk roti (made from black lentils and spices) is very popular in Magar community. Maghi is the biggest festival of Tharu community and celebrated by eating delicious Tharu cuisines such as Dhikri, Bagiya, Gonghi, Laddu, meat curries etc.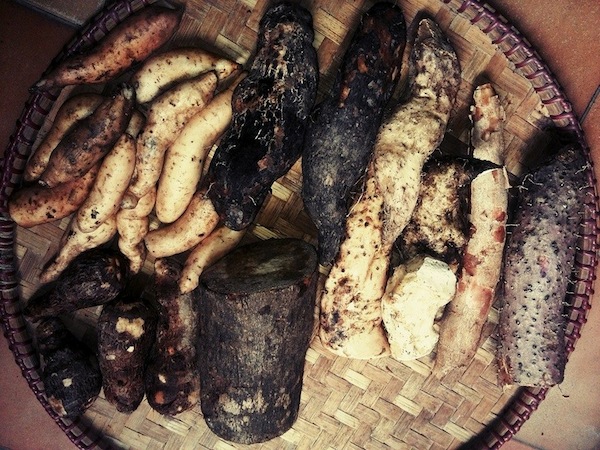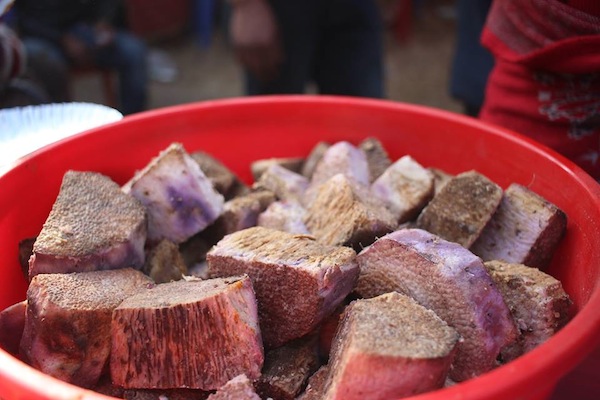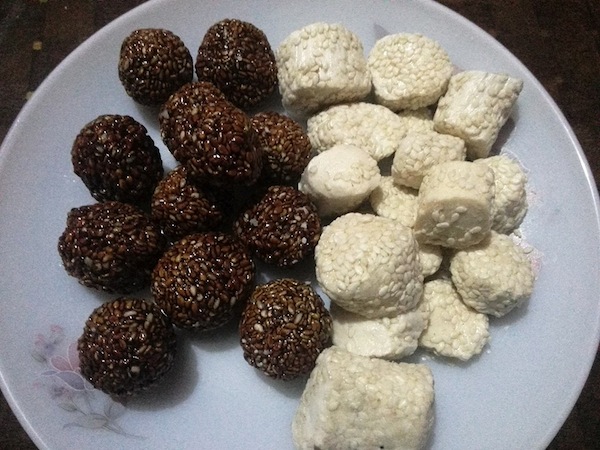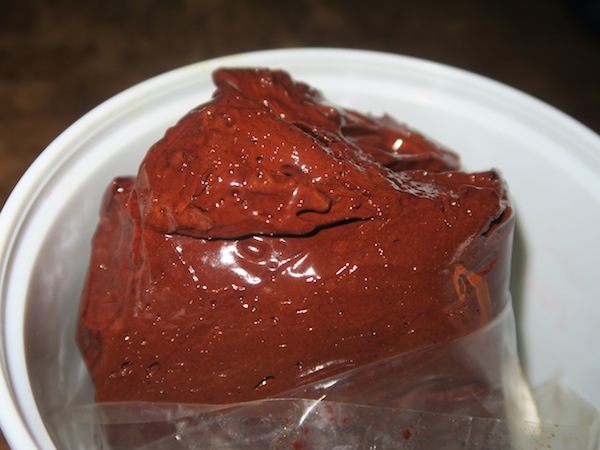 Here is how you can twist the platter for Maghe Sakranti:
Boil varieties of Tarul, Sakharkhanda and Pindalu until cooked. Based on the sizes, they have different cooking time so if you are cooking on pressure cooker, make sure you cook it separately.
For making sauce: In a small pan, add 1-2 tbs of water (to help melting Chaku), and then Chaku, ghee and sliced ginger, and cook it together in low heat until Chaku melts completely.
Peel the skin of Tarul, Sakharkhanda and Pindalu when still hot, and break it into bite size pieces using you hand. Then drizzle the Chaku sauce all over and sprinkle some roasted sesame seed.