Buckwheat and millet pancake with ground flaxseed is healthy, super-nutritious and delicious food for your everyday breakfast.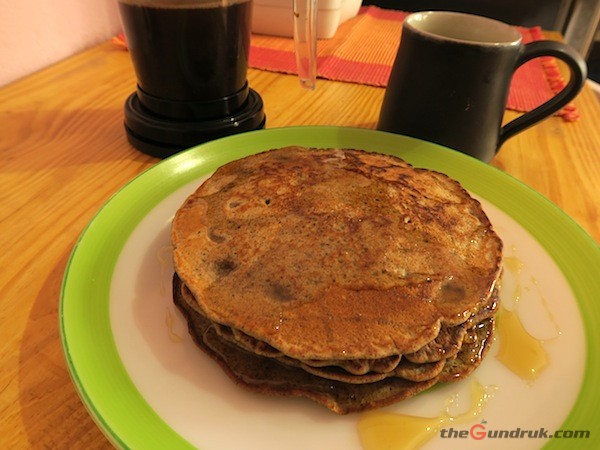 Buckwheat and millet are our traditional staple grains. We have tradition of making bread/roti and varieties of dishes out these grains. However, these nutritious grains' flours are now replaced by highly processed low-nutrition wheat flour (maida) in both rural and urban areas. These grains are highly adaptable from lower plains to higher mountains, and can easily grow in less-fertile and low-rain regions. Promoting them in our regular diets will address food security, increasing obesity and under-nutrition issues in our country. These are relatively high in proteins, dietary fibers, minerals, essential fatty acids and other essential nutrients. Similarly flaxseed (Aalas in Nepali), which is usually grown in hilly regions of Nepal, is super-nutritious oilseed very high in essential fatty acids antioxidants, dietary fibers/proteins, essential minerals, vitamin B6 etc.
Millet flour gives dry crumbly texture whereas buckwheat flour gives super soft texture. These two grains' flour when mix together in equal amounts makes a pretty good nutritious pancake and roti. The following pancake recipe is a perfect breakfast for hardcore fitness goers too. This is my attempt to bring these nutritious grains into our daily diets.
Ingredients
½ cup Buckwheat flour
½ cup Millet flour
1 cup Whole Milk
1-2 Eggs
1 tbs ground Flaxseed (Aalas)
1 tsp Sugar
½ tsp Baking powder (optional- to make pancake extra fluffier)
Pinch of salt
Honey and Fruits/berries (as of your choice)
Method
In a bowl, add buckwheat flour, millet flour, ground flaxseed, pinch of salt, sugar and baking powder, and mix them together.
In another bowl, lightly whisk milk and eggs, and add the mixture in flour mixture.
Whisk them together until lumps disappear and batter becomes light and airy.
Let the batter rest for around 5 minutes.
Place frying pan (preferably non-stick pan) in medium heat, and grease lightly with butter.
Whisk the rested batter, and pour it slowly over the heated pan in batches. Pouring slowly helps in keeping pancake a round-shape. Put the lid on as it helps in cooking it fast. Flip the pancake when it's upper layer becomes firm (not runny batter- you will know when white batter turns into brown color and looks dry), and cook both sides.
The above amount makes around 4-5 pancakes- servings for two persons. Serve them with drizzling honey and adding fruits or berries of your choice.