This pickle made from uncooked tomato, radish seeds and spices is simply delicious. The hint of nutty flavor comes from roasted radish seeds, and uncooked tomatoes give fresh and crunchy texture to the pickle. Newari community is the only ethnic group I have found to use radish seeds in making pickle. My college friend introduced me to this pickle and provided the recipe. It's very simple and easy to make.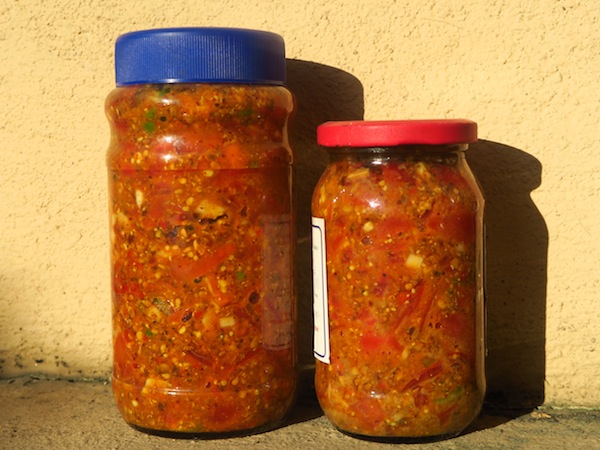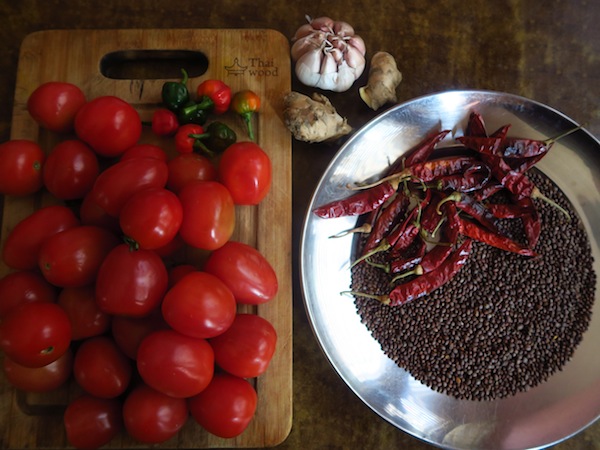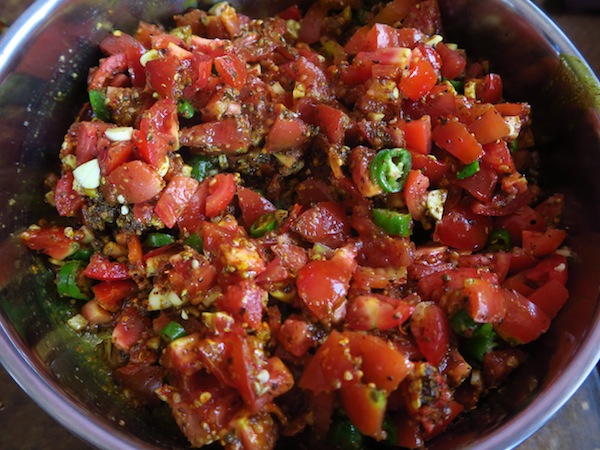 Ingredients
½ kg Tomatoes
3 tbs Radish seeds
1 tbs Mustard seeds (optional)
4-5 Garlic cloves
½ thumb size Ginger
6-8 Green Chilies (or according to your preference)
1 tsp Fenugreek Seed
1 tbs Cumin and Coriander powder
½ tsp Turmeric powder
1 tbs Red Chili powder
4-5 tbs Vegetable Oil (preferably mustard oil)
Salt
Method
Cut tomatoes, chilies, ginger and garlic cloves in small pieces, and transfer into a bowl.
Roast radish seeds and mustard seed (optional) lightly in a pan with continuous stirring. As soon as they start to blister, transfer into mortar and pestle. Allow it cool and grind them coarsely. Mustard seed to gives mustardy pungent kick or flavor to the pickle.
Heat 2-3 tbs of mustard oil and add fenugreek seeds. Turn off the heat when fenugreek seeds start to blister and add turmeric powder, red chili powder and cumin-coriander powder mix. Pour it over the diced tomatoes.
Add around one tbs salt and mix them all together properly.
Pour the mixture into clean jar. Tap or lightly shake the jar few times during the filling process. This will help in compacting the moisture and release air pockets in the jar. Do not fill the jar up to the neck. Leave some space as it boils and expands during the fermentation process.
Pour about 2 tbs of mustard oil over the mixture and close the lid tightly.
Leave it for around 5-6 days under the sunlight. Direct sunlight helps in fermentation and also prevents from getting mold. In 5-6 days, the pickle develops flavors and turns sour. It is usually eaten with daal-bhaat-tarkari and roti. It can last few weeks outside refrigerator and months inside the refrigerator.
Note: Use hot water to clean and sterile utensils and jars.
Recipe of Cooked Tomato Pickle with Sesame and Radish Seeds