This is one of my favorite…. they are so good with Daal Bhaat Tarkari. I got this recipe from my friend's mom, and I am yet to make as tastier as she does. You can also see her recipe of Sweet Lapsi Pickle.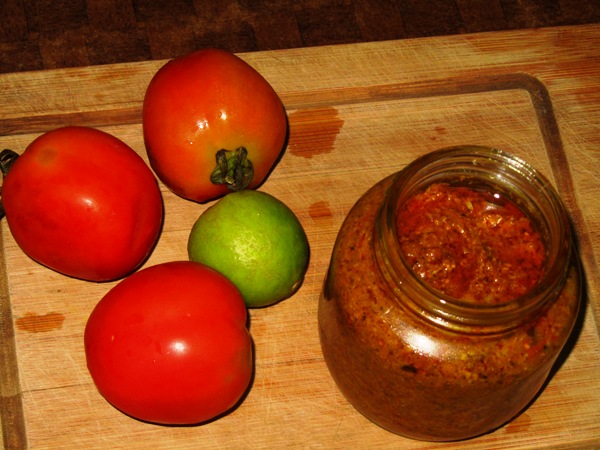 Ingredients
1 kg Tomato (grinded)
50 gm Garlic paste
50 gm Ginger paste
50 gm Roasted Sesame seed (grinded)
50 gm Roasted radish seed (grinded)
½ teaspoon Szechuan pepper (grinded)
50 gm Green chilies – 50 gm (finely chopped)
Vegetable oil
Salt
Turmeric powder
Jimbu (Aromtic Himalayan herb)
Fenugreek
Chilly powder
Lemon juice – 3 large spoons
Methods
Heat few tablespoons of oil in pan and add half a teaspoon of fenugreek and jimbu. Add grinded tomato into the pan. Add turmeric, salt and chilly powder as per you taste and let it cook for 7-8 minutes in low heat.
On different pan, heat 4-5 tablespoons of oil. Add garlic and ginger paste and cook it for around 4-5 minutes until brown. Add chopped green chilies and cook it for other 4-5 minutes. Add grinded sesame seed and radish seed, and stir the mix.  Add some salt and turmeric (as per your taste).
Add the mix to the cooked tomato. Add 3 table spoons of lemon juice and ½ teaspoon of Szechuan pepper, and cook it for 3-4 minutes.
Your tomato pickle is ready to be served. You can also store this for a week or more.