Almost unknown in hilly areas of Nepal, this vegetable 'oal or elephant foot yam' is widely cultivated and eaten in eastern plains of Nepal. The taste is in between taro and yam with some sweetness, and has irritating or itching property if not cooked well. It is because of the presence of calcium oxalate. Tharu, Maithil and other communities in southern plains eat it as a festive delicacy during the Jitiya festival which falls during its harvest season. It is either eaten as deep-fried, curry or chokha (a kind of achaar). Oal chokha is simply prepared by smashing boiled oal and mixing with spices. Adding lemon or yogurt helps in eliminating its irritating property. Here is the recipe of making a typical curry from oal.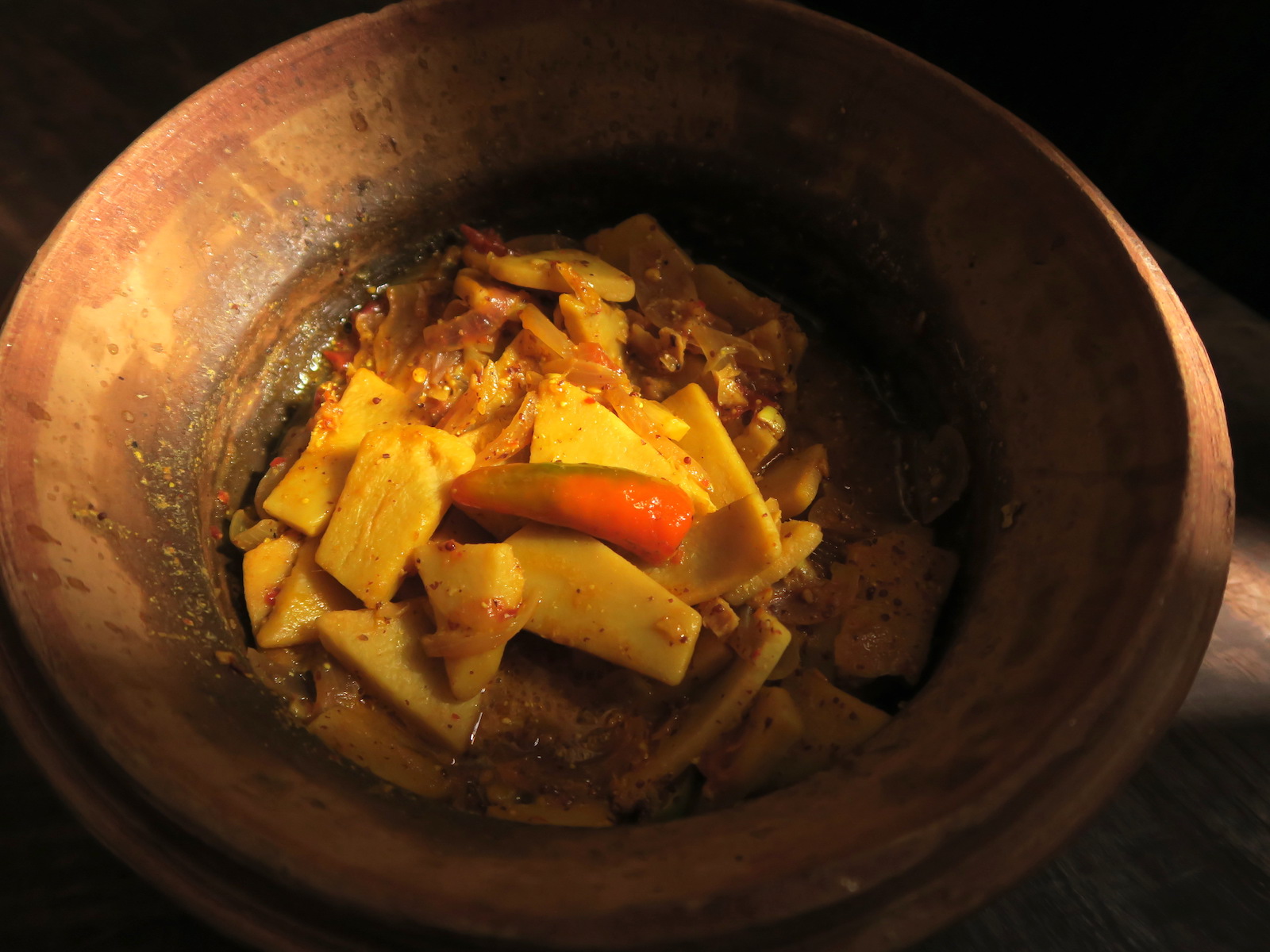 Ingredients
½ kg oal (elephant foot yam)
1 small onion
2-3 green chilies
2-3 tomatoes
3-4 garlic cloves
1 thumb-sized ginger
1 teaspoon cumin-coriander powder
½ teaspoon red chili powder
½ teaspoon turmeric powder
1 teaspoon mustard oil
1-2 lemon
Salt
1 cup mustard oil
Method
Remove the skin of the oal and cut it into slices. Be careful while handling the oal as it has itching property. Cut them into slices.
Boil the slices in the water for about 15 minutes. Drain the water out and let it rest for about 5-6 minutes.  Then deep-fry them in vegetable or mustard oil for about 5-6 minutes until light brown.
Make ginger and garlic paste, finely slice the onion, green chilies, and tomatoes. Grind the mustard seeds.
In a pan, heat about 2-3 tablespoons of mustard oil over medium heat. When the oil is hot enough, add finely sliced onion, chilies, and ginger-garlic paste. Fry it until light brown and add turmeric powder. Then add chopped tomatoes, mustard seeds grounds, cumin and coriander powder, red chili powder, and salt. Cook for about 4-5 minutes until tomatoes melt. Add fried oal slices and cook it for about 12-15 minutes with some water and lemon juice. The oal curry can be eaten with rice, puffed rice or roti.
(Thanks to everyone who shared the recipe with me!)