Adauri is sundried nugget made from mung beans, chickpea or black lentils (urad daal) flour or paste. As hilly areas of Nepal have a culture of making masyura (nuggets made from black lentils or rice beans and taro/colocasia leaves), Maithil, Tharu and other ethnic communities especially in eastern plains of Nepal and also in Bihar region of India make adauri. It is one of the important foods of Maithil and eastern Tharu communities. It is also a preservation culture where these protein-rich nuggets are used to make curry when greens and fresh vegetables are unavailable. I have never tried adauri before. My friend's mother sent me this adauri from Saptari.
Read:
Tharu Cuisines and Delicacies (in Pictures)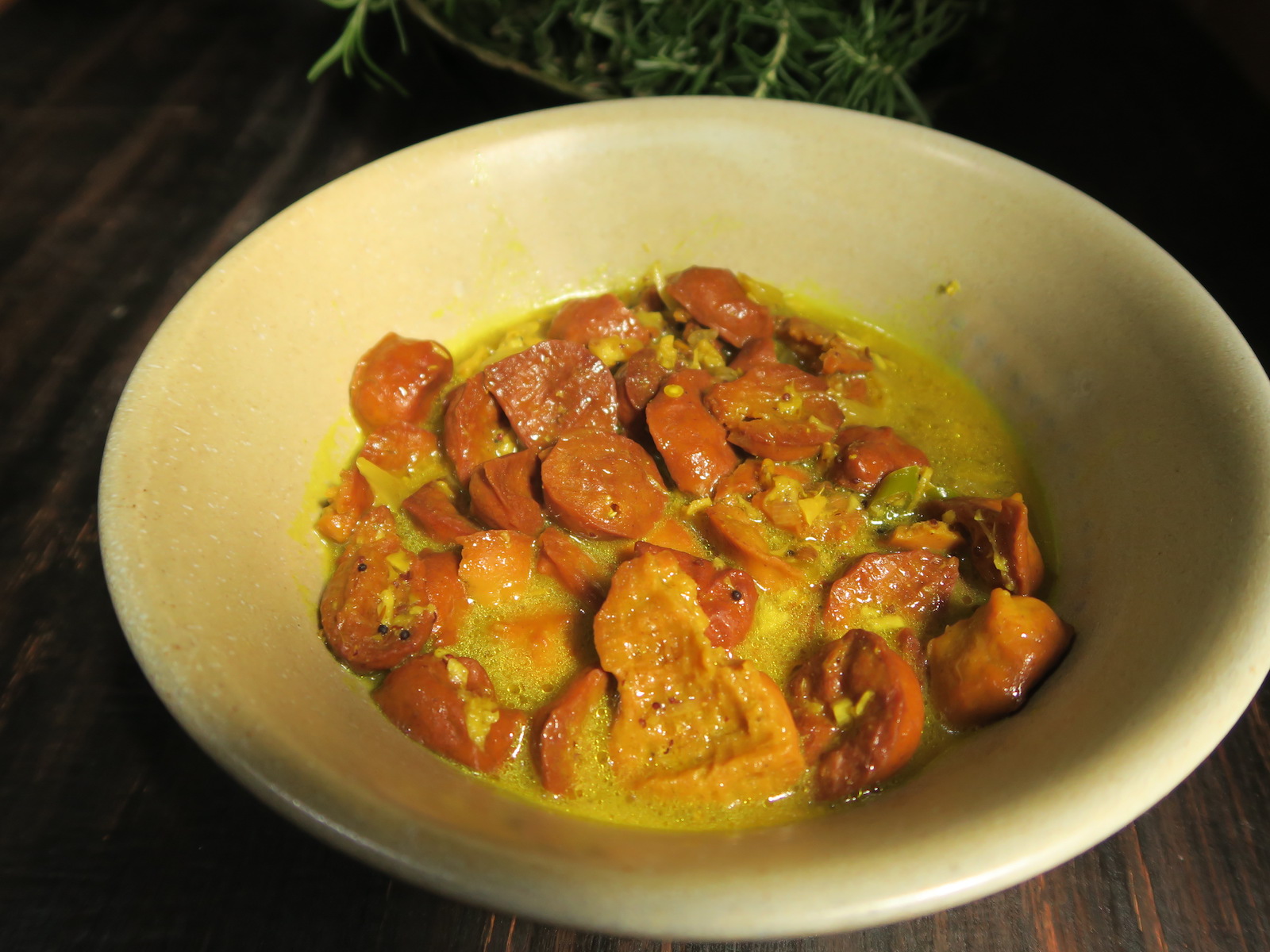 Ingredients
A handful of adauri (lentil flour nuggets)
1 small sized onion
1-2 green chillies
2-3 garlic cloves
1 small thumb-sized ginger
½ teaspoon fenugreek seeds
½ teaspoon cumin seeds
½ teaspoon mustard seeds
1 teaspoon cumin and coriander powder mix
½ teaspoon red chilli powder
½ teaspoon turmeric powder
2-3 tablespoons mustard oil
Method
Finely slice the onion, chop the green chillies and make ginger and garlic paste.
In a cooking pan, heat 2-3 tablespoons of mustard oil over medium heat. When oil is hot enough, fry adauri with frequent stirring until golden brown. Take them out draining the oil.
In the same pan, fry fenugreek, cumin and mustard seeds. Add sliced onion and green chilies when seeds start to pop up. Then add ginger and garlic paste, and turmeric powder. Cook it until the spices are light brown. Then add back the fried adauri, salt, cumin and coriander powder mix, and red chilli powder. Give it a stir and add about two cups of water. Put the lid on and cook it for about 15-20 minutes over medium heat. Adauri soaks some of the water and expand slightly. Again add a cup of water and bring it to boil. Adauri ki tarkari is ready and you can have it with rice or roti.