Everyone at Tangting village was busy harvesting millet and rice.  The other big festival Tihar was a couple of weeks away. Everyone seemed in hurry to wrap up the harvest before the festival. Those who have already harvested the grains were busy drying them in sun. Millet and rice are the main staples of the community. Millet can be easily grown in less-fertile soil whereas rice has to be irrigated with water. Cold water-grown rice is believed to be more flavorful. In fact, everything produced in higher elevation with a cold climate and slow ripening time has better taste. Well-off families in the village also have their own paddy fields in the besi, down by the river.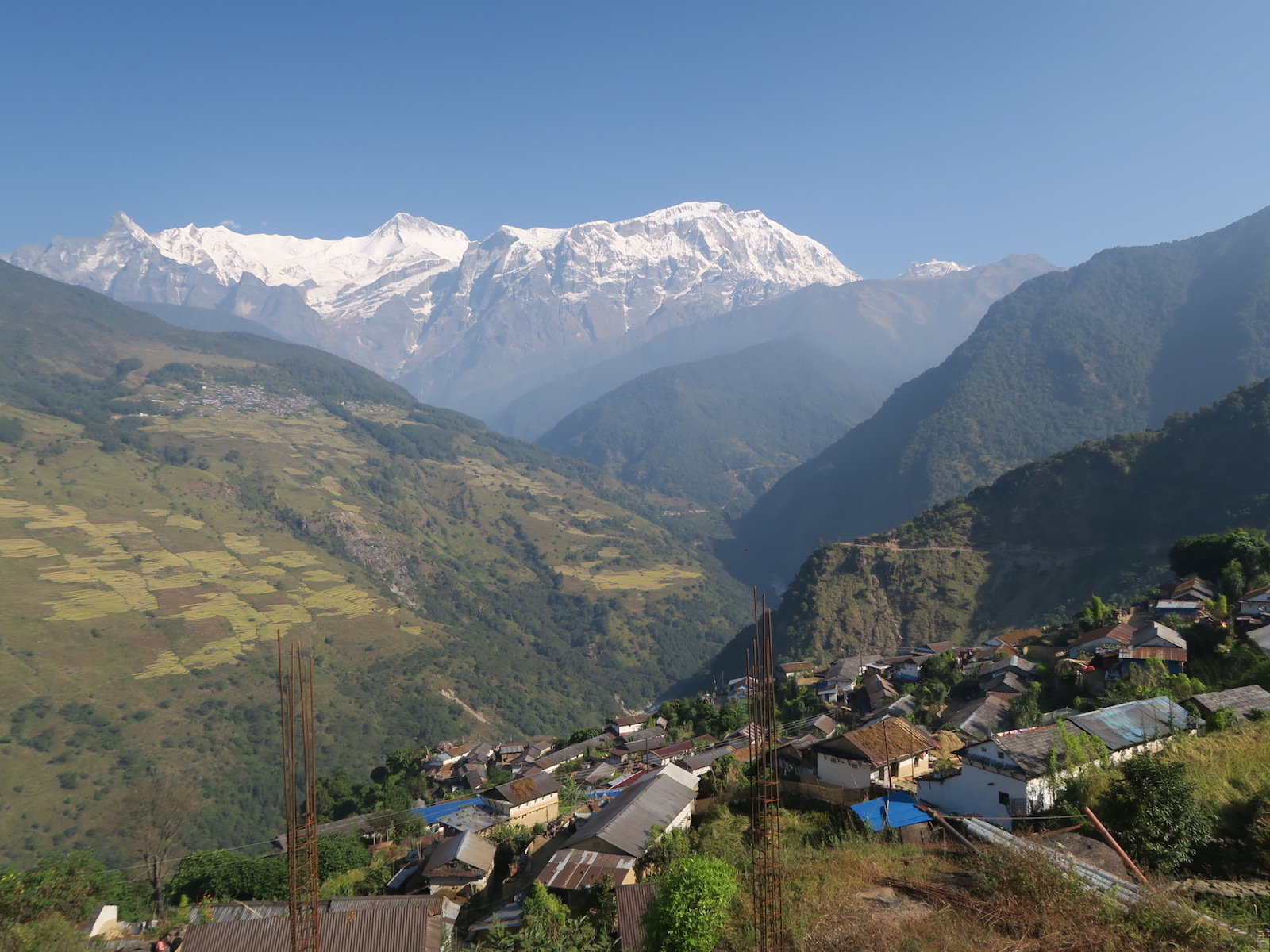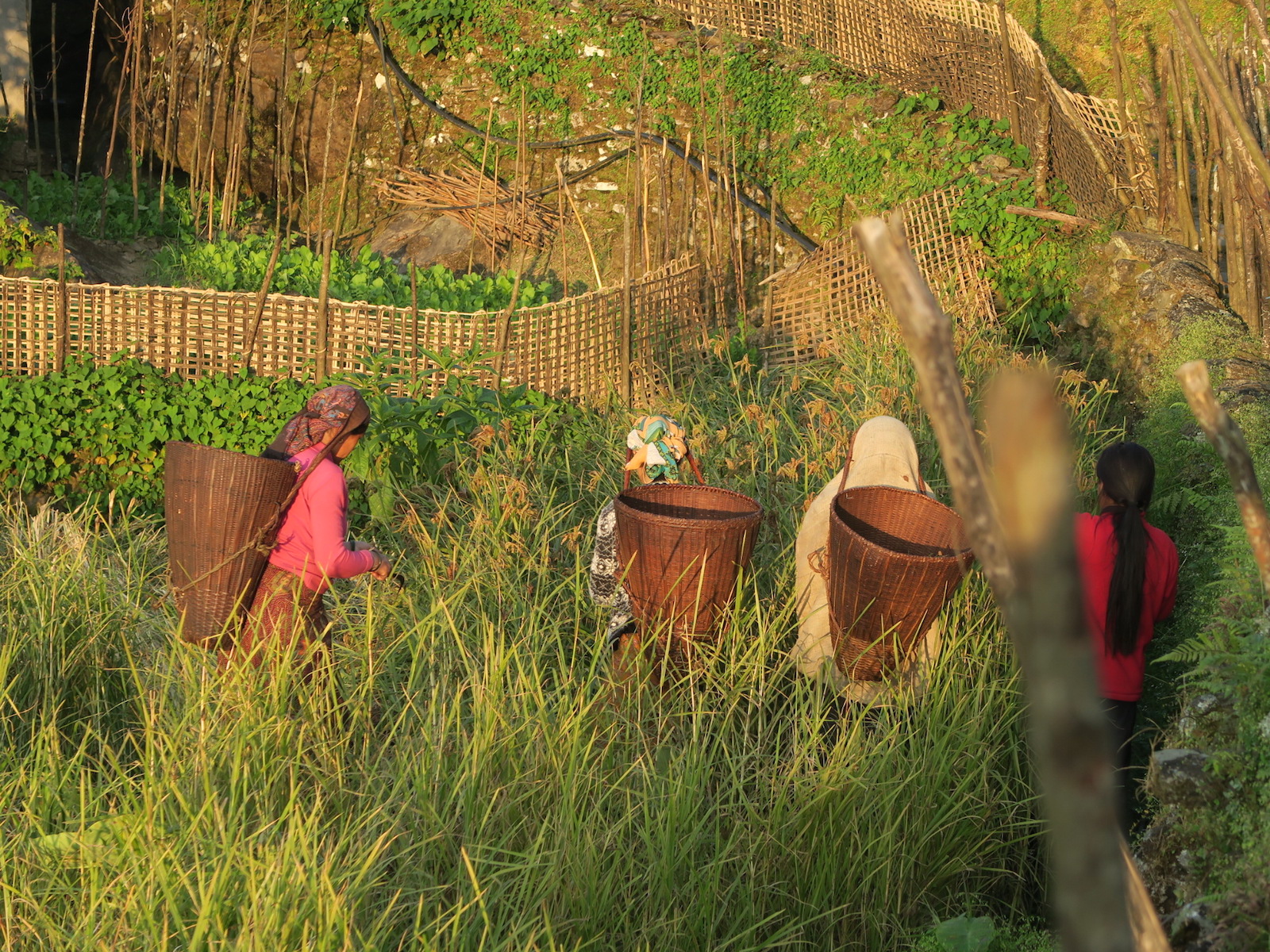 In the distant not so far, Annapurna IV, Annapurna II, and Lamjung Himal were glowing in the warm morning sunlight. The days were already getting colder. The elderly, Baje Bajai, were sitting next to the sun-drying grains sun-basking. And making sure that chickens don't get chance to hover around the grains. Occasionally they would stir the grains so that they are evenly dried. Adults, predominately women, were out in the fields. As most young and adults have left the village for education and employment to the cities or abroad, the village is largely left for elderly. But during the festivals, as many have returned to the home, the village should have probably felt more vibrant than the rest of the year.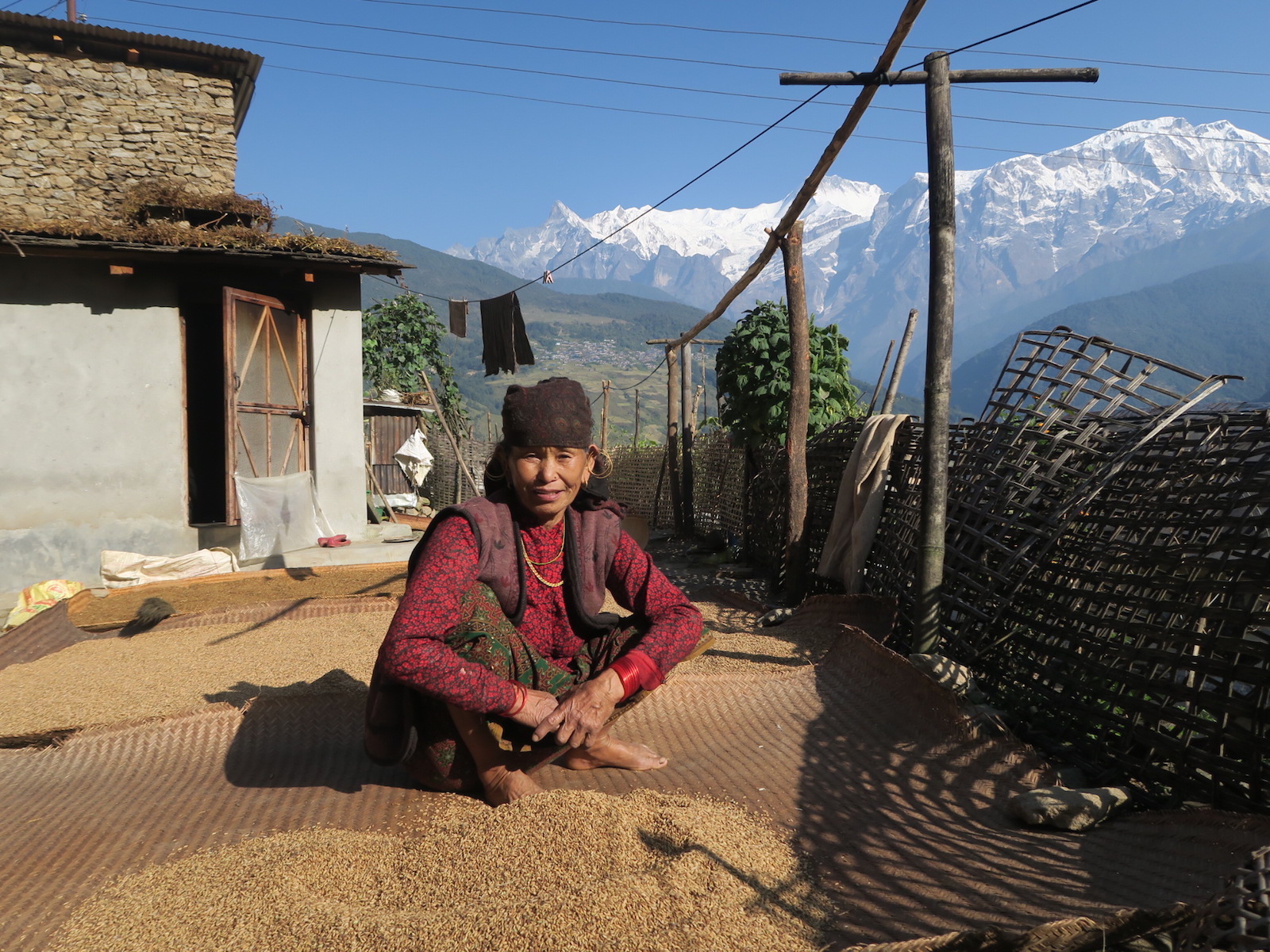 The Gurung village has an intricate network of beautiful narrow pavement laid with stone. The typical mud-stone houses, every one of them, were built facing north-west looking over the snow-capped mountains. The only odd building in the village is the ward office- built with cement and corrugated sheet. If there is an institution that is actively involved in destroying the culture, traditions, and architecture, it's the state establishment. I guess the settlement hasn't changed much from ages beside a dusty motor road built for hydropower project dissecting the village. I have been told that a few houses were demolished to make room for the road.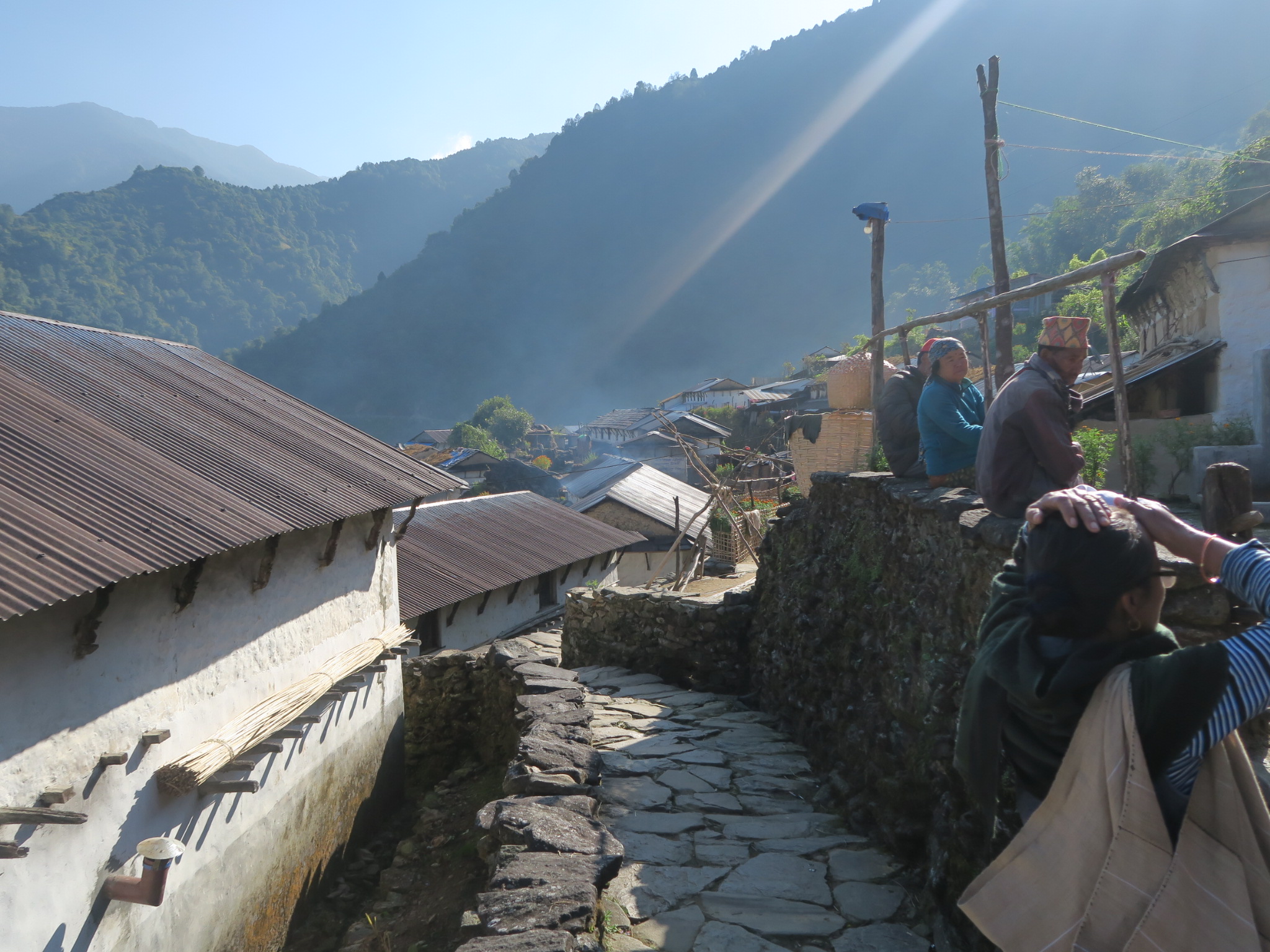 Duja didi from the homestay took me for a walk around the village in the very first morning. Everyone knows everyone in the village and everyone keeps track of everyone's' business. Maybe that's how the community should exist. The city I live in is different. Although people in cities have been spatially living closer together than ever before we have been socially parted farther. Everyone would invite for a tea at their home. Apparently, she stopped in front of every house on the way for a short chitchat but kindly refused to sit for a tea. Five minutes of the walk would take an hour. I didn't understand what they were chitchatting about, but I did sense that lots of the talk were about the harvest, hydropower and homestay business.
She consciously, I guess, chose to stop by the house with a cow; for a milk tea. She was probably craving for milk tea. As most households have stopped rearing cow and buffalo, milk is rare to find. She also had bought a cow a day before I reached Tangting but hadn't yet milked her. She wanted to continue the culture that once has halted, for milk and manure. Every passerby made some comments about the new cow. A passerby commented: "cow looks really pretty". Duja didi's daughter in her 20s wittily replied: 'of course she looks pretty… that we have bathed her with soap in seti khola.' Seti khola is just down the Tangting and the name means white river.
Daily meals are largely met by the grains and produce grown in the village. Seems like food culture hasn't changed much. At least for now. There are not a horde of visitors asking for chauchau soup or westerners asking for non-spicy food or pasta. The day I reached Tangting, it was already dark. Duja didi laid a woolen mat nearby the wood-fire oven for me to sit. Her daughter warmed a few glasses of home-brewed raksi (liquor). It is prepared from locally grown millet. In Gurung and many other ethnic communities, it is a revered drink and offered to guest as a welcome or honor. She fried prawn crackers to go with the raksi. Not sure how prawn cracker has now become part of our food culture. It is now eaten at every festivals and celebration. I assume that 'Gurkha soldier' employed in Southeast Asian countries like Brunei and Singapore have probably brought the culture of eating prawn crackers. When I lived in Indonesia for a year, I used to eat it almost every day. It is known as kropuk and serve it with every meal.
Sukuti were hanging above the wood-fire oven. A large bamboo-made basket is always hanging over the oven in Gurung's kitchen. The basket is used to dry meat and also to store and dry firewood. Eating meat used to be and still is a rare occasional event in Nepal. When there is excess meat during the festivals, they are smoke-dried for later use. Smoke-dried meat is a prized delicacy. Stir-fried, mixed with vegetable curry or stew, it is a favorite thing to eat. It can also be simply roasted directly over the fire and eaten with dipping in some salt. Smoke-drying is not just about preserving the meat but also developing flavors. Duja didi's daughter soaked the sukuti in hot water for a while, cut it into bite-sized pieces, and made a delicious curry mixing with vegetables. Glass was filled with more raksi and a bowl of sukuti curry was served to go with raksi.
Wherever I visit, I prefer to have local cuisines and made from the local produce as much as possible. Duja didi made the best kodo ko dhido I have ever had. Dhido is not my preferred food but this one was really tasty. It was made from locally grown millet flour and the variety grown in Tangting with smaller and dark reddish brown color has a comparatively soft texture and more flavor. It was served with stir-fried dried wild mushroom and soybeans curry. It had been while I haven't had wild mushrooms—the last one I had was in Langtang region almost a decade ago. Wild mushrooms are a delicacy- a rare one and one of the favorite foods to eat. When there is plenty in season, it is sun-dried for later use. I still have a vivid memory of eating a wild mushroom for the first time. I was very young. A sage who was our neighbor brought some mushroom foraged by himself from the nearby jungle. He roasted one directly over flame and gave to me. Others, he filled with some cannabis and roasted for himself. Didi asked me to make a small dip in dhido and poured a hot melted ghee. You have to have ghee with dhido— it's kind of mandatory— for adding more flavor. Dhido was a staple food of most hilly communities. It can also be made flour from wheat, buckwheat, and maize.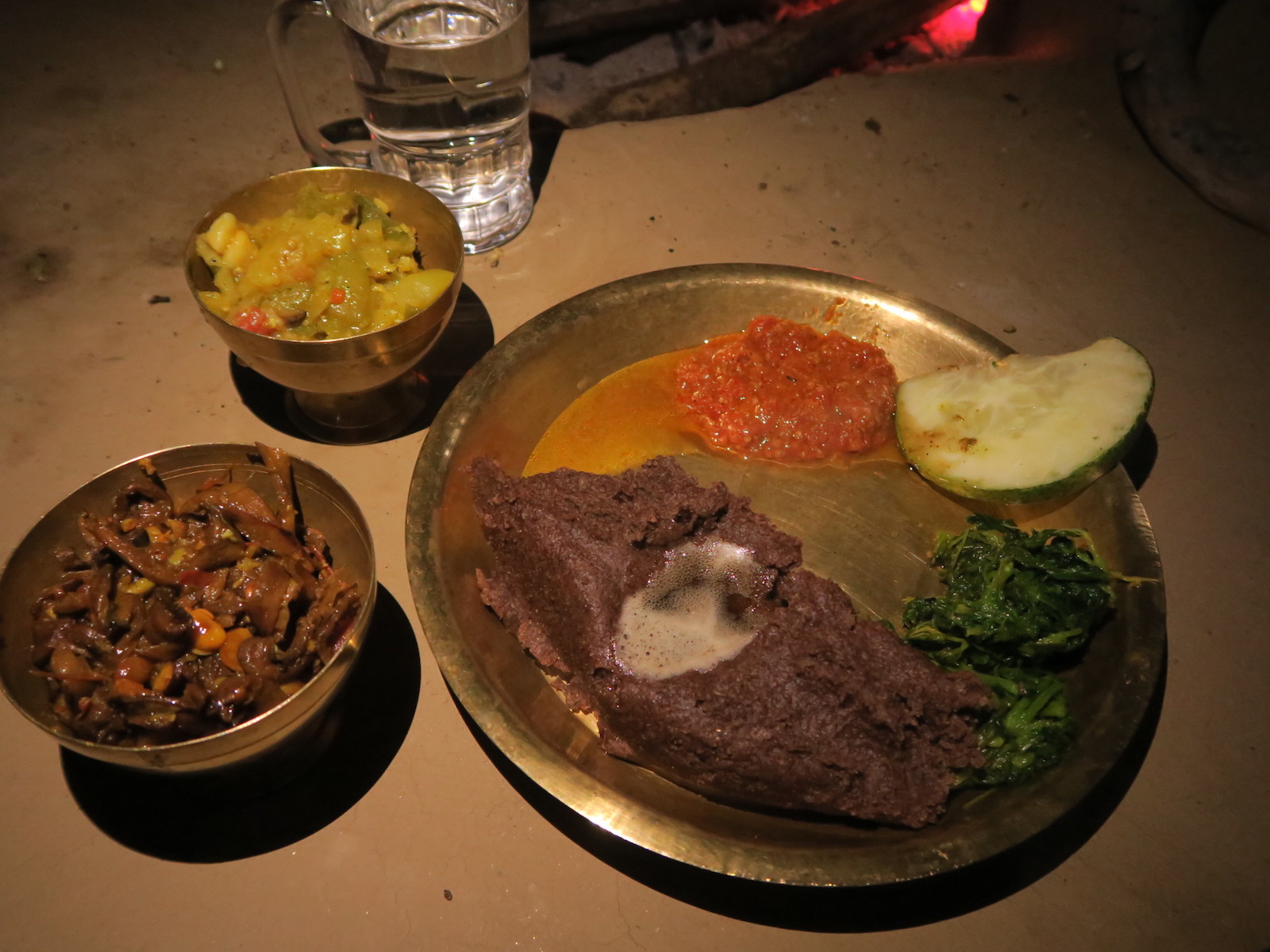 The other evening, Duja didi made selroti. Semolina flour, local honey, ghee, and water were added to rice flour to make a thick batter for selroti. She told me that honey apparently makes the selroti soft. I have never heard that before. The freshly fried selroti was served with sukuti and pumpkin curry. And obvious, raksi too. People usually drink few glasses of raksi before the main evening meal to release all the stress, tiredness and pain from working hard in the fields or jungle the whole day.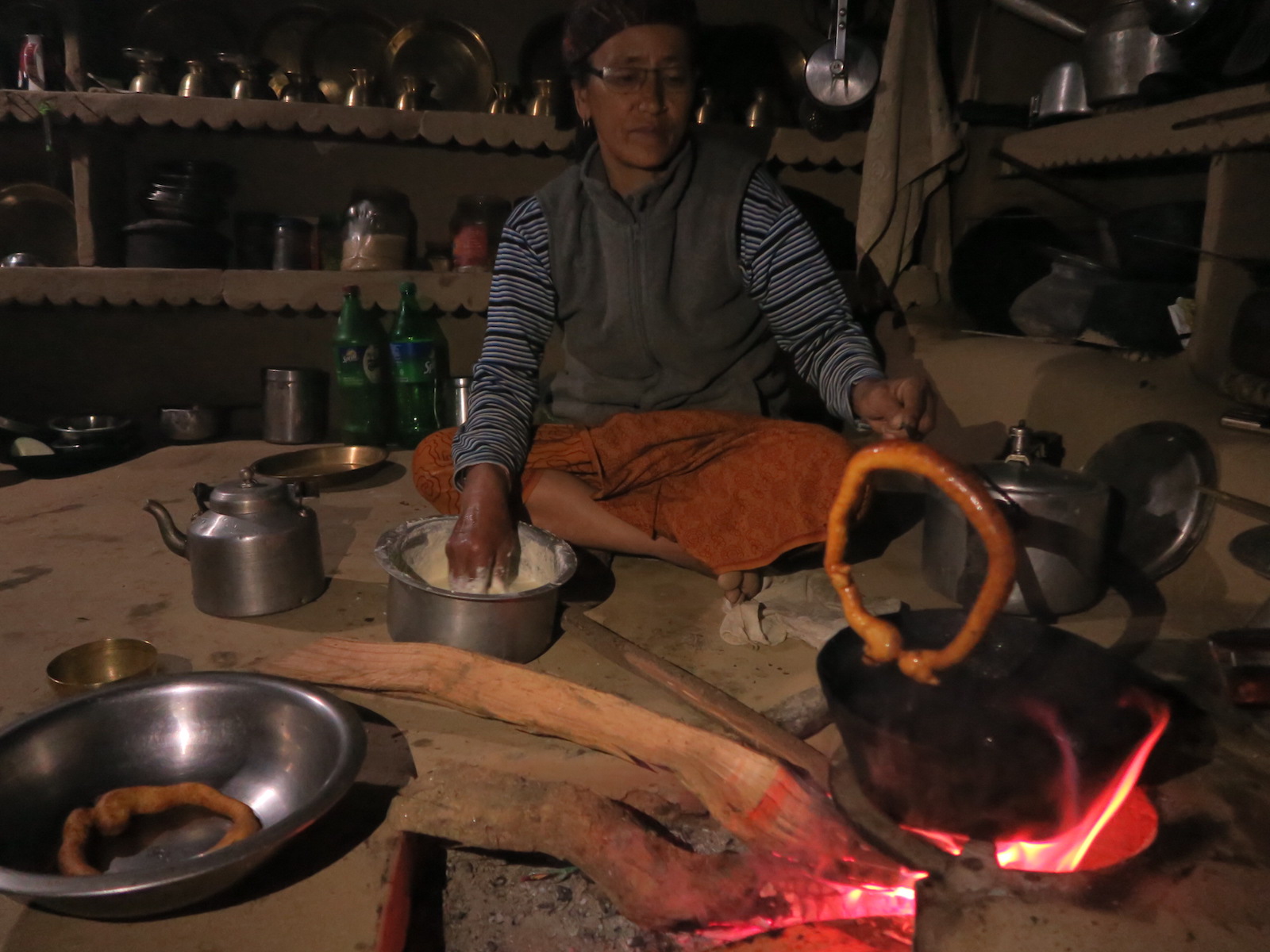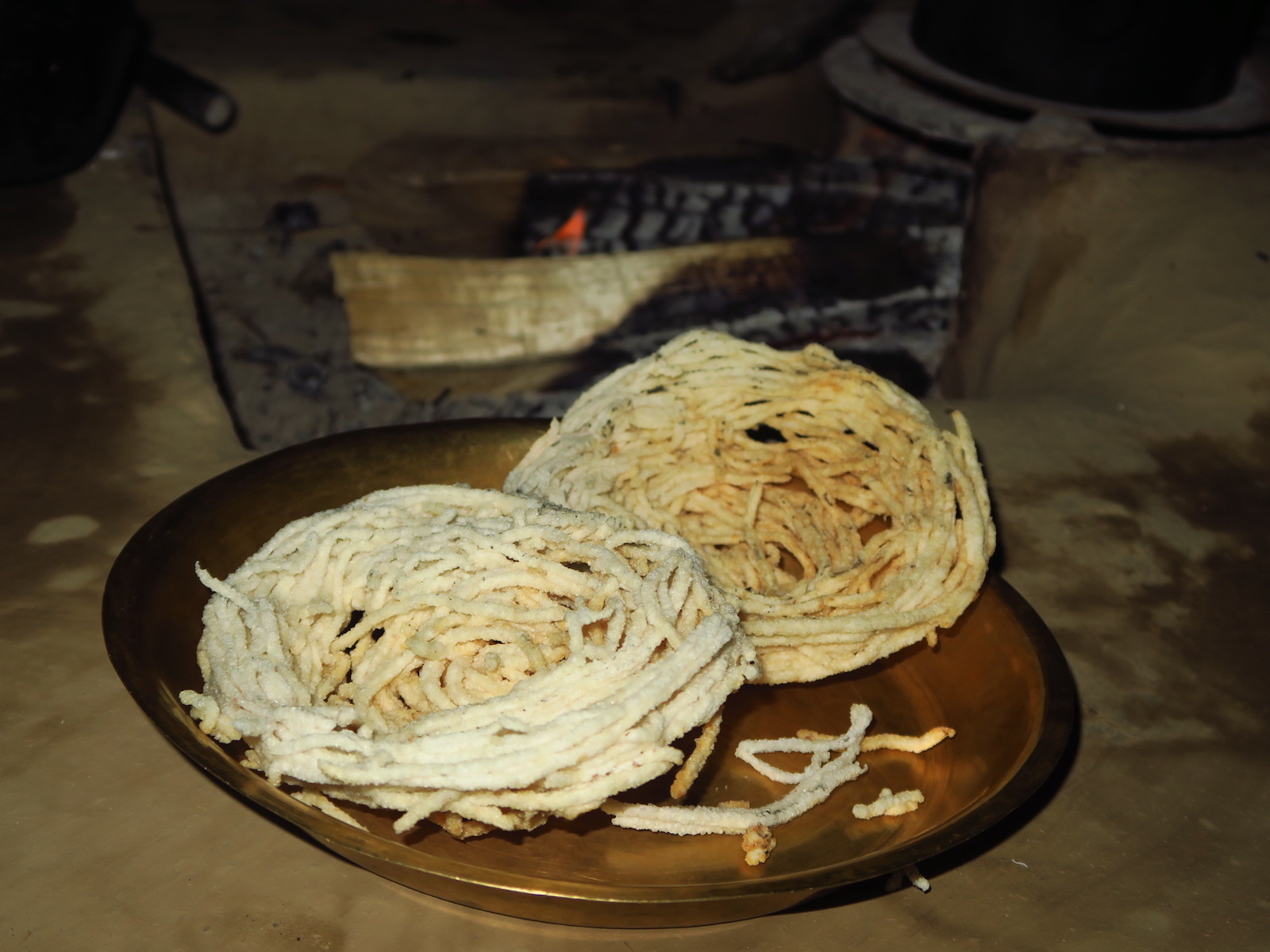 As I was there just after the big festival Dashain, I had the opportunity to taste a few festive delicacies. Jhilinge roti is one of the ethnic festive delicacies of Gurung community, and also other communities including mine. Duja didi fried some for the breakfast. The thin hard strands of jhilinge roti puff up when fried and become crispy. It was served with aromatic tea prepared by boiling tea with sunkauli ko paat (bay leaves), which has a sweet cinnamon flavor. The process of making jhilinge roti in Tangting is a bit different from how we make it. In my home, we have now almost lost the tradition of making as now one can easily find in the market. But the rice is soaked overnight and then it is ground into flour. It is then cooked with water to make a thick porridge. Edible colors were added and then put into a manual machine to make thin strands— similar to making noodle but thinner strands. The strands are made into a circular disc-shaped and then sundried for a couple of days. But according to Duja didi, rice grains are directly cooked into thick porridge first and then made into the roti. Colors are also not added.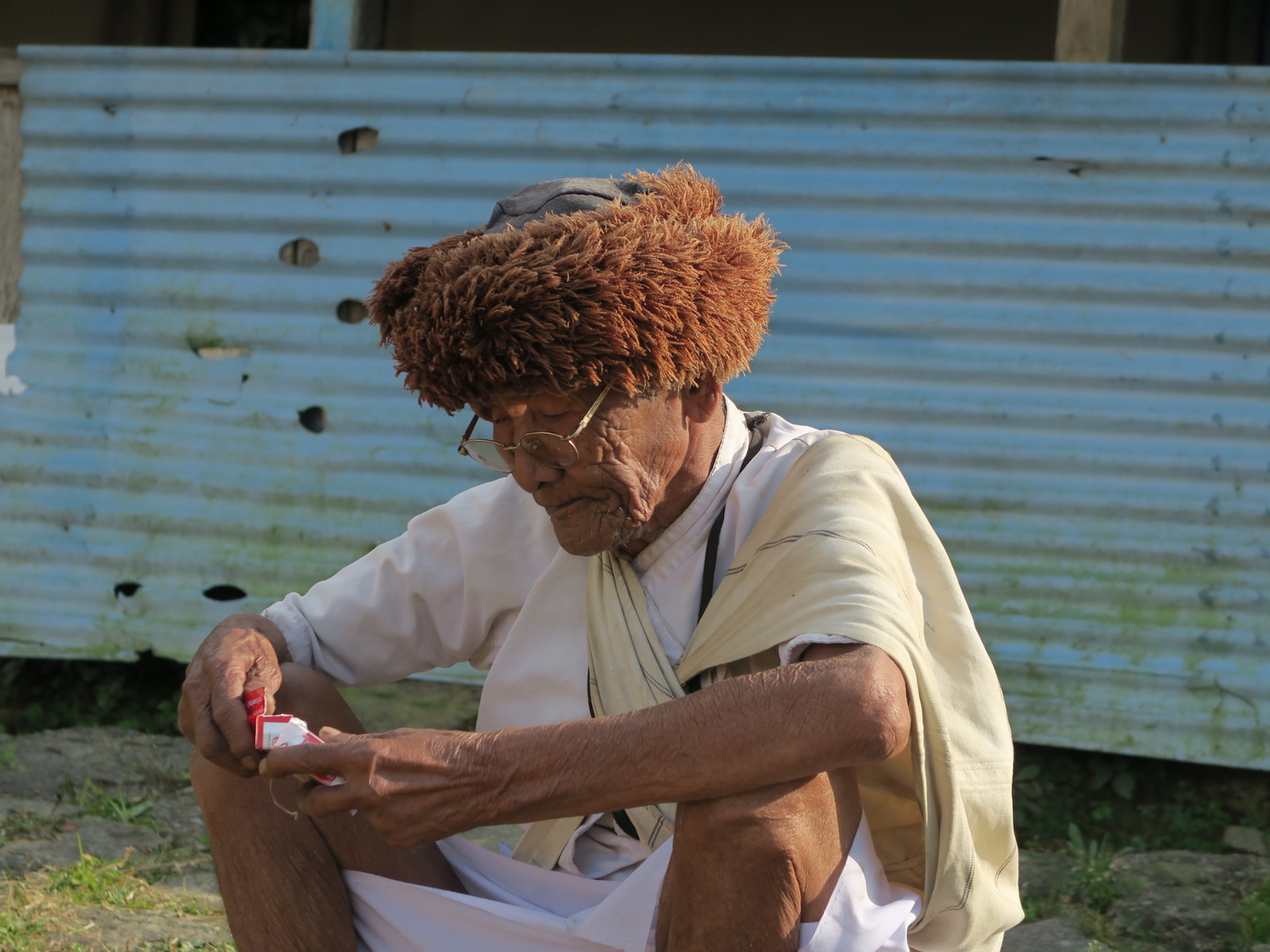 Baje, Duja didi's father, was a witty and interesting person to talk too. He is in his 90s. While sun-basking in the warm morning sunlight, he watches people passing by and looks after the sun-drying grains. All the villagers passed by would acknowledge his presence. He is the most elderly person in the village. It is also a basic courtesy to acknowledge or respect each other presence even if stranger to each other. Every elderly passing by would call me 'babu' and I would also acknowledge them by saying 'baje/bajai'.
On our first conversation, baje asked me where I was from and the obvious one if I am married. Then, he commented on my uncut messy hair and asked me to cut it as soon as possible. He would constantly remind me how ugly my hair is and how I looked like a hooligan. A lean man of Madhesi decent came selling peanuts. Her granddaughter bought him some peanuts to munch on, just before she left for Pokhara. Baje kindly asked him when he came to the village and if he has eaten khana. I guess he comes to the village often selling things. He would also ask me frequently if I have eaten well. Showing the distant mountain, he shared stories of his youthful days when he used to go hunting. He used to hunt wild animals like thar (wild Himalayan goat) and deer. He said he had reared ninety buffaloes and the shed was about an hour walk from the village. There was plenty of milk and ghee. He used to bring a large bucket of ghee every few days to the village. 'Even though I am ninety, I can still see and I still look young because I had lots of milk and ghee when young', he said. 'Nowadays these young people aren't strong enough'. Whenever we sat together sun-basking, he was keen to share his life stories. He married five times but left the first three as they were not able to bear children. I could sometime sense his masculinity attitude. He initially wanted to become a soldier and had almost left the village. But his mother didn't let him.
Baje said it would take less than an hour for him to reach Sikles from Tangting. When I said it will then probably take me 3-4 hours to reach Sikles from here, he gave me a withering look, and wittily said,  'If someone from Sikles asked if Dhan Bahadur is still alive, tell them I am still young'. Even just before I left for Tangting, he reminded me of my hair. When I came down to Pokhara, I cut my hair. And I had to cut it very short.