Goat's meat (mutton) is one of most loved meat varieties among Nepalis. Here is the recipe of pressure-cooked mutton curry. If you are not using pressure cooker, you will just have to cook the curry longer. We Nepali normally love to cook with bones, skin and fats instead of just boneless lean meat. Bone marrow and some fatty meat pieces enhance the flavor of the curry, especially when you make the mutton soup. Goat's meat has its own deep flavor and doesn't require much spices and efforts to enhance the flavor.
Ingredients
½ kg Mutton pieces (with bones)
1 medium size Red Onion (finely sliced)
2-3 medium size Tomatoes
1 tbs Garlic and Ginger paste (coarse)
3-4 Cloves
3-4 Green Cardamoms
1 Cinnamon stick
3 Bay leaves (Tejpata)
1 tsp Fenugreek seed
1 tbs  Meat Masala
1 tsp Garam Masala
1 tsp Red Chili powder
1 tsp Turmeric powder
2 tbs Vegetable Oil
1 tsp Butter/Ghee
Salt
Fresh coriander leaves
Method
In a pressure cooker, heat 2 tbs of vegetable oil and fry  cloves, green cardamom, cinnamon, bay leaves and then fenugreek seed. Fry them for around 15-20 secs in medium heat until aroma starts to develop.
Add finely chopped red onion and fry until it becomes soft and starts changing color. Add ginger and garlic paste and turmeric powder and fry further for around a minute.
Add chopped mutton and cook it for around 5-6 minutes with occasional stirring.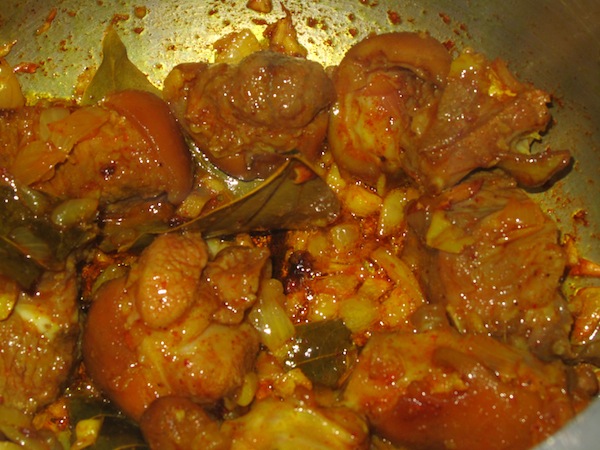 By now the meat starts to become brown. Add a tbs of salt (or according to your taste), meat masala and red chili powder. Cook it for around 2 minutes with occasional stirring and add diced tomato. Cook it further for around 4-5 mins until the diced tomato becomes soft and dissolved in the curry, and oil starts to separate from the masala.
Add garam masala, stir it and add a cup of water. Put the lid of the pressure cooker and cook it for around 15 mins (around 4 whistle) in low heat (if you are not using the pressure, cook the curry for around 25-30 mins in low heat with lid on).  Turn off the heat and let the cooker cools down until the steam in the pressure cooker releases completely. It will take around 5-10 mins depending upon the surrounding temperature.
Take the lid off, add a tbs of butter or ghee and give it a stir. If you want to make more gravy or soup, add more water and bring it to boil in low heat. Garnish with fresh coriander leaves before serving.
This quantity serves 3-4 people. You can eat the mutton curry with steamed rice, roti/bread, dhindo etc.  If you are making soup, you can also eat it as starter.
You may also like to try Khasi ra Kwaati ko Jhol (Mutton and Mixed Lentil Beans Soup).