This is quick and super easy to make. People in mountain regions (especially in Mustang by Thakali ethnic community) eat boiled or fried potato, homemade blood sausage, dried meat etc. dipped in szechuan based condiment (timur ko choup). It is also used to season omelet and soups. Timur ko Choup is simply made from red chili powder, szechuan pepper (timur)and salt.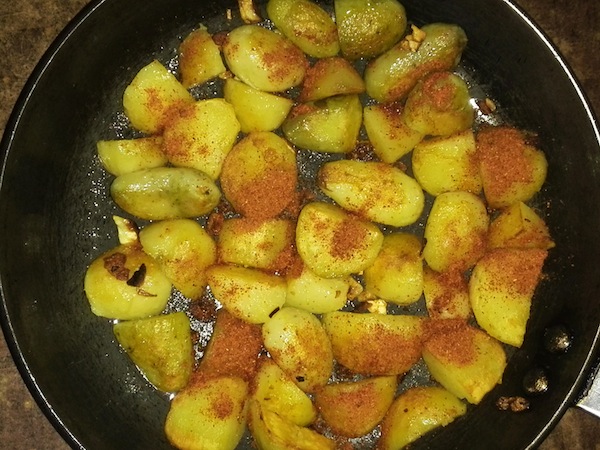 Ingredients
5-6 medium size Potatoes (preferably from mustang)
1 tbs Yak Butter (or you can use general butter)
3 cloves Garlic
1 tbs Timur ko Choup
Method
Boil the potato until cooked and cut the potato into large wedges (you can leave the skin on).
In a pan, heat a tbs of yak butter in medium-high heat. Add smashed and sliced garlic, and potato wedges. Cook until the outer part of potato wedges become brown and crispy.
Turn of the heat and sprinkle with a tbs of Timur ko Choop.  Make sure the potato wedges are fully coated with condiment. Eat it when hot… your mouth tingles with szechuan pepper (timur) and hotness from red chili powder. Enjoy the himalayan taste!
For making Timur ko Choup: Take 2 tbs of red chili powder or handful of red chili, 1 tsp of lightly roasted szechuan pepper and 1 tsp of salt, and grind them together using mortar and pestle or electric grinder. You can use the similar ratio and store it for using anytime you require.