Kinema is a traditional cuisine of Limbu community, which is basically fermented soybeans. Although it smells very stinky but has very delicious flavor. Earlier I have shared the recipe of Kinema ko Jhol/Curry. Today I have tried to make Kinema and Tomato Pickle. This is easy to make, and doesn't really require much spices as it has its own distinctive flavor.
Ingredients
1 cup Kinema
½ kg Tomatoes
4-5 Dalle chilies (or Red dry chilies)
3-4 Garlic cloves
1 tsp Turmeric powder
½ tsp Timur (Szechuan pepper)
3 tbs Vegetable Oil (preferably mustard oil)
Salt
Method
Heat 3 tbs of vegetable oil in a frying pan in medium heat. Fry finely sliced garlic until light brown.
Then add dry kinema.and fry around 1 ½ mins until you smell the aroma (stinky flavor). Then add turmeric powder and chilies. Give it a stir and add chopped tomatoes. Sprinkle around 1 tsp of salt (or according to your taste). Cook it for around 8-10 mins in medium heat with lid on and occasional stirring. Make sure you stir the mixture occasionally with spatula, if not the lower part will stick in the pan and get burnt.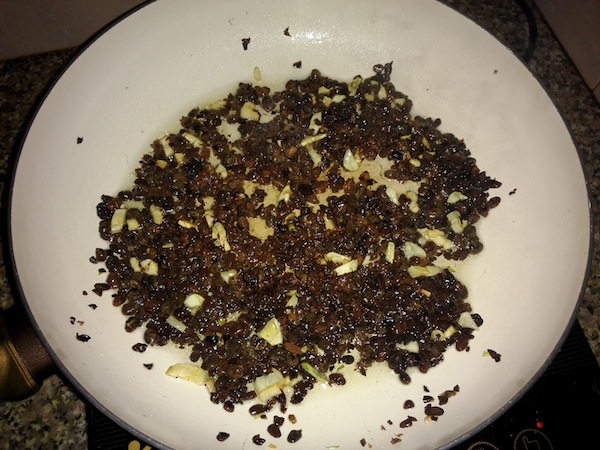 Once tomatoes nicely melt and form thick gravy, remove the lid, reduce the heat to low and cook it for other 8-10 mins with occasional stirring until the moisture reduces and oil starts appearing in surface.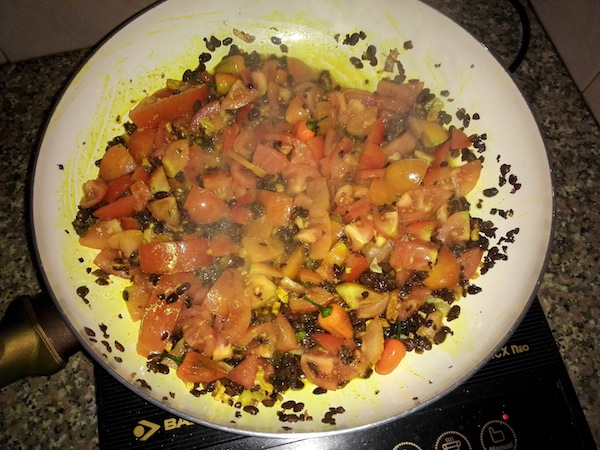 Sprinkle timur and give it a stir, and turn off the heat. You can also add some lemon juice. Let it cool down and you can eat it instantly as a side dish with rice or bread. You can also store it in jar, and top it with ½ tsp of vegetable oil while storing in a jar. It will last for around a week, and several weeks if kept in refrigerator.