Avocado is relatively a new type of fruit to Nepali. I don't think we have long culture of growing and consuming avocado in Nepal. However it is becoming increasingly popular (not hard to find), largely because of its nutritious values. It is commonly called as "Ghiufal" or "Naunifal" in Nepali, which translates to Ghee or Butter Fruit as texture of the fruit resembles to ghee or butter. It contains lots of monounsaturated fats.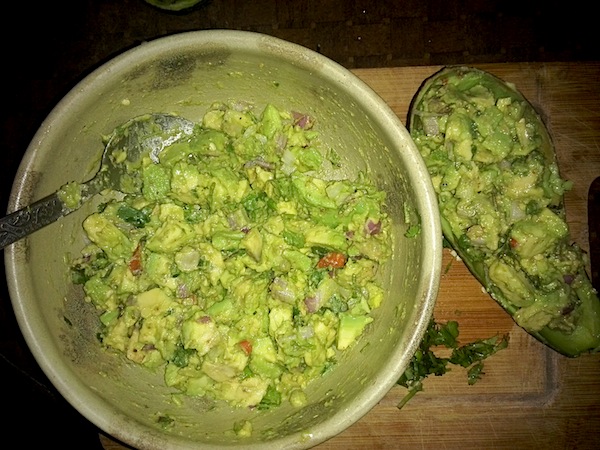 I have tried to make the Nepali version of Guacamole (Mexican avocado salad) using Nepali spices.
Ingredients
2 small-medium size Avocado
1 small Onion
1-2 fresh Red chilies
2 Garlic cloves
1-2 Tomato
Handful of fresh Coriander leaves
1 Lemon
½ tsp Cumin seed
½ tsp Coriander seed
½ tsp Fenugreek seed
A pinch of Turmeric powder
Coarsely grounded Black pepper
t tsp Mustard oil
Method
For de-stoning or removing the seed, cut the avocado in circular around the stone and remove the stone. Using the tip of knife, slice the flesh in both directions to make cubes making sure that you don't pierce the skin. Scoop the flesh out the avocado into salad bowl using a spoon. You can make the cubes as small as you want.
Finely slice the onion, crushed garlic, fresh red chilies, tomato and fresh coriander leaves and add them to the salad bowl.
In a small pan, roast cumin seed, coriander seed and fenugreek seed lightly until the aroma starts to develop. Grind them together using mortar and pestle, and sprinkle them over the salad. Fenugreek seed gives a nice aroma and balances the flavor with its slight bitterness.
Add a pinch of turmeric powder, and black pepper and salt according to your taste. Squeeze a lemon juice and add a tsp of mustard oil. Mix them together so all the spices and lemon juices are thoroughly coated in the salad. You can also lightly mess the avocado cubes if you want. You can eat it as a salad all on their own, or with any types of breads, corn chips or pappad.
(Note: Consume it fresh and don't leave sliced avocado in freeze or out, as it turns black because of oxidation. If you have to, use lemon juice over the exposed surface)