Thenthuk, locally called as Shyakpa in Sherpa language, is a typical Himalayan Tibetan noodle soup enjoyed by Sherpa, Tamang, and Tibetan communities from upper regions of Nepal. It is eaten during the cold winter days to keep warm. The noodle soup is generally made from winter vegetables, lamb or yak meat and homemade noodle. Thenthuk is derived from Tibetan language, which translates to 'hand-pulled noodles'- 'Then' means 'Pull' and 'Thuk' means 'Noodles'. I have been told that every household has their own way of making Thenthuk. Here below is my version of Thenthuk. Enjoy the homemade noodle soup- will keep you warm this winter.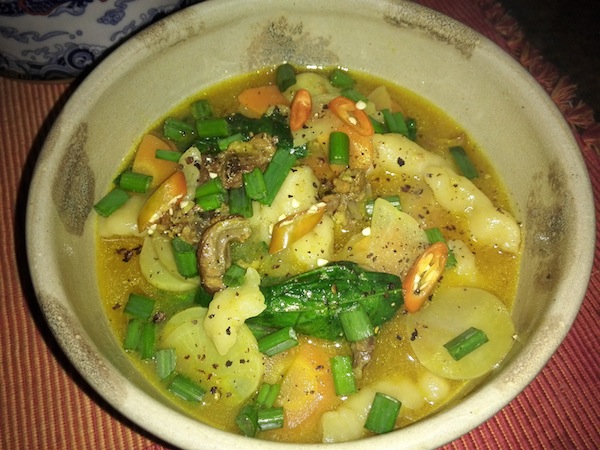 Ingredients
300 gm Mutton (with bones)
1 medium size Radish
1 medium size Carrot
2 medium size Potato
1 cup Wheat floor
1 Spring Onion
1 small Onion
2 Tomatoes
3-4 Garlic cloves
1 thumb size Ginger
2 tbs Vegetable Oil
½ tsp Black pepper
½ tsp Timur (Szechuan pepper)
½ tsp Turmeric powder
1 tbs Soy sauce (optional)
Red chilies/ Red chili flakes/Chili paste
Salt
1 lemon
Method
Making Dough:
Add a cup full of wheat flour in a bowl. Add around half of cup of water and mix them together. Knead them together until it become smooth, soft and stretchable. Keep it aside covered to keep it moist.
Making Broth:
Once dough is prepared, you can start making broth.
Heat two tbs of vegetable oil in a pot or pressure cooker. Add chunks of mutton meat with bones (the secret of making better broth). Cook it until the meat becomes brown.
Then add roughly chopped chunks of onion and smashed garlic and ginger. Once the onion, ginger and garlic starts browning, add stalk of spring onion (save leaves for garnishing later), chopped tomatoes, salt (according to your taste), turmeric powder and black pepper, and cook it for a minute more.
Add around five cups of water and put the lid on. It will take around 25-30 mins in pot and 6-7 whistles in pressure cooker to cook the meat.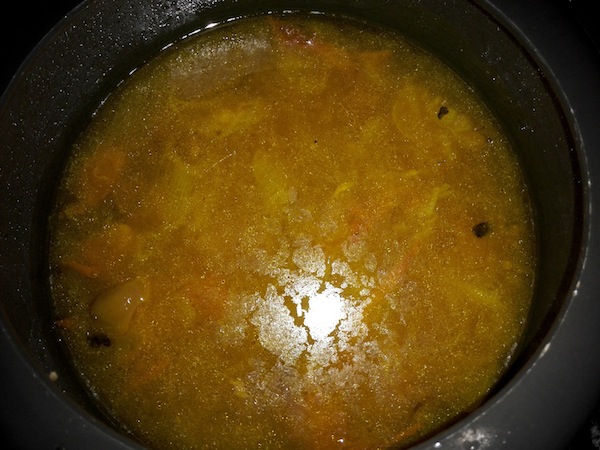 Making Thenthuk:
Prepare the vegetables while broth is boiling. Finely slice potatoes, carrots and radish.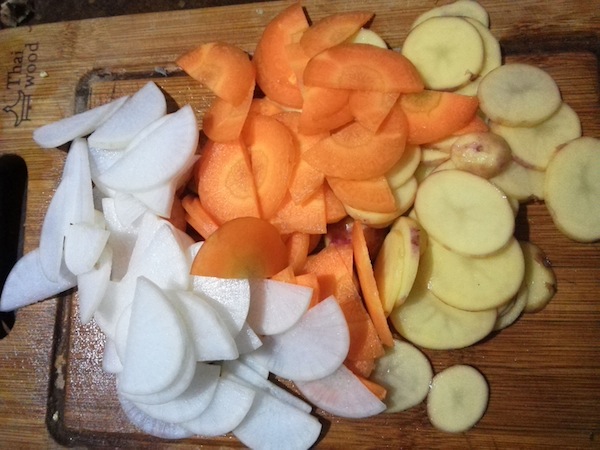 Once the broth is prepared, transfer only the clear broth in other pot. Add some water if required and bring it to boil. Add all finely sliced vegetables into the broth. Remove the meat from the bone, slice it and add them in.
Put some oil in your hand, take some dough and roll it in your hands. Using your hands make it flat or any shapes or sizes you want, pull of the noodles and drop them into the mixture. Better try to make of same thickness and sizes to allow it to cook at the same time. Depending upon the thickness of your vegetables slices and noodles, cook it for around 8-12 minutes. Add a handful of spinach and soy sauce to taste at the end. Turn off the heat.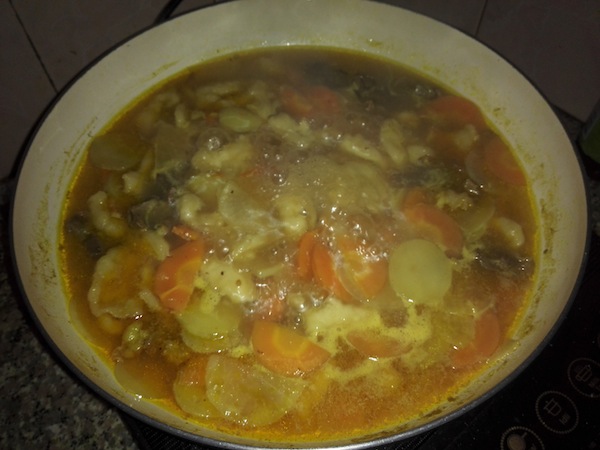 Thenthuk is ready to be served. Put thenthuk in a bowl, sprinkle some grounded roasted timur and garnish with chopped spring onion. Add chopped fresh red chilies or red chili flakes or chili paste to give some heat, and squeeze some lemon juice to make it tangy.