Boudha has bit different ambience than other parts of Kathmandu Valley. Largely settled by Tibetan and Sherpa-mountainous communities of Nepal, the ambience of Boudha largely reflects their culture, traditions and religion. The place is a peaceful hideout from the chaotic noisy traffic of Kathmandu Valley. It's pleasant to see people passing by, monks and devotes going around the Boudhanaath Stupa (original name: Khaasti Chaitya) and praying, tourists taking pictures, and people selling Tibetan food, handicrafts, incense and other worshipping materials. Among many other things, food is one of the distinctive features of Boudha. It is probably the only place in town where local eateries serve foods with chopsticks. We are proud to have such a diverse and rich food culture in our country.
I have walked alleys/streets and explored eateries of Boudha to find Tibetan and Sherpa influenced food culture. These are some of the foods that I recommend you to give a try when you are in Boudha.
Laphing is the must try food. You will not find it in other part of the town, beside few places opened recently. It is a cold, spicy and savory noodle dish often eaten in summer. The noodle is made from extracting starch from the potato, mung bean or wheat flour, and also gluten extracted from the flour is served with the noodle. Gluten has tofu like meaty texture. Spices and condiments such as soy sauce, garlic extract, Szechuan pepper, red chili paste, sesame oil and vinegar give Laphing a peculiar and perfectly balanced flavor.
Laphing is originally a Northern Chinese cuisine known as Liangfen, which literally translates to cold noodle. This dish travelled to Nepal with Tibetan and Chinese people who later settled in Boudha.
There are plenty of eateries around the hidden alleys and streets of Boudha that serve Laphing. From the north eastern side of Stupa, take a street towards north and walk for around 250 meters. You will see many stalls and eateries serving white and yellow Laphing. In weekends all these eateries are packed, with largely young people, eating Laphing. In case you find it difficult to locate, ask any locals there.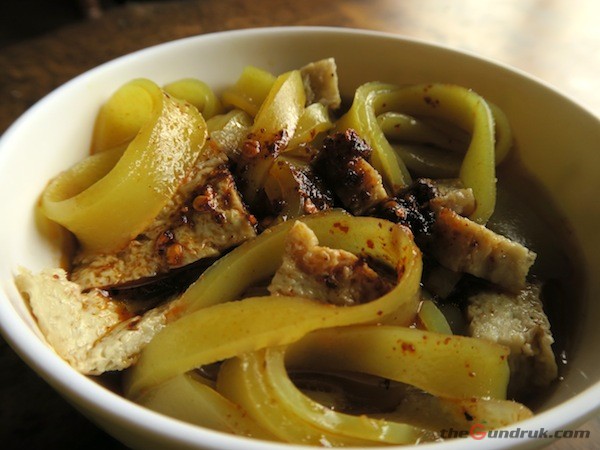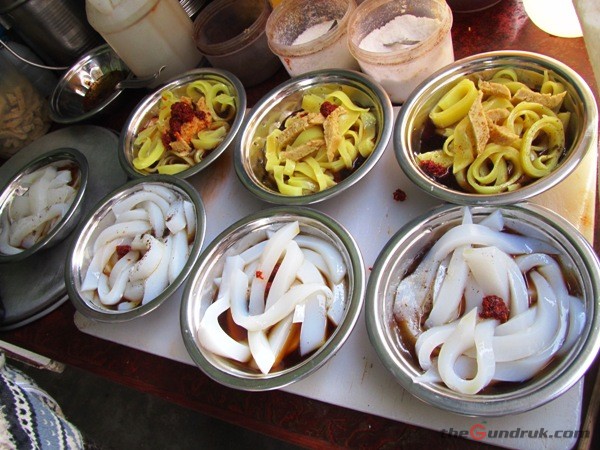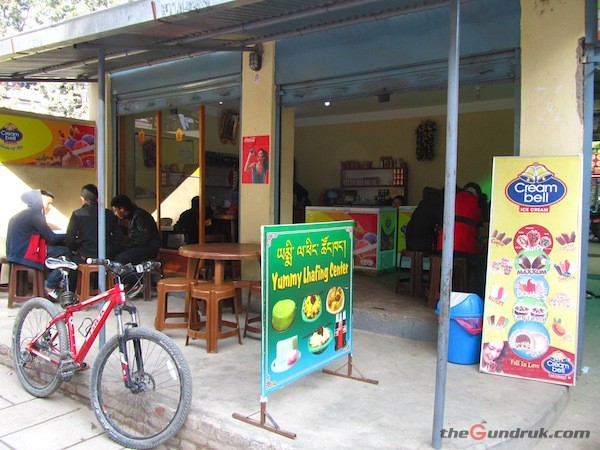 Thukpa is another Tibetan or Sherpa dish you should try in Boudha. It is different than you will usually find in other places. Last time when I was in Boudha, I found very popular place for Thukpa- one of the best Thukpa I have ever had. However it is more like Sichuan Dan Dan noodles. The name of the restaurant is 'Khawa Karpo Tasty Noodle Factory', and also located in the same place where you get Laphing. One of the key reasons for their delicious Thukpa is the use of freshly made homemade noodles. They make noodles right at the restaurant. The owner told me that sesame oil is one of the key ingredients that make the Thukpa delicious and different from other places. It is a very simple noodle dish with soy sauce, sesame oil, Szechuan pepper, red chili past and minced meat (for non-vegetarian), but yet very delicious.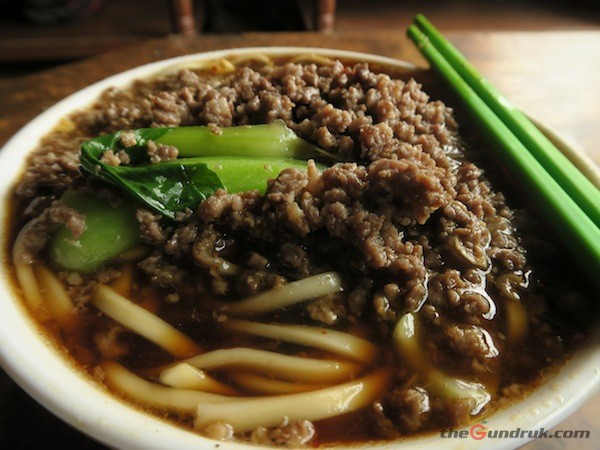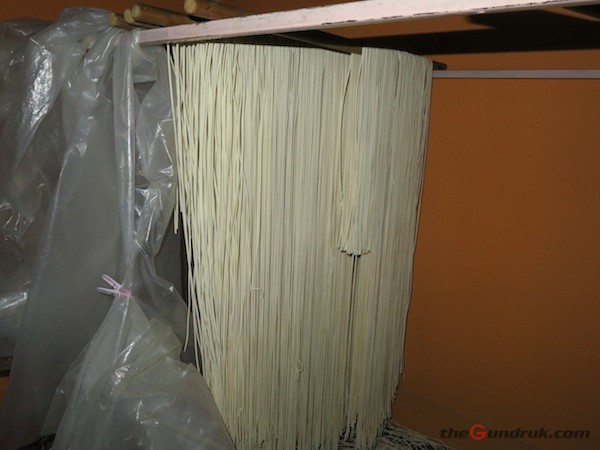 Khapse is Tibetan/Sherpa deep fried pastry made up of flour, egg, butter and sugar. It is usually prepared during Tibetan/Sherpa New Year or Lhosar, and special ceremonies like wedding. Larger size of Khapse is made for offering or decoration during the Lhosar. You can find Khapse being sold around the Stupa. It makes good snacks with tea anytime of the day.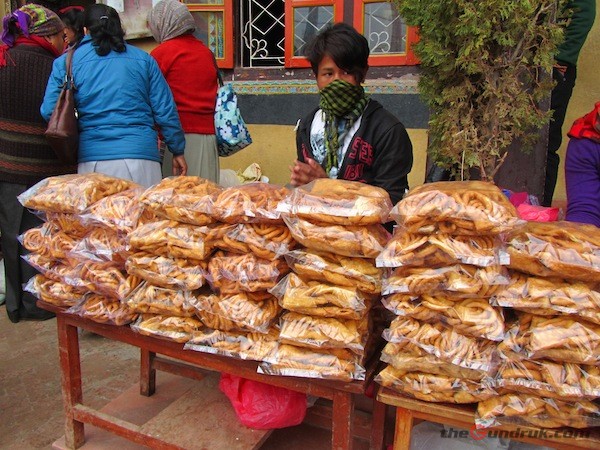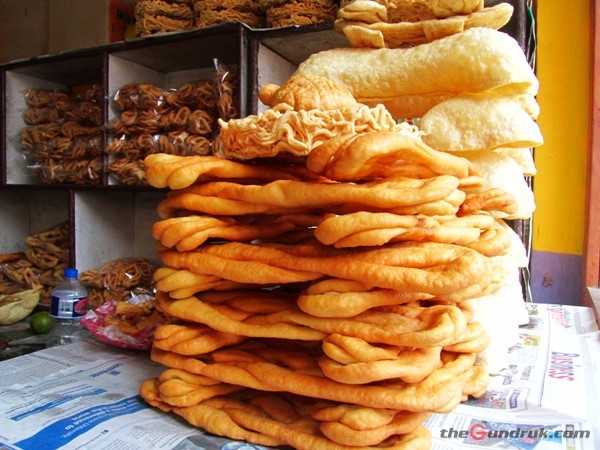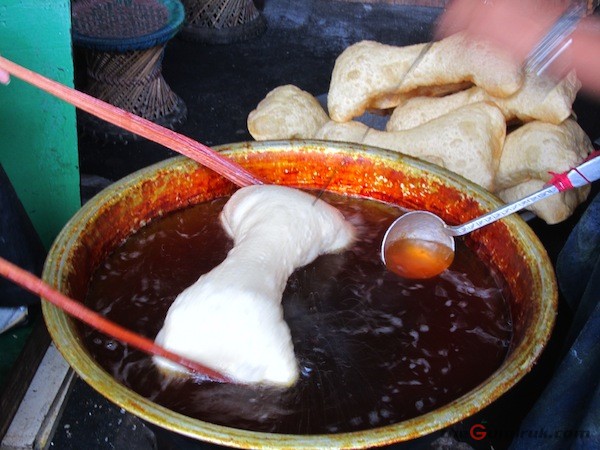 On the western side of the Stupa, you will probably see a lady named Dolma selling Tsampa, wheat and buckwheat floor, beans etc. She said that all those are brought for her village Gatlang in Rasuwa. Tsampa is Tibetan and Himalayan Nepali traditional staple food made from grinding roasted barley. It has nutty flavor, and usually eaten with butter tea and yak cheese. Barley is highly nutritious cereal grain with high dietary fiber and protein content.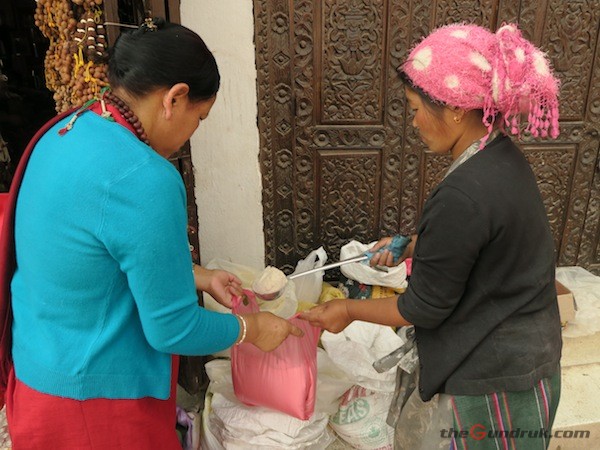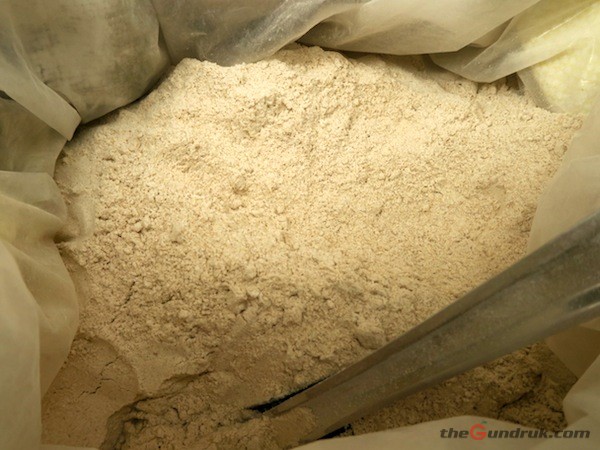 On the eastern side of stupa, there is a small alley (see the picture below) that leads to you a large open space with several eateries that serve Tibetan/Sherpa foods or Tibetan/Sherpa influenced foods. It is also popular hangout place for both young and elderly. You can see lots of people during morning and late afternoon, enjoying hot tea. The eateries serve varieties of Tibetan/Sherpa food such as Thukpa, Thenthup, Shyabhale, fried potato with Szechuan pepper-red chili sauce, Tingmo, Salty butter tea etc.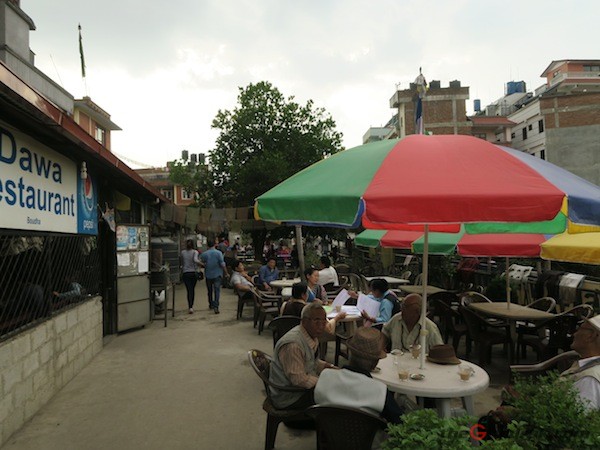 Tingmo is Tibetan/Sherpa steamed bread usually eaten with tea, sauce or curry. It is very fluffy, yeasty and has very peculiar shape. Tingmo with some type of fillings such as minced meat are also known as Tibetan Momo.
Also, try the fried potato served with red chili sauce and spicy tingling spice mixture made from salt, red chili powder and szechuan pepper (timur).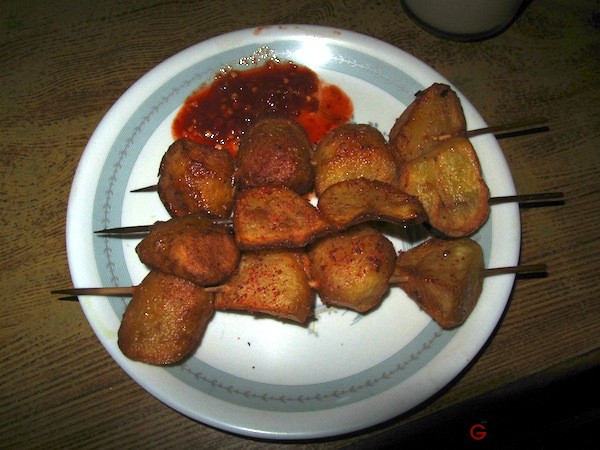 I can't get enough of the Tibetan/Sherpa salty butter tea (known as su cha in Sherpa language). It has very subtle and buttery flavor. The tea is made traditionally by churning yak butter, special tea-leaves, milk and salt in large cylindrical wooden vessel. Nowadays, special tea-leaves are replaced by commercial tea, and tea is simply boiled instead of churning. Though the tea served by those eateries are still very good. Tibetan people and Sherpa drink the tea several times a day, which keeps them hydrated, warm and provides energy required in cold harsh mountainous region. Butter tea is also used to eat Tsampa.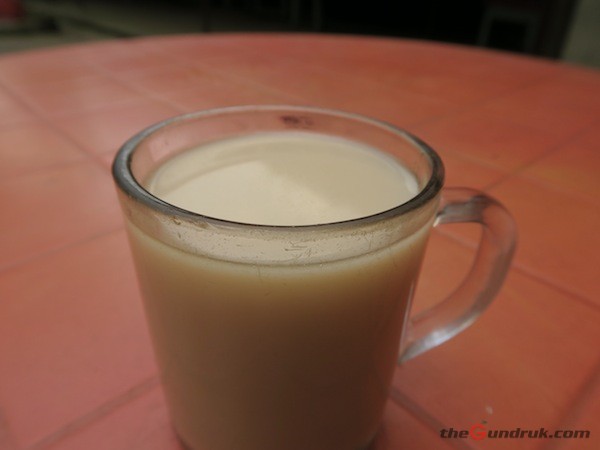 Here is the second episodes: Eat in Boudha II – Tibetan and Sherpa Cuisine