Pumpkin curry is very simple and easy to prepare. When I was kid I never preferred to eat pumpkin curry because of its sweetness. My mother loves it and cooks often at home. We had a culture of eating pumpkin during Tihar festival in my maternal grandparents home. The freshly harvested fully ripen yellow pumpkin is cooked with smoke-dried buffalo meat (buff sukuti) that is prepared during Dashain festival. Smoke-dried meat gives smoky flavor to the curry and enhances its overall flavor.
Pumpkin is one of the vegetables that easily grow in almost all habitable altitude and climatic regions of Nepal from upper-mountain to lower plain of Nepal. When green vegetables are scare in the winter season in rural areas, pumpkin is the perfect alternative as a fresh vegetable. It can be easily stored for several months to a year. It is rich in Vitamin A, Vitamin C, Vitamin B6, Potassium, Iron and dietary fibers.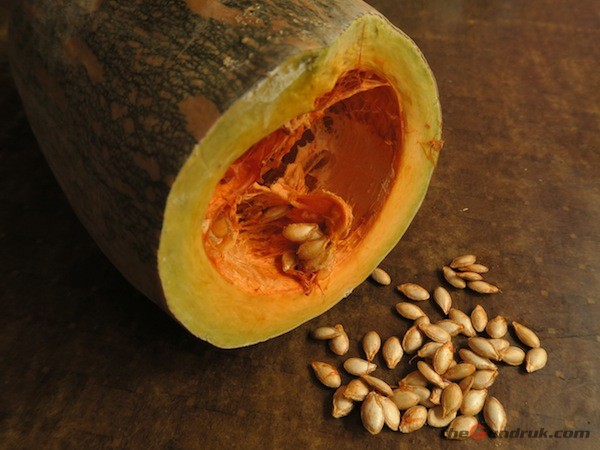 Last week, my mother sent me pumpkin that was grown in a hilly region. Vegetables from Lek and higher mountainous regions always taste better. I was excited to cook pumpkin curry and share this simple recipe with you all.  Nepalis love it for its sweetness and creamy texture.
Ingredients
500-600 gm Pumkin
1 tbs Ginger and Garlic paste
1 tsp Mustard seed
1 tsp Turmeric powder
1 tsp Fenugreek seed
1 tbs Cumin and Coriander powder
½ tsp Ground Pepper
1-2 Dry Red Chilies
2-3 tbs Vegetable oil (preferably Mustard oil)
Lime juice (or Concentrated vinegar-Chuk)
Salt
Method
Remove the thick skin and inner fibers of pumpkin with the knife. Chop them into small cubes. (Do not throw away the seed. Collect the seed, dry it and store. You can later roast it and eat is as light snack or use ground one as alternative to sesame seed in achaar/salad or chutney.)
Heat vegetable oil in a deep pan. Fry red chilies, fenugreek seed and mustard seed. As soon as seed starts to blister add ginger and garlic paste. Fry it until light brown- until aroma starts to develop.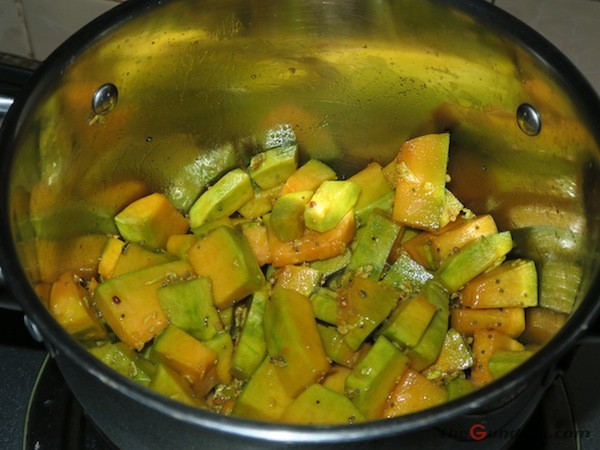 Add turmeric powder and then add chopped pumpkin. Give it a stir and then add cumin and coriander powder, salt and pepper. Mix them together and cook it for 5 mins with occasional stirring. Add a cup of water and cook it with lid and occasional stirrings for other 20-25 mins in low heat. The pumpkin should be perfectly cooked. Lightly mashed it with spatula making it rough thick gravy.
Turn off the heat and add some lime juice to balance its sweetness. The curry is ready to be served. You can eat it with regular Daal Bhaat Tarkari or Roti. Or you can even eat it as soup. Just add some more boiling water or hot milk. Try with hot milk- it will make super delicious soup.