Bitter gourd or Karela (in Nepali) is one of my favorite vegetables. It has very bitter taste (but will reduce after cooking), and not everyone like them. It is more of an acquired taste. It is a versatile vegetable and can be made curry, pickle, salad and even soup. It has very low calorie and also has medicinal values- used for various stomach and gastrointestinal problems, diabetes and blood pressure.
Fried bitter gourd or Karela has very crispy crunchy texture, and little oily but very delicious. It is eaten as side dish with staple dish such as rice, roti and dhindo.
Ingredients
300-400 gm Bitter gourd (Karela)
1 small size Onion
2 medium size Tomatoes
2-3 Green Chilies
2 Garlic cloves
½ tsp Fenugreek seed
½ tsp Mustard seed
½ tsp Mustard powder
1 tsp Cumin and Coriander powder
½ tsp Turmeric powder
1 cup Vegetable oil
Salt
Lime
Method
Heat 1 cup of vegetable oil in deep frying pan.
Cut the bitter gourd into thin slice (as shown in the picture below). Once the oil is hot enough, fry the sliced bitter gourd in batches until light brown. Do not overcrowd the pan as it will drop the temperature of the oil and bitter gourd becomes soggy. Drain the oil from the fried bitter guard as much as possible.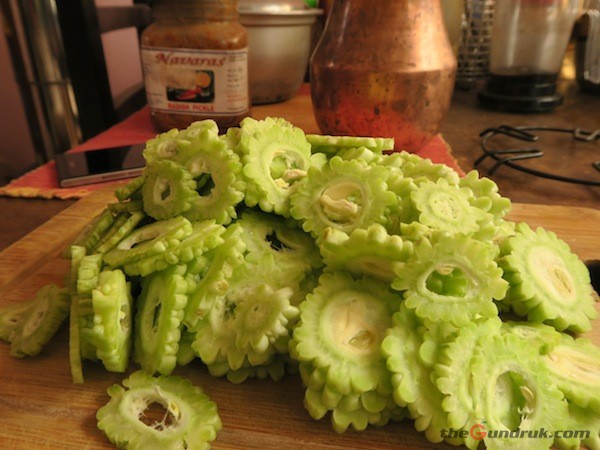 Once you are done with frying bitter gourd, remove excess oil from the pan leaving around one teaspoon. Fry the fenugreek and mustard seed. As soon as they start blistering add finely sliced onion, garlic and green chilies. Fry until they are soft and light brown.
Add turmeric powder and then finely sliced tomatoes, mustard powder, cumin and coriander powder mix, and salt. Once the tomatoes are slightly soft, add fried bitter guard and give a good stir so that all the slices of bitter gourd are well coated with the spices.
Cook for a minute or so, turn off the heat and then add some lime juice. Lime juice helps in further reducing the bitterness. The fried spicy bitter gourd in ready to be served.