Once you are used to bitter gourd's bitterness, you will find tempting to eat dishes made from it. It is good for your health too. There are varieties of dishes made from bitter gourd in Nepali food culture. Fried bitter gourd and bitter gourd achaar are the most popular.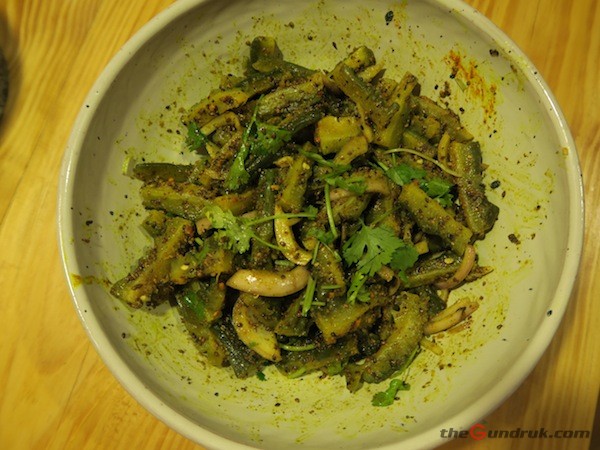 Ingredients

½ kg Bitter gourd
1 medium size Onion
2-3 Garlic cloves
3-4 tbs Black Sesame seed (or any alternative oil seeds)
1 tbs Mustard seed
½ tsp Fenugreek seed
½ tsp Cumin seed
½ tsp Turmeric powder
1 tsp Cumin and Coriander powder mix
2-3 Fresh Red Chilies
Fresh corianders leaves
Salt
2-3 tbs Roasted Mustard oil (preferred for its aromatic-nutty-smoky flavor or alternatively you can use any vegetable oil)
Method
In a pan, lightly roast sesame seed and mustard seed together with constant shaking of pan. Once seeds start to blister, move it away from the heat and transfer to mortar and pestle. Once the seeds cool down, grind them with pinch of salt for ease grinding.
Cut bitter gourd into small-elongated finger shape, and boil them in water with some salt for around 12 mins. Turn off the heat, drain hot water and plunge them in icy cold water to stop further cooking. Drain water and transfer them to salad bowl. The bitter gourd should be cooked but should still hold its crunchy texture and color. Boiling process will reduce its bitterness.
Dice onion, red chilies and coriander leaves, and add them to the bowl with the bitter gourd.
Add ground black sesame and mustard seed to the mixture, and some salt according to your taste. Remember you have also added salt while boiling the bitter gourd and grinding seeds.
In a small pan, heat a tbs of roasted mustard oil, fry fenugreek seed, cumin seed and finely chopped garlic, and then add turmeric powder and cumin-coriander powder mix to the mixture. Turn off heat and pour it over the mixture for tempering.
Add some more roasted mustard oil and squeeze some lime juice or add concentrated vinegar (chuk) that has deep and smoky flavor.
The delicious achaar with spicy, tangy, nutty and smoky flavor, slight bitterness and crunchy texture can be eaten with daal-bhaat-tarkari or roti as a side dish.