Kathmandu is more than just getaway to Himalayas and city full of temples. It also has surprisingly rich and unique food culture representing the diverse ethnicity and culture of Nepal. Originally inhabited by Newari people, Kathmandu offers a rich food culture of Newari communities, as well as foods from various regions and ethnic communities of Nepal brought by the communities moved to Kathmandu Valley over the course of time. Nepali cuisine is yet to be known on international food scene as Indian, Chinese and Thai cuisines, and not many visitors are aware. However, it has rich food culture than you may know- apparently every ethnic community in Nepal has their own cuisines and delicacies.
Nepal may be battered by the great earthquake, but not its rich food culture and heritage. Here are ten best Nepali foods that you should definitely try when in Kathmandu!
Thakali Khana (Steamed Rice-Lentil Soup-Curries-Pickle set)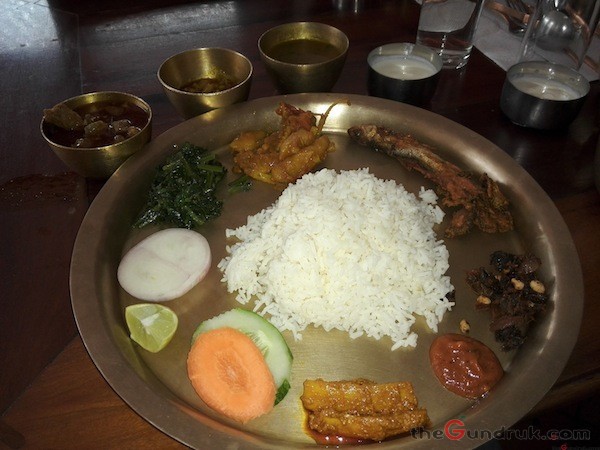 Daal-Bhaat-Tarkari (Lentil/bean soup-steamed rice-curry) collectively called as Khana is the everyday staple meal in Nepal. However nothing can beat the sumptuous taste and flavor of the Thakali Khana. Thakali are ethnic indigenous communities of Nepal originally from the upper Himalayan mountains regions in Mustang. Daal (lentil or bean soup) is one the major highlights of the dish. Traditionally, black lentil or locally grown beans are boiled slowly in cast-iron pot over fire giving it a thick creamy texture and peculiar greenish color. Tempering it with ghee, garlic, dried red chilies and special Himalayan wild herb know as Jimbu makes daal aromatic and gives smoky buttery flavor. Fermented pickles and freshly made Sichuan pepper-tomato pickle add further flavor to the dish. One can also ask for Dhido (alternative to rice)-a traditional staple dish in mountains made from buckwheat or millet flour. Aromatic melted ghee over steamed rice or dhido further elevates the flavor of the whole dish.
Recommended place: Thakali Bhanchha Ghar, Thamel (map here); Niligiri Thakali Delights, Tangaal (map here)
Momo (Dumplings)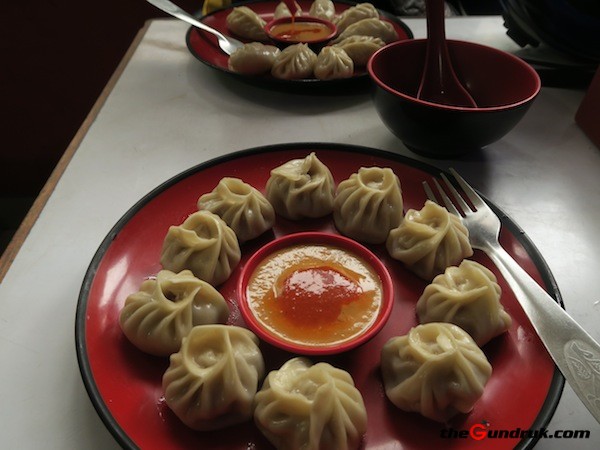 Momo is the most popular dish, and can be found in every nooks and corners of the capital. You can ask any Nepali living abroad about the food they missed the most… no wonder momo will definitely top the list. Momo is basically steamed dumplings filled with minced meat and/or vegetables, herbs and spices. Momo culture probably came to Kathmandu Valley from Tibet, however Newari community transformed it as their own food using local spices and ingredients. Traditional Newari momo are generally made from buffalo meat (buff) and served with jhol achaar (kind of thin soup) made from sesame seed, tomatoes, chilies and spices. Steamed juicy buff momo served with spicy-tangy-numbing tomato and Sichuan pepper pickle is the most popular and commonly found. You can't leave Kathmandu without having a plate of momo or you will be missing the most delicious easy food that Kathmandu has to offer.
Recommended place: Le Trio Restaurant and Bar, Jhamsikhel (map here) and Durbarmarga (map here); Shree Banglamukhi Swadistha Mahabharat Momo, Patan Dhoka (map here), Darjeeling Momo, Newroad (map here)
Samay Baji (Traditional Newari Snacks Set)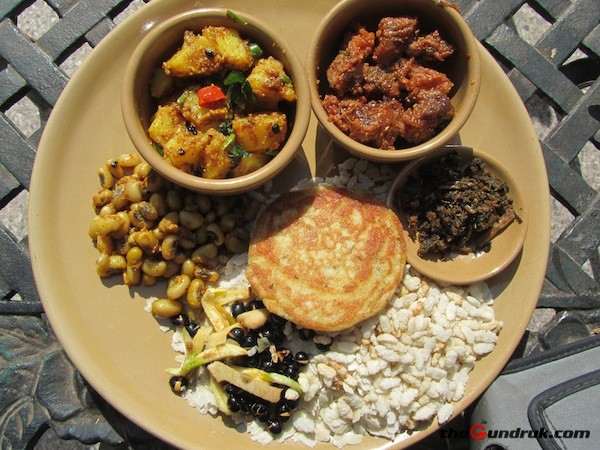 Samay Baji is an authentic traditional Newari set of dishes generally eaten during festivals or celebrations, and is also offered to gods. It can be considered as window to Newari food culture, and consists set of varieties of dishes that are believed to represent good luck, prosperity, health and longevity. It generally consists of Baji (beaten rice), Haku Chhoyla (barbecued buff meat with spices), Sanya (smoked fish), Wo (lentil pancake), Mushya Wala (roasted soybean salad), Khein (boiled egg), Aalu Wala (boiled potato salad), Wauncha (stir-fried greens/spinach), Bhuti (boiled black-eyed beans) and Lava-Palu (raw garlic-ginger), and served with Aaila (rice liquor) or Thwon (rice beer). It is perfectly balanced palate served with varieties of dishes in small portion. It is best eaten with spicy and tangy soup 'Aalu-tama' made from potato, bamboo shoot and black-eyed beans, and Aila (local liquor) or Thon (local rice beer).
Recommended place: The Village Café, Pulchowk (map here); Newa Lahana, Kritipur (map here); Bhumi Restaurant and Bar, Lazimpat (map here)
Chatamari (Newari Rice Crepe with Minced Meat and Egg)
Chatamari, other authentic Newari dish and also often referred as Newari pizza for foreigners, is made from thin rice batter and topped with egg and minced meat or vegetables with spices, and served with fresh tomato pickle. The best part is its thin crispy rice crepe and smoky-nutty flavor from the roasted mustard oil (one of key ingredient of Newari cooking).
Recommended place: The Village Café, Pulchowk (map here); Newa Lahana, Kritipur (map here)
Bara or Wo (Newari Black Lentil Cake)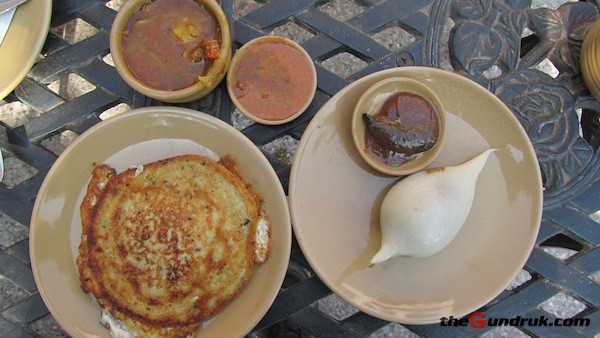 Bara or also called Wo in Newari language is made from black lentil paste and topped with minced meat or beans/boiled potatoes (for vegetarian) with spices and egg. It is pan fried drizzled with smoky-nutty roasted mustard oil and served with either fresh tomato pickle or thick broth made from buffalo meat. You can't get enough of this soft-fluffy-savory pancake, and runny egg yolk even makes it better. This dish has cultural significance in Newari communities.
Recommended place: The Village Café, Pulchowk (map here); Honacha, Patan (map here)
Yomari (Steamed Rice Cake with Sweet Fillings)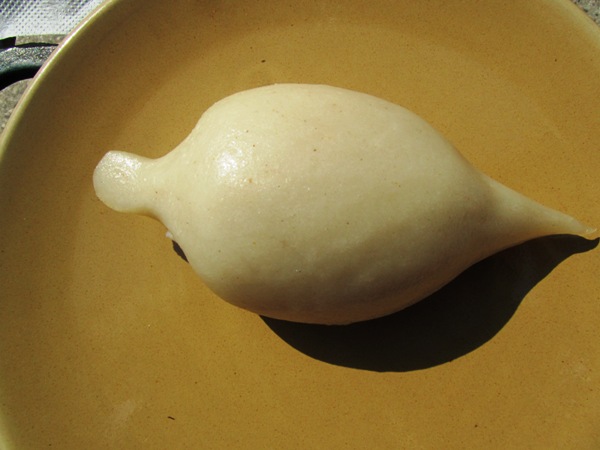 Yomari is a fluffy steamed rice cake filled with jaggery (chaku) and roasted sesame seeds, or alternatively khuwa (sweet semi-solid milk) and coconut. The jaggery and roasted sesame seed gives the cake sweet, lightly bitter and nutty flavor. This Newari delicacy is traditionally prepared during the post-harvest celebration or festival called Yomari Punhi, which falls on the full moon day in the month of December. On this full moon day, people of the Kathmandu Valley offer worship to Annapurna, the goddess of grains, for the rice harvest.
Recommended place: The Village Café, Pulchowk (map here)
Sargemba (Blood Sausage with Wild Edible Lichen)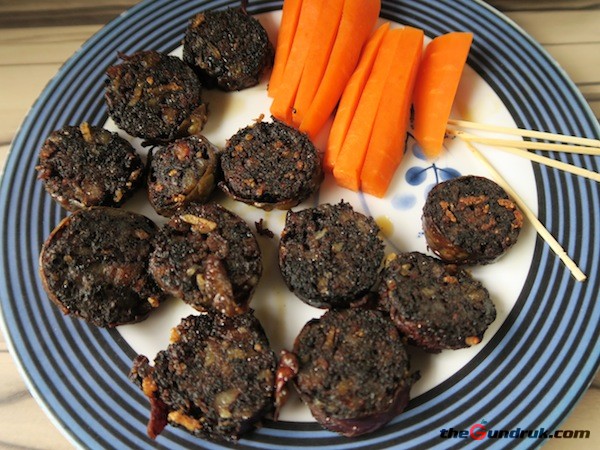 It is a traditional ethnic delicacy of Rai and Limbu communities, which are originally from hilly areas of eastern Nepal. This ethnic dish is only served in handful of local restaurants or eatery in Kathmandu Valley, which are run by the people from that ethnic community. Even many Nepali are not aware about this delicacy. It is blood sausage made from local pig's blood, minced meat, rice, spices and wild edible lichen called yangben in local language. Yangben is a rare delicacy and found to be consumed only by these ethnic communities. The sausage has very rich earthy flavor from the lichen, and melts in your mouth.
Recommended place: Noyoz Eatery, Bhatbhateni (map here)
Sekuwa (Barbecued Meat with Nepali Spices)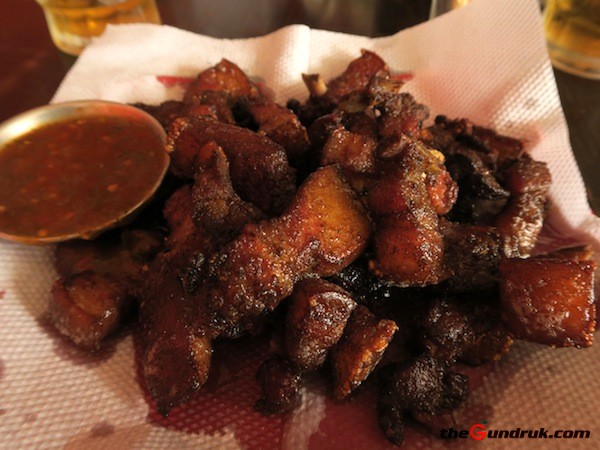 Every ethnic communities and families have their own way of making Sekuwa (barbecued meat) and choices of meat and spices. Sekuwa is generally prepared by marinating meat with wide varieties spices and are barbecued over wood charcoal. It is generally eaten with puffed rice and achaar or pickle.
Recommended place: Bajeko Sekuwa, Gairidhara (map here) (they have several branches in various key places of Kathmandu); Noyoz Eatery, Bhatbhateni (map here)
Thenthuk (Sherpa/Tibetan Noodle Soup)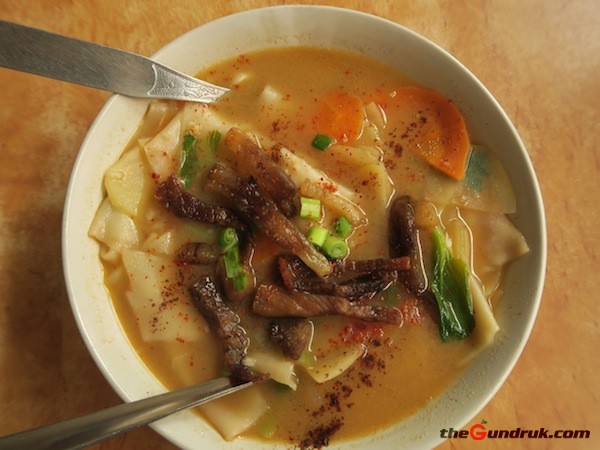 Popularly know as Thenthuk, and Shyakpa in Sherpa language, it is simple hearty soup prepared with freshly made noodles, meat, potato, radish, carrot, and green vegetables. It is typical dish of Sherpa and Tibetan communities living in the Himalayan region, and usually eaten during winter season or cold days. Thenthuk means hand-pulled noodles in Tibetan language. Sprinkle some Chili-Sichuan pepper (Timur) powder to spice up the dish. Other alternative widely found noodle dish is Thukpa.
Recommended place: Yangling Tibetan Restaurant, Thamel (map here), Lupi's Himalayan Bistro, Lazimpat (map here)
Jujudhau (King of Yoghurt)
Originated in Bhaktapur (a heritage city east in Kathmandu Valley), Jujudhau literally means King of Yoghurt in Newari language. When you taste it, you will know why it is named so. I bet that you never had such delicious and creamy yoghurt before. One of the secrets of Jujudhau's goodness lies in culturing it in clay pot, which helps to evaporate excess moisture making it very creamy. The pot is covered with jute cloth and rice husk to maintain perfect temperature for culturing. The hint of aromatic spices like cardamom enhances the overall flavor of the yoghurt. Scooping out the top thick creamy layer is the best of all!
Recommended place: In Bhaktapur City