Rainbow trout has already become part of our food culture. After the breeding of trout was started in Nepal in the 1990s, the farming of trout has taken off on a wider scale. It is now being farmed in hills and mountains of Nepal, especially in Nuwakot, Rasuwa, Kathmandu, Sindhupalchowk and Kaski districts. It's nutrition and health benefits have attracted many Nepali towards consuming trout.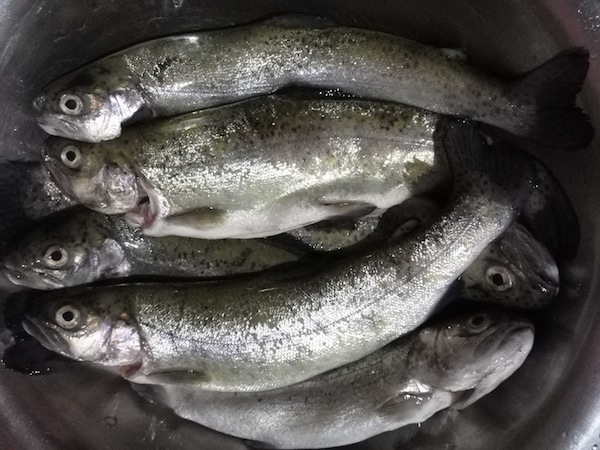 It's not complicated to prepare the trout. As for the other freshwater fishes, I think trout goes really well with garlic, mustard oil, and ground mustard. This recipe is not very different from Smoke-dried River Trout Soup recipe I posted earlier.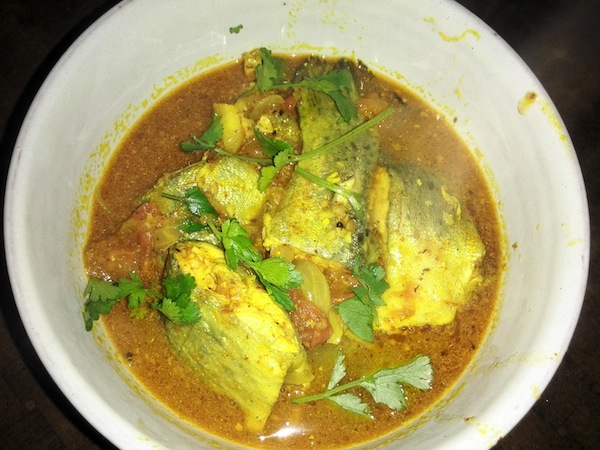 Ingredients
500 gm Rainbow Trout (Cleaned or gutted)
1 tbs Grounded Yellow Mustard
1 tbs Garam Masala
1 tsp Cumin powder
1 tsp Coriander powder
½ tsp Fenugreek seed
½ tsp Brown Mustard seed
5-6 Garlic Cloves (very coarse ground)
1 tbs Ginger (very coarse ground)
3-4 Medium sized Tomatoes (finely sliced)
1 Onion (finely sliced)
1 Cinnamon stick
3 Cardamom
3 Cloves
3 Bay leaves
2-3 Fresh Chilies
2 tbs Mustard Oil
1 Lime/Lemon
Fresh Coriander leaves
Salt
Method
Wash the trout with clean water and cut it into pieces or sizes you prefer, and put it aside.
In a deep pan or karai, heat two tbs of mustard oil and add fenugreek seed, mustard seed, cinnamon, cloves, cardamom and bay leaves. They fry finely sliced onion, fresh green/red chilies and very coarsely ground garlic and ginger until soft and light brown.
Add turmeric powder, then finely chopped tomatoes, grounded mustard, and salt according to your taste. Cook the tomatoes until they are soft and melts completely. Then add cumin powder, coriander powder, and garam masala, and give a good stir.
Add trout and gently coat each piece with tomato and spices mixture with the spatula. Stir them in gentle folding way ensuring that pieces don't fall apart. Cook it on low heat for a minute with the lid-on.
Then squeeze lemon juice, and add two cups of boiling water. Boil the curry-soup for around ten minutes on low heat with the lid on. Garnish with fresh coriander leaves. The soup is then ready to be served.
Here is a recipe of pan-fried trout!