I grew up eating these river trout (Asala machha). When I was young, I often used to go fishing in nearby rivers with my friends during weekends and vacations. We used to catch fishes by luring them in a trap using fermented rice (jaand), homemade fishing rods, fishing arrows or simply using hands.  I remember there was abundance of these trout in the river by then. Fisherman traditionally used to catch using fishing nets, bamboo fishing rods and bamboo basket traps. These were slowly replaced by bombs, poison and electric shock fishing which made them able to catch fishes in large amounts, killing fry and destroying eggs.  Fishes are no more found in abundance in the river now, probably many of the species have gone extinct. May be the other factor is excessive use of chemical fertilizers and insecticides in paddy fields.
These smoke-dried river trout are from Melamchi river. Here is a simple recipe of smoke-dried river trout garlicy soup (Sukeko asala machha ko jhol).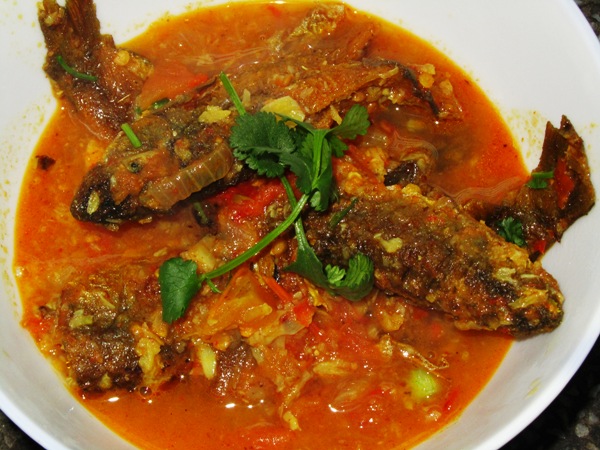 Ingredients
200 gm of smoke dried river trout
3 large-size tomatoes
3 tablespoon of garlic paste
½ tablespoon of ginger paste
1 teaspoon of cumin seed
1 teaspoon of coriander seed
½ teaspoon of turmeric powder
½ teaspoon of fenugreek
4-5 dry red chilies
1 medium size red onion
1 lemon/lime
1 teaspoon of salt
Black pepper
Vegetable oil
Coriander leaves
Method
Roast the cumin seed and coriander seed in a pan, and grind them together with soaked red chilies forming a paste.
Heat two tablespoons vegetable oil in cooking pan and fry fenugreek. Add finely chopped onion, garlic paste, ginger paste, turmeric powder, and cumin, coriander and red chilies paste. Cook until brown.
Add finely chopped tomatoes and add a teaspoon of salt, and cook until tomatoes break down and form a paste. Add a little water if needed.
Add smoke dried river trout in the pan and mix with the paste. Add two cups boiling water and cook it for 3-4 minutes.
Add crushed black pepper for the taste, squeeze a lemon/lime juice in the soup and garnish with coriander leaves.
Your smoke-dried river trout garlicy soup is ready to be served. You can serve the fish soup with the hot steamed rice.