I love the strong aroma of fenugreek leaves and its slight bitterness. This is one of the healthiest green veggies we have in our Nepali kitchen.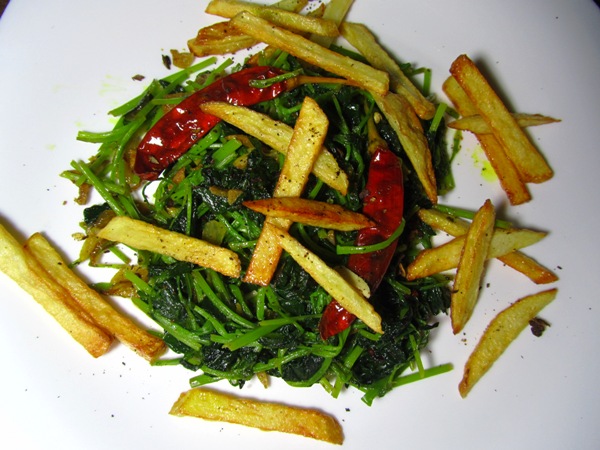 Ingredients
3 handful bunches of fenugreek leaves
Few dried red chilies
1 large size potato (finely sliced strips)
½ tsp fenugreek seed
½ tsp cumin seed
½ tbs cumin and coriander powder
½ tsp turmeric powder
4 garlic clove-finely chopped
½ tbs of ginger-finely chopped
1 medium size onion-finely chopped
Black pepper
Butter
Vegetable oil
Salt
Method
Remove the roots and woody part of the fenugreek steam. Wash the fenugreek leaves thoroughly with clean cold water. Allow it sometime to drain excess water.
Slice the potato finely forming strips. You can simply use kitchen knife or grater. Wash the strips to clean cold water to remove starch and leave it sometime to drain excess water. You can use kitchen towel to remove the moisture.
In a pan add four tablespoon of vegetable oil, and fry the fine potato strips until its crispy and golden brown. Add some salt and crushed black pepper for the taste. Remove crispy potato strips from the pan.
In the same pan, fry half a teaspoon of fenugreek seed and cumin seed in the remaining oil. Add few dry chilies, finely chopped onion, ginger and garlic, and fry it until golden brown.
Add turmeric, cumin and coriander powder. Add fenugreek leaves and stir fry until it is wilted and cooked. Make sure that you do not overcook the fenugreek leaves.
Add a pinch of salt and 2 medium sized of butter cubes to bring up the flavor. And turn off flame.
Transfer the stir-fried fenugreek leaves in a plate and top with crispy potato strips. You can also sprinkle some ground roasted szechuan pepper for the taste. The stir-fried fenugreek leaves is ready to be served.