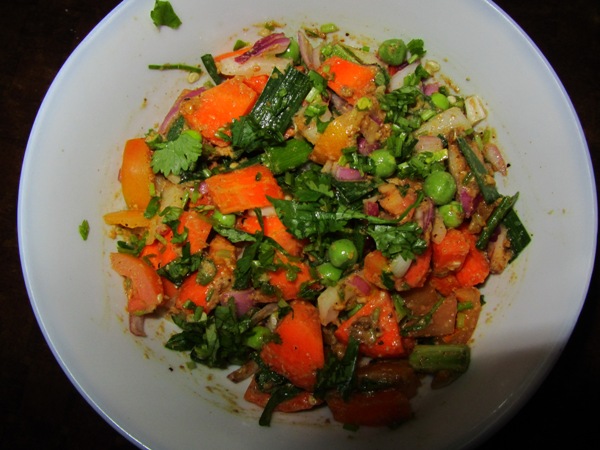 Ingredients
2 medium sized carrots
Spring onions
1 cup green peas
1 medium size onion
2 medium sized tomatoes
Green chilies
2-3 cloves of garlic
½ tsp cumin powder
¼ tsp turmeric powder
½  tsp ground szechuan pepper (timur)
1 tbs roasted mustard oil
2 tbs sesame paste
Salt
Lemon juice
Coriander leaves
Garlic leaves
Method
Wash, peel and chop the carrot into two cm of strips and place them in a large bowl. Add a cup of sweet green peas.
Add finely chopped onion, spring onion, garlic leaves, chilies, tomato and garlic in the bowl.
Season with ½ tsp of cumin, ¼ of turmeric powder and ½ of ground Szechuan pepper. Add a tbs of roasted mustard oil , two tbs of sesame seed paste and salt (according to taste).
Add a tbs of lemon juice and toss the ingredients thoroughly so that spices are evenly mixed.
Add some finely chopped coriander leaves and the salad is ready to be served.
(Recipe by Binita Khanal)