This dish is very popular in every gathering or parties. If you are wondering what to cook for your vegetarian friends/relatives then this one is the must try dish. It is super quick and easy to prepare, and they are delicious. With its fleshiness and spores, mushroom can retain the spices added to it making it more delicious and flavorful.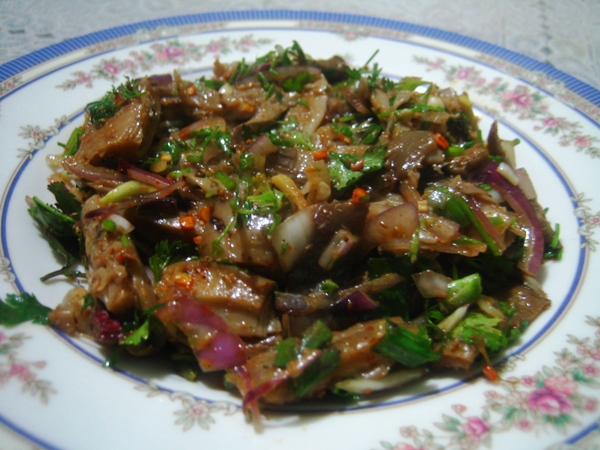 Ingredients
500 gram mushroom
1 cup roasted mustard oil
2 cup finely chopped onions
1 cup chopped garlic leaves
10 big cloves of garlic- finely chopped
1 tbs finely chopped ginger
2 tbs roasted cumin powder
1 tbs soya sauce
Green chilies
1 lemon
Salt according to taste
Method
Wash mushroom with the clean cold water. Cut the stems (do not use stem for this recipe).
Heat both sides of the mushroom on direct flame for nearly minute with the help of tong. You can simply do this in your regular gas stove.
Heat 5 tbs of mustard oil on the non stick pan.  Put the mushroom and heat both sides for about 5 minutes. It is suggested not to cook the mushroom on an aluminum pan since they have tendency to turn mushroom into black color.
Cut the mushroom into small regular pieces and put it in the bowl. Put 1 tbs of soya sauce and salt according to your taste, and stir it. Now add all the other ingredients into the bowl, squeeze a lemon juice and mix all the ingredients uniformly using spatula or hand. Mushroom Choyla is now ready to serve.
Note: You can follow this recipe for any kind of mushroom, leafy mushroom or button mushroom.
(Recipe and Photo by Aakriti Poudel)
Here is another picture of mushroom choyla by Dristy Shrestha!