This Peanut salad is really good, mouth tingling and healthy snacks. You can have it any time and goes well with beer or any other drinks. Try this at home, you will get addicted. And, it is simple, quick and easy to make.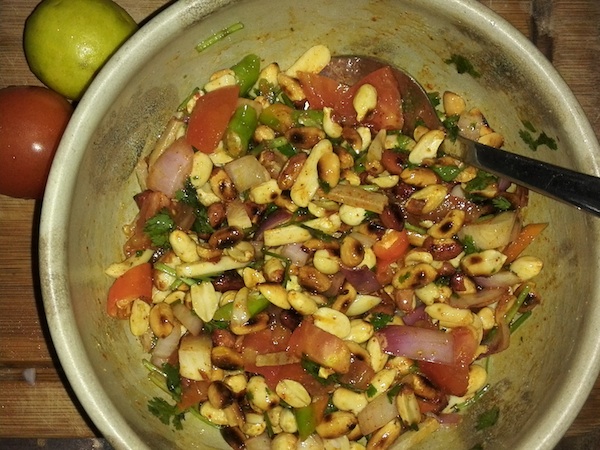 Ingredients
1 cup Roasted Peanuts
1 medium size Red Onion
3 cloves of Garlic
1 thumb size Ginger
2 Green/Red Chilies
1 medium size Tomato
A handful of Coriander leaves (Cilantro)
1 Lime
½ tsp Coriander and Cumin powder mixture (preferably from roasted seed)
A pinch of Turmeric powder
1 tbs Roasted Mustard Oil (if not olive oil or any vegetable oil)
½ tsp Salt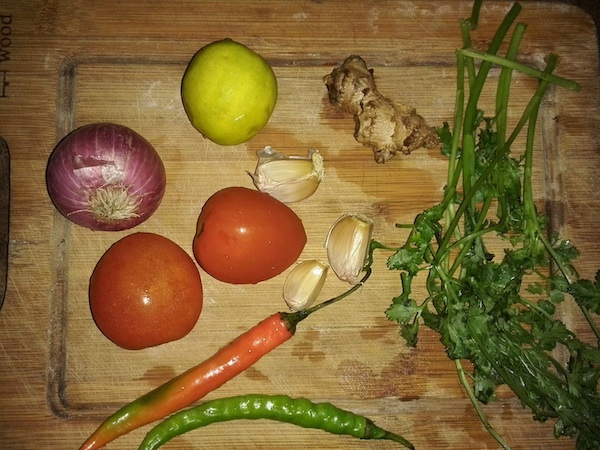 Method
In a salad bowl, add 1 ½ cup of roasted peanuts. (I prefer roasting peanuts than buying roasted one… you can save some money too.)
Chop onion, garlic, ginger, tomato, green/red chilies and coriander in small sizes, and add them in the bowl.
Add coriander and cumin powder mixture, turmeric powder and salt (according to your taste). Squeeze lime juice and pour a tbs of roasted mustard oil (preferred) or any vegetable oil. (I prefer the roasted mustard oil; it has a good smoky-nutty aroma and flavor)
Mix all the ingredients well. Transfer the peanuts salad into a plate to serve and garnish with fresh coriander leaves. You can have this healthy light snacks with beer or any other drinks.