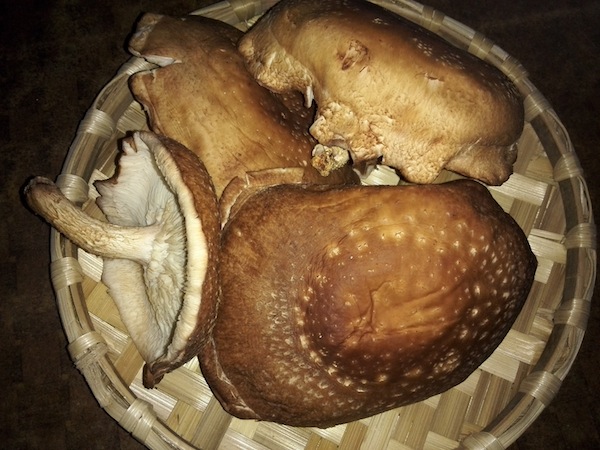 Shiitake mushroom is gaining popularity in Nepal. It has high nutritional and medicinal value. It has fleshy texture and woodsy flavor. Wild Shiitake mushroom can also be found in the forest of Nepal, which is known as Mirge Chau (JICA). Here below is a simple, super easy recipe of sautéed shiitake mushroom.
Ingredients
200 gm Shiitake mushroom
5-6 cloves garlic
1 small size Onion
1 medium size Tomato
½ tsp Coriander and Cumin powder
1/3 tsp Fenugreek seed
1/3 tsp Cumin seed
1/3 tsp Turmeric powder
1/3 tsp Red chilly powder
1/3 tsp crushed Szechuan pepper
Spring onion
Coriander leave
1 tbs Vegetable oil
2 tbs butter cubes
Method
In a frying pan, heat a tbs of vegetable oil, and then fry fenugreek and cumin seed. Add coarsely chopped garlics and onions, and add turmeric powder.
Shred the shiitake mushroom into large chunks using your hand and add them in the pan.  Add butter cubes and sauté until the butter melts. Add some salt, and coriander, cumin and red chilly powder. Sauté in medium high heat for 5-6 mins. Add diced tomatoes and sauté for other one more min.
Transfer the pan from the heat and sprinkle Szechuan pepper, and garnish with finely chopped spring onion and coriander leaves. You can have it for breakfast or side dish for your main course.