High in antioxidants and iron (as I have been told), Sibligaam or Siprigaan is an underrated vegetables and yet to be commercially available. The young leaves of Sibligaam tree, which is generally found wild and are mid-size, are collected and consumed as vegetables. These vegetables are seasonal- young leaves come out each year during the spring season (March-May). It is generally found and consumed in foothills and mid-hills of western and central Nepal.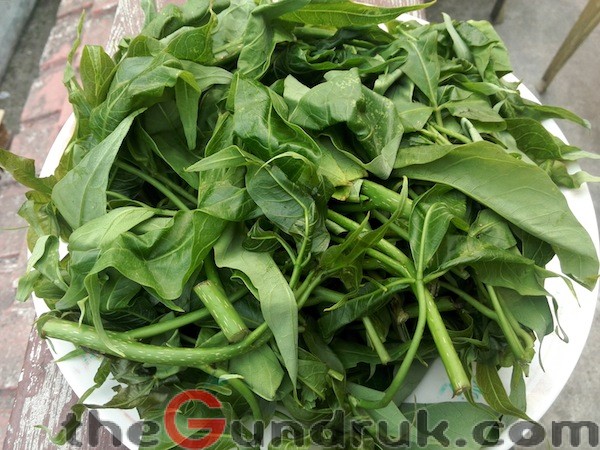 Sibligaam has very bitter taste however the bitterness is reduced during the cooking process. Nepali people who are frequent consumers love it despite its bitterness. My mother absolutely loves eating it. It is more of an acquired taste.
Recipe of Sautéed Sibligaam
There are various ways of cooking Sibligaam. The boiled and simple sautéed one with regular spices, ground roasted sesame seed and lime juice is my favorite. The young leaves are generally soaked in water overnight which helps in reducing bitterness. The young leaves are then drained and then boiled in water for around 7-8 minutes, which again helps in further reducing its bitterness. Drain the boiled leaves and wash them again with cold water. In a pan, heat 1-2 tbs of mustard oil, and fry dry red chili, fenugreek seed, mustard seed and finely chopped garlic. Add some turmeric, cumin, coriander and cumin powder, and then add the boiled young leaves. Then sprinkle some salt and sauté it for few minutes. Then add 2-3 tbs of coarsely grounded roasted sesame seed, squeeze a lime juice and pour few tbs of water. Cook it for other couple of minutes and the sautéed Sibligaam is ready to serve. It is eaten with rice or Nepali breads as an alternative to regular stir-fried green leafy vegetables.
If you have more information about this vegetable, common and other local names, recipes and culture of eating this vegetable, please send me an email or comment below!