It is almost the end of Koiralo ko Phool season now. Scientifically know as Bauhinia Variegata L., it can grow up to 1900m of altitude and can grow in dry infertile land. It is one of the most popular among the few edible flowers we Nepalese eat. It starts flowering from late winter and blooming period lasts until early summer.  The flowers are also used to cure the digestive problems and have medicinal values. A Newari friend from Patan told me that Koiralo ko Phool ko achaar is eaten during Ghode Jaatra feast.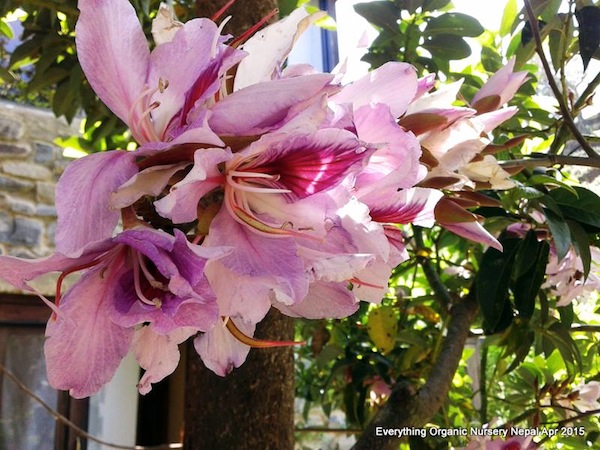 Here is the simple recipe of Koiralo ko Phool ko achaar.
Ingredients
300 gm Koiralo ko Phool
3 medium size Potatoes
1 medium size Onions
2 medium size Tomatoes
2 green garlic leaves
Coriander leaves
½ tsp Turmeric
1 tsp Coriander seed
1 tsp Cumin seed
2 tbs Sesame seed (white)
½ tsp Sinchuan pepper (Timur)
½ tsp Fenugreek seed
2-3 dry Red chilies
2-3 Green chilies
2 tbs roasted Mustard seed oil
1 lime/lemon
Salt
Methods
Boil the Koiralo ko Phool and potatoes separately. Boil the Koiralo ko Phool for around 12 mins in medium heat until it becomes slightly soft. Transfer the boiled flower to large bowl immediately. Peel the boiled potato, break it with your hands into small chunks in the bowl.
(You can also remove brown stigma (in the center of flower) before boiling which is slightly bitter in taste)
Chop onion, tomatoes, green garlic leaves, coriander leaves and green chilies, and add them in the bowl with boiled flower and potatoes.
In a pan, roast coriander seed, cumin seed, sesame seed and timur until it becomes light brown and aromatic. Grind them together using mortar and pestle, and sprinkle them in the mixture.
In a small pan, pour two tbs of roasted mustard oil, fry fenugreek and dry red chilies and pour them in the mixture.
Squeeze one lemon and mix them together using your hand. The achaar is ready to be served.