I have tried to make this popular snack 'potato cheese balls' using Nepali spices. You will love the texture and taste…it's crispy outside, and warm and soft inside.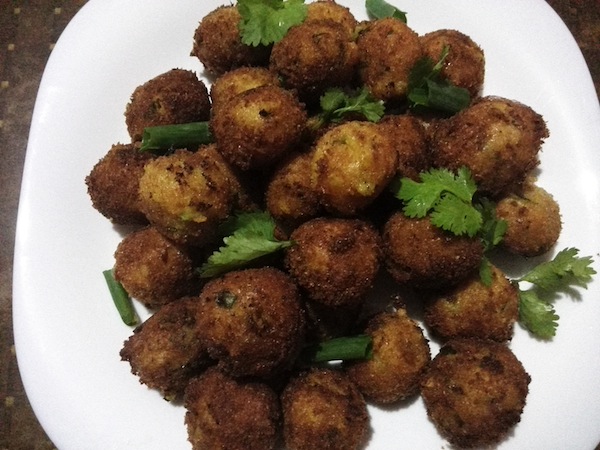 Ingredients
500 gm of Potatoes (around 5 midsized potatoes)
200 gm Cheese (I used DDC Kanchan cheese)
2 Onions (finely chopped)
Coriander leaves, and some spring onions if available (finely chopped)
1 tsp Coriander powder
2 tsp Cumin powder
1 tsp Red chilies flakes
½ tsp Turmeric powder
½ tsp black pepper (coarsely ground)
Salt
½ liter Vegetable oil (for frying)
2 Eggs
Breadcrumbs
(Note: You can simply make bread crumbs at home by crumbling regular bread into smaller pieces, and toast then in a pan in low heat or in microwave oven for around 10 mins or until it becomes crispy. Cool then down and crumble into sand dust texture using your hand or processor.)
Method
Boil potatoes until fully cooked. After the boiled potatoes cool down, peel them and mash them finely using your hand or potato masher in a large bowl.
Finely grate cheese using grater, and add all ingredients (except eggs and bread crumbs) in the potato mash. As cheese is salty, add less salt than required for the amount. Mix all the ingredients thoroughly.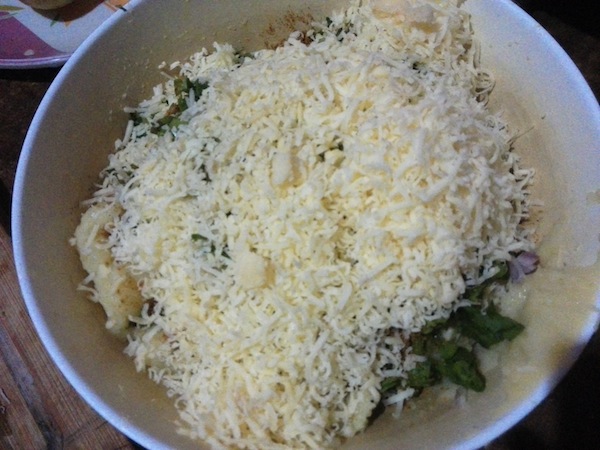 In a deep frying pan, heat half a liter of vegetable oil in low medium heat.
While oil is becoming hot, beat two eggs in a separate bowl. Take a small portion of the potato cheese mixture in your hand and make a small ball using your palms. Drop the balls in the beaten eggs and then to breadcrumbs. Roll the balls to coat them thoroughly with breadcrumbs.
Drop a pinch of potato mixture in the oil to check if it is ready for frying. If it fries and comes on the surface of oil instantly, oil is ready enough to fry.
Drop the potato cheese balls coated with breadcrumbs in the oil. Add no more than 5-6 balls at a time (either the temperature will drop down and balls becomes soggy). Fry the balls for around 1-2 minutes until the outer part becomes brown and crispy. Be careful while dropping the balls, use the strainer/skimmer for dropping the balls in the oil and taking it out.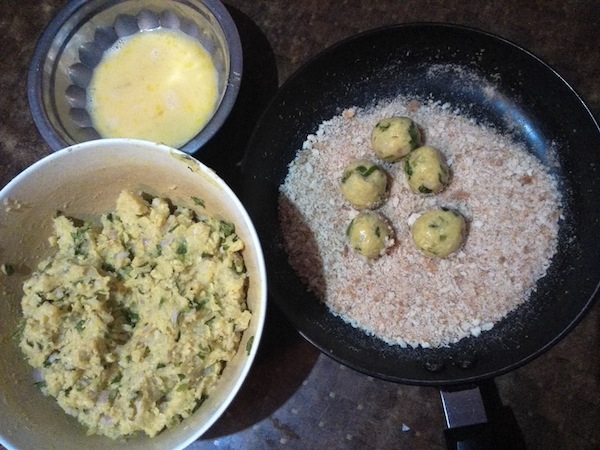 Serve the fried crispy potato cheese balls with homemade chili sauce or tomato ketchup. For making chili sauce, simply grind roasted dry red chilies, some timur or Szechuan pepper, salt, sugar and some oil together using processer or mortar and pestle.