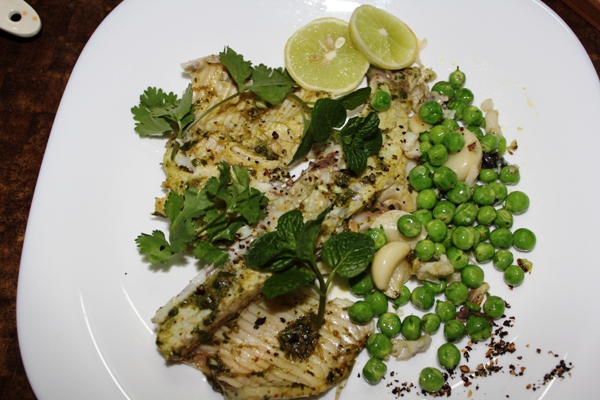 Ingredients
400 gm of fish (used grass carp without removing bones)
1 cup of mint
1 cup of coriander leaves
Few Szechuan buttons
½ teaspoon of cumin and coriander powder
A pinch of salt
1 cup of sweet peas
Few garlic cloves
1 tablespoon vegetable oil
1 tablespoon of roasted mustard seed oil
1 lime
Method
Clean the fish thoroughly. Remove its head and tail. (you can ask your fishmonger to do this).
Marinate the fish with fine paste of mint and coriander leaves, cumin powder, coriander powder, grinded Szechuan buttons, olive or vegetable oil, a pinch of salt and lime juice.
Leave the marinated fish in the freeze for over an hour or more
Heat a tablespoon of roasted mustard seed oil in a non-stick frying pan. Add chopped garlic cloves and fry it until light brown.
Place the fish in the pan with skin side down  and cook for around 2 minutes. Flip the fish and cook it for around 2 minutes in medium heat.
Add sweet peas in the pan and cook eat for a minute in low heat.
Your pan-fried herb-marinated fish is ready to be served. Squeeze half a lime and garnish with mint and coriander leaves before serving.