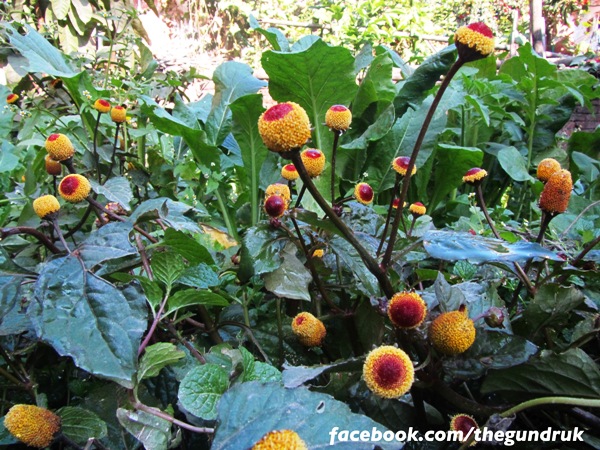 When we were kids, mom used to make a simple pickle/achhar with Szechuan button grinded together with salt, chilies and roasted tomatoes.
The botanical name of the plant is Acmella oleracea, flowering herb in the family Asteraceae (commonly sunflower family). It is a perennial plant and can be grown almost anywhere. The flower buds are small strawberry like, with golden and red inflorescence. These buds produce tingling and numbing effect in your tongue, with cooling sensation in your throat. They are known as "buzz buttons", "Szechuan buttons", "sansho buttons", and "electric buttons".  However this species is not related to Szechuan pepper.
In Nepal, it is locally called "Gorakhpaan" and "Marethi". It is generally used for flavoring tomato pickle/achaar. However, it's not very commonly used, and many people don't really know about this herb.  In India, they are used as flavoring in chewing tobacco.
It is grown as an ornamental plant, and for medicinal purposes in various parts of the world. A decoction or infusion of the leaves and flowers is a traditional remedy for stammering, stomatitis, and toothache.  The plant is also commonly known as toothache plant.
The full Szechuan button experience comes in three stages: first, a grassy taste, followed by a tingling and numbing sensation, then salivation, and, finally a fresh, clean finish. It is used in between the courses for cleaning the taste.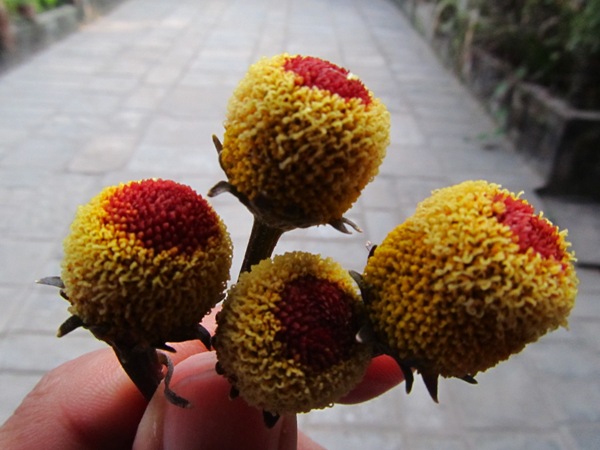 It is now being used for culinary purposes in some high-end restaurant, for salads and even in cocktails. The fresh buttons sell for somewhere around $40 for a bag of 30 buttons. It is a secret ingredient of celebrity chefs and master bartenders!
If you have more information its culinary and medicinal usage locally in your home or community, please write to me: thegundruk(at)gmail.com
Sources: Wikipedia; Washington Post; Underwood garden; Salon
Szechuan button/Gorakhpaan Achaar Recipe
Here is an very simple recipe using Szechuan button…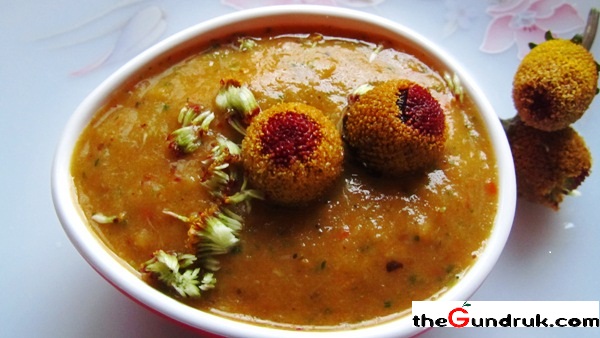 Ingredients: 4 Szechuan button, 5-6 cherry tomatoes, coriander leaves, salt, cumin powder, 2 cloves of roasted garlic, roasted mustard seed oil, red chilies, lemon/lime
Method:
Roast the cherry tomatoes in pan/charcoal and peel the skin
Grind together three Szechuan button, a handful of chopped coriander leaves, one red chilly, half a teaspoon of cumin powder, a pinch of salt, roasted garlic and roasted mustard seed oil. Add peeled roasted tomatoes in and grind further until it becomes smooth paste.
Squeeze half of a lemon juice. You may add lemon zest to add more aroma that comes from the essential oil in the lemon skin.
Take one Szechuan button and shred/peel the florets using small knife and your finger, for garnishing the pickle/achaar.
And now you have a mouth tingling tangy achhar. You may add roasted sesame seed, mustard seed, pumpkin seed or peanuts for more flavors. You can eat this with rice and curry, or use as dipping sauce for momo/dumplings, chapattis, pakauda etc.