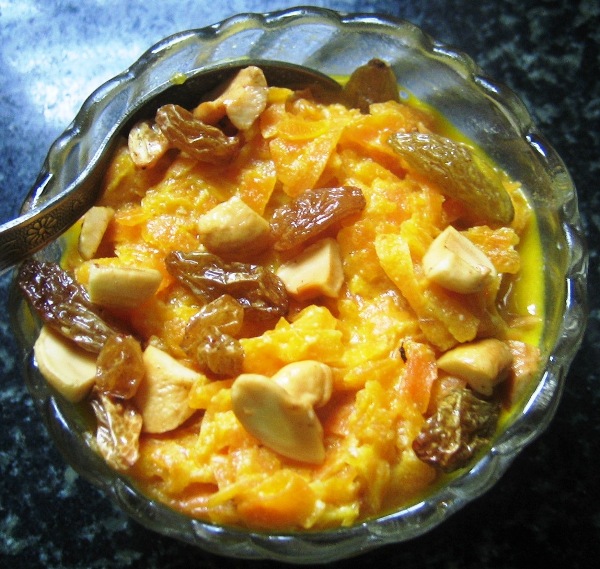 Ingredients
½ kg carrot
½ cup ghee or butter
½ small cup grated coconut
100 gm raisins
100 gm cashew nuts
1 litre milk
½ cup sugar
Method
Clean the carrots with cold water and peel off the skin using vegetable peeler. Grate the carrot with the help of vegetable grater.
Grate the coconuts. Cut the cashew nuts into small piece using knife.
Heat a tablespoon of ghee or butter on the pan and fry raisins over low heat till they puff up. Remove the raisins from the pan and fry the cashew nuts over the low heat until they become brown in color. Remove cashew nuts from the pan.
Heat ½ cup of ghee or butter in pan and put the grated carrots into on the pan and stir continuously with the help of spatula.  Cook the carrots over low heat for 15 minutes until it becomes soft.
Now add the coconut and stir. Add a litre of hot milk and sugar (according to your taste), stir uniformly and cook the mixture for 10 minutes over low heat.
Let the cooked haluwa/pudding cool for few minutes. Put the haluwa into a bowl and topped it with fried raisins and cashew nuts. You may also add other kinds of nuts you like such as almonds, pistachios etc. and cardamom for the flavor.
(Recipe by Aakriti Poudel)