Bara Wo is delicious lentil pancake. We can make from any type of lentil like black lentil, green lentil or any other type. Newars from Kathmandu valley use this occasionly. Specially for some happy occasions like wedding, ceremonies, birthdays. It is used with other food. It is used with Newari set lunch called 'Samhebaji'. For occasions like birthdays and wedding it is used for good-luck called 'Sagun'. In sagun set there are some fried eggs, some fried meat, fried small fish and bara Wo of course. This set of sagun gives luck to the special person, that Newars believe.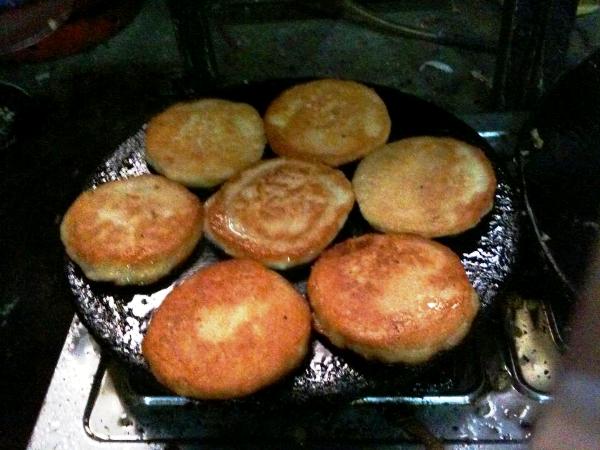 Ingredient 
(For about 10 pieces)
1/2 kg dry lentil (black lentil or any of your choice)
2 tbs of garlic and ginger paste each
Salt as your taste.
Vegetable oil (any type, roasted mustard seed oil is preferred)
1 cup of chopped green garlic leaves or chopped green coriander
Method
We need to soak over night for dry lentil. Then let's peel the skin from lentil. To peel it's skin keep in a big bowl and put that soaked lentil with some water. Then take some on your palm full then rub with your both palms. You repeat it for some time then pour down only water to another bowl. Skin from lentil will go with water. So this is the way we do in Nepal to peel lentil for Bara. Repeat this peeling until most of the skin goes away then blend that lentil.
When we blend lentil we need to be careful to make it as a paste. It shouldn't be liquid or very thick.
Now in the blended lentil add salt as your taste and the paste we made of garlic and ginger. Put chopped green garlic and coriander.Then mash or stir it properly.
Now it is ready to cook, Take a pan and make the heat medium. Put some oil and cook it on a pan making like a pancake. Size of lentil pancake Bara , you can make as you wish to make. You can make like in the picture above, or smaller or bigger. When one side is bit brown turn it to the other side. While cooking in this way you need to add some oil around the Bara with a spoon to cook it properly. Turn it in to the first side once again. To turn it to sides you need flat spoon.
Now you can serve it hot to eat. It is delicious when it is hot. If you want to make it different type of Bara, yes, you can . Just add some eggs in the mixture or some blended meat, then cook it in a pan same as we have done before.
If you like it as deep fried, making lentil paste is the same. But paste should be more thicker than we made before, Then put some oil on your palm to make Bara, take some in your palm and make it in shape like round cake with a hole in the middle then cook it in hot oil.When it seems brown it is ready.
(Photo and original recipe by SaSaa: The Newari Resturant)