Festive season has begun. During Dashain and Tihar, Gadeko Kankro ko Achaar (Pickled cucumber), also known as Khalpi, is one of the most have dish, and has become part of our festive food culture. The pickle is made from local variety of cucumber called Bhadaure Kankro, which has thick brown rustic skin when fully ripe. It is harvested in the months of Bhadra, Asoj and Kartik (August, September and October). It is normally large in size and can weigh up several kilograms. Many Nepali communities generally make it at least 2-3 days before the main festival day to provide time to ferment or pickle and eat them together with other festive food items: masu, chiura, Seroti as a relish. While these festivals are observed by heavy consumption of variety of delicacies including meat, this pickled cucumber eases digestion.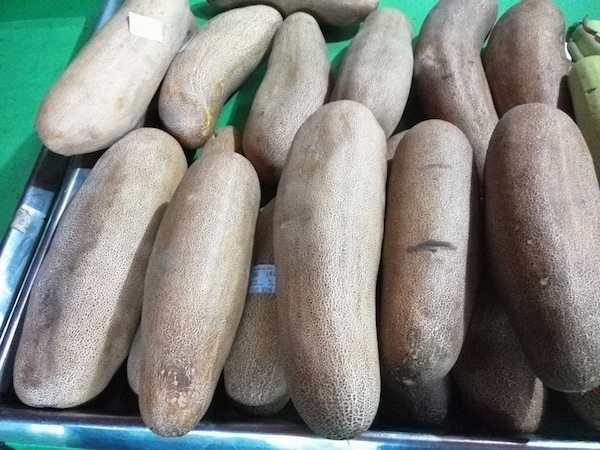 Here is a very simple way of making the pickle. You need a clean sterile glass jars for storing pickle.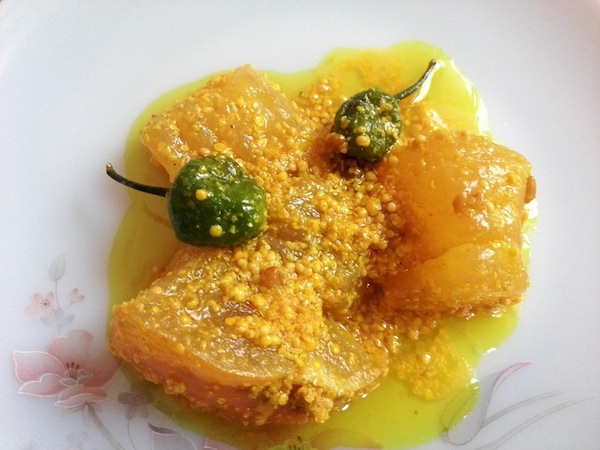 Ingredients
1 medium size Bhadaure kankro
8–10 Dalle khursani (Himalayan round chilies) or a handful of fresh green/red chilies
½ cup Mustard seeds (very coarsely ground)
1 tbs Red chilli powder
1 tsp Turmeric powder
1 tsp Fenugreek seeds
Salt (or according to your taste)
½ cup Vegetable oil (preferable non-refined mustard oil)
Methods
Wash the cucumber with clean water and let it dry. Cut the whole cucumber into elongated slices (around 6-8 based on the girth) and remove the soft pulp parts using knife. Save the juicy pulp in a bowl for making salad later.
Make incisions every 0.5 cm interval in the soft flesh and cut it into large chunk in every 3-4 cm as show in the picture below. These incisions help in drawing moisture from the cucumber chunks quickly and also absorbing spices inside. Also cut the chilies in half.
Dry the cucumber chunks and chilies in the direct sunlight for a day or two to drain some moisture out. This helps last the pickle longer and retains nice crunchy texture.
In a large bowl, add the partially sun-dried cucumber and chilies, coarse mustard seed grounds, red chilli powder and salt, and mix them together thoroughly with your clean hand.
In a small pan, heat around 5 tbs mustard oil or vegetable oil, fry fenugreek seeds and add turmeric powder. Turn off the heat, pour the oil in the bowl and mix them together using your hand.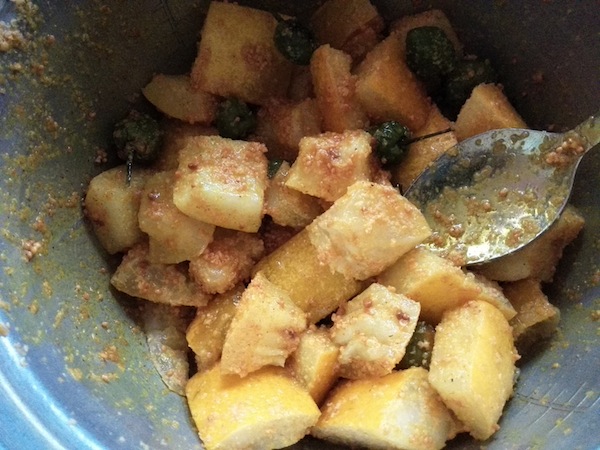 Put the mixture in a large clean sterile glass jars. Make it compact using spatula or spoon and add some vegetable oil in the jar. Keep the jars in the sunlight let it ferment for 2–3 days. In a couple of days, the cucumber will be fermented and ready for consuming. It can be stored for several weeks to months without refrigeration.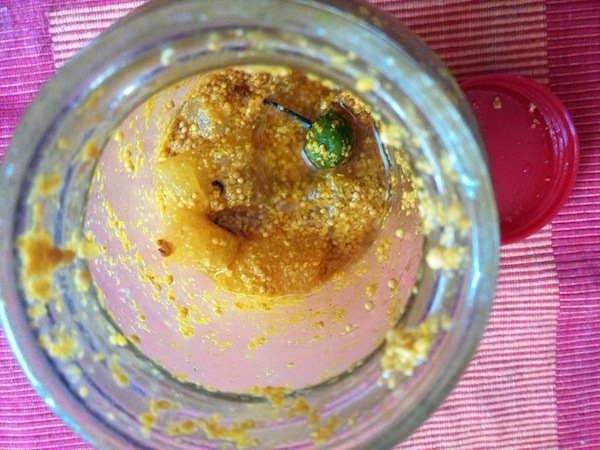 The pickle has peculiar sourness from fermentation, chunky yet soft texture, and heat and kick from chilies and mustard.
(Note: Please clean and sterile all the equipment- bowls, jars, spatula- using hot water. This prevents formation of molds in the pickle)
For making salad from the soft pulp, first remove the seeds. Add some chopped onion, green/red chilies and fresh coriander leaves; add little turmeric powder, cumin and coriander powder, timmur and salt. Mix them together. This makes refreshing salad.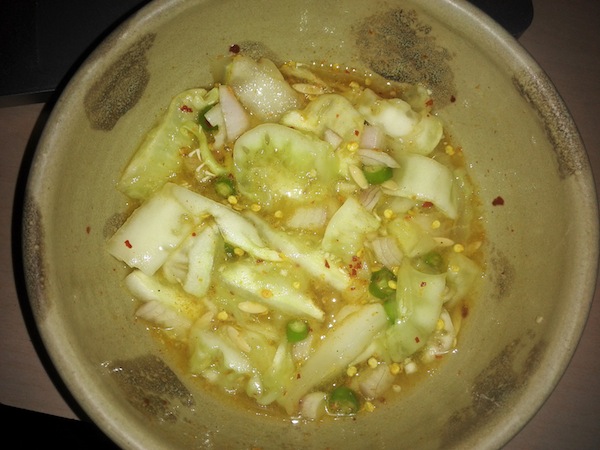 More information on Bhadaure Kankro: Taste of Nepal