There is different energy, vibe around the Boudhanath stupa (originally known as Khasti chaitya). Not sure if it is because of the preconceived notion relating to Buddhism, but you feel calm and meditative. Despite all the crowds and noise, you feel like finding selfness and peace within. The environment is lively- devotees making kora around the stupa, visitors strolling around and taking pictures, vendors selling local foods and handicrafts, and I will be just watching the time passes by if not eating the local foods.
Many people may not realize but Boudha has a very different and interesting food scene reflecting the culture and tradition of a large number of Tibetan, Sherpa, Tamang and other mountainous communities living in the area. It also reflects how rich and diverse Nepali food culture is. Every time I visit Boudha, I try to explore new local food and learn more about it. This time after a whole day of cycling (Kathmandu Kora Cycling Challenge), I ended in Boudha as usual and looked for this Sherpa dish known as Rildok that I have been wanting to taste it for so long.
There is a small alley in the western side of stupa next to Himalayan Java leading to few small eateries serving delicious Sherpa and Tibetan dishes. Look out for the signboard saying 'Solu Sherpa Khaja Ghar' at the entrance.  A thumb rule to find the local taste is to enter the alley and find out the small not-so tidy eatery packed with locals and usually devoid of tourists. They are also not usually featured in tripadvisor— want good local food, avoid tripadvisor. As I entered the alley, I could hear the heavy sound of pounding.  That's how you know fresh authentic rildok is being prepared. Rildok is a traditional Sherpa soup with pounded potato dumplings. The mountainous potatoes are boiled and then pounded hard in a large wooden mortar with a heavy wooden pestle until they turn soft and silky. Then they are made into small dumplings and cooked in simple onion, garlic, and tomato soup.
Read:
Eat in Boudha I- Tibetan and Sherpa Cuisine
Eat in Boudha II- Tibetan and Sherpa Cuisine
This is the very first time I was having rildok. The potato dumplings were very light and soft enough to melt in your mouth. The simple soup prepared from the onion, garlic, and tomato provides essential flavour to the dish. Sprinkle some timur and chillies to add more flavour. I find the rildok so delicious and satisfying that I went back after an hour to have another bowl of it.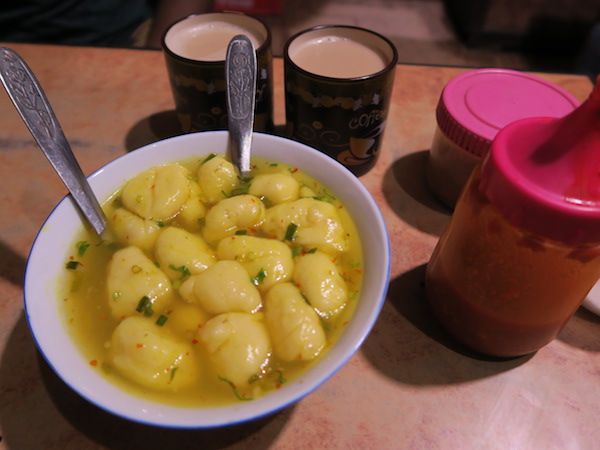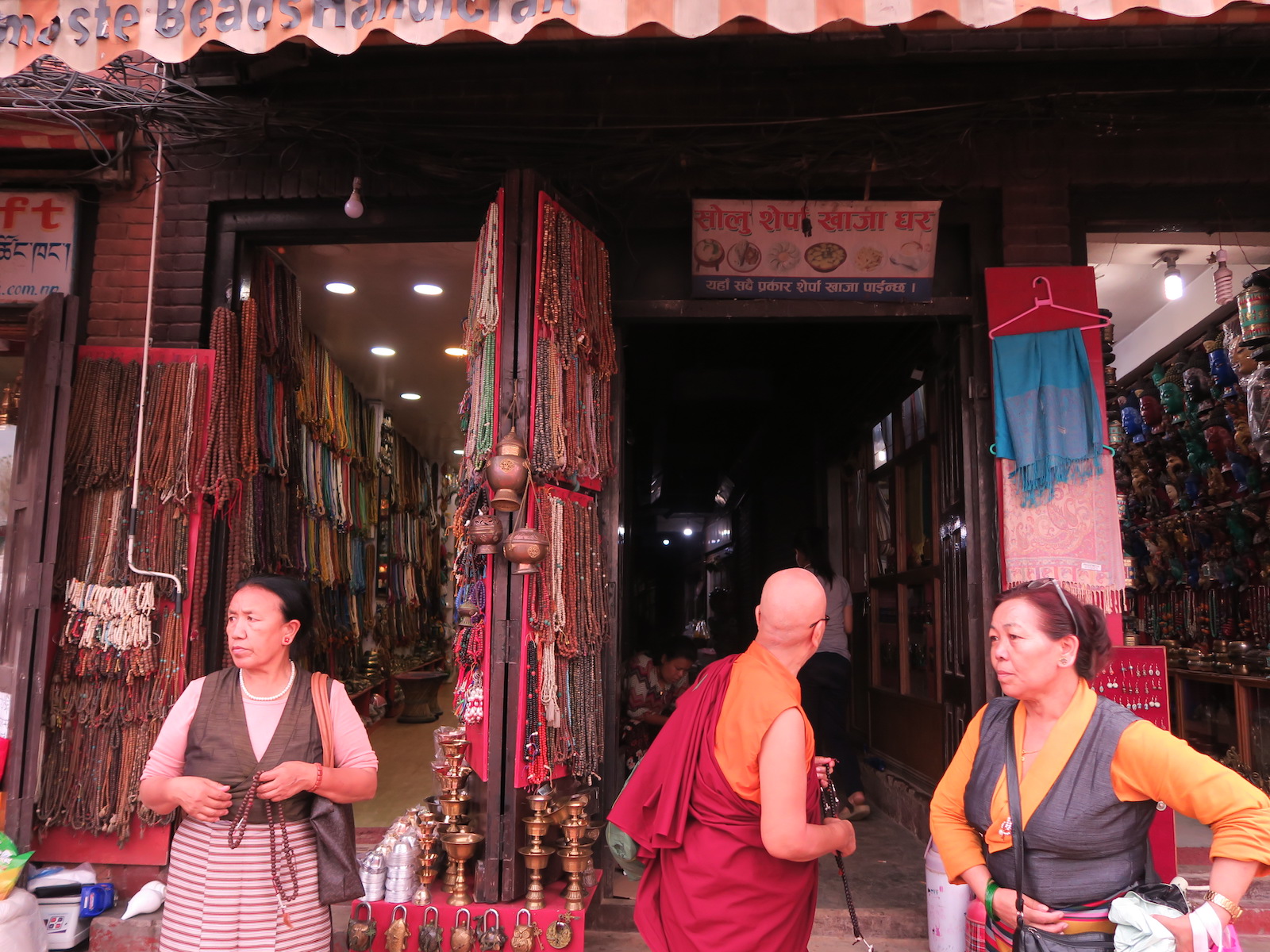 Also, I had the best rikikur, a Sherpa potato pancake, in this small eatery Himalayan Sherpa Food House. Freshly prepared potato pancake was served with yak butter and serkam– a sauce prepared from a fatty layer of boiled whole milk, spring onion, green chilies, coriander leaves and salt. Oh, the potato pancake with butter and the sauce is heavenly when eaten hot.
Phalgi, a winter soup or stew, prepared from dried green maize, local beans and meat (often the dried meat with bones) is another Sherpa dish you should try in this place. Try the eatery next to Himalayan Sherpa Food House for phalgi. But sadly, it is only available during the winter. Now, I can't wait for winter to come.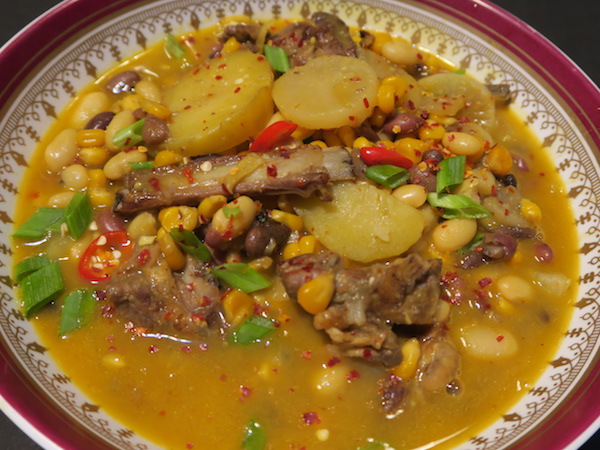 Food culture of Tibetan and Sherpa are often perceived to be the same, which is not true. Although Sherpa has the same roots, religion, and heritage to Tibetans, they have developed their own distinctive food culture and cuisines. When I was there, there were few Tibetan women coming to taste the Sherpa dish. They told that the Sherpa dish is very different from Tibetan dish and have never heard about rildok, rikikur or phalgi. Whereas shyabhalep is more of a Tibetan dish than Sherpa's.