Many Nepalis confuse timmur with sichuan pepper and often use the terms alternatively. Timmur and sichuan pepper (the red one commonly referred to) are cousins, they both have numbing characteristics but have entirely different flavor profiles. There are more varieties around the world. Timmur (Zanthoxylum armatum) is dark brown in color and has a strong citrusy flavor whereas sichuan pepper (Zanthoxylum simulans; hong huājiāo in Chinese) is reddish-brown in color and has a flowery herbal flavor. Sichuan pepper generally has a stronger numbing sensation than timmur.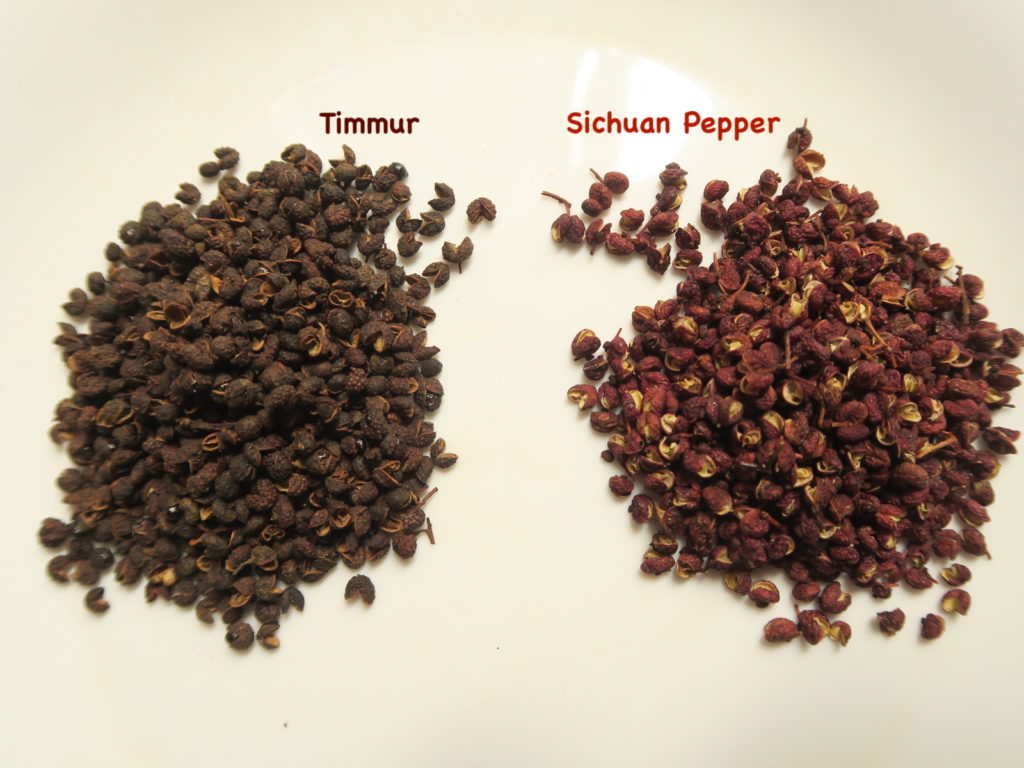 Timmur is found wild in the mid-hills across Nepal. However, it is not just limited to Nepali territory; It is also found in Northeastern India, Yunnan, and as far as Northern Thailand (not sure exactly if the same variety but they have citrusy one). Nepalis, in the hills and mountains, use timmur mainly in flavoring achaar. Timmur slightly roasted in a pan and ground together with salt, chilies, garlic, and roasted tomatoes makes the popular achaar in Nepal.
Not many know, sichuan pepper is also found wild and consumed in Nepal, in Solu and surrounding regions. Sherpas call it "airmong" and use it to flavor soups, noodles, and achaars. Young green airmong are also preserved in oil and salt.
In Sichuan and Yunnan region, sichuan pepper (huājiāo) is extensively used in their cuisine. They even have a specific word for taste that comes from sichuan pepper and chili together "mala" meaning "numb and spicy". Some popular Sichuan dishes that use sichuan pepper are mapo dofou, sichuan hotpot, liangfen.
There are even more Zanthoxylum varieties around the world.
The other spice known as siltimmur (kattabasi in Newa) found in the eastern mid-hills is not related to timmur. It also has citrusy flavor and its scientific name is Litsea citrate.
Tips for storing timmur and sichuan pepper:
It's better to store timmur and sichuan pepper whole than grounds. If you grind them, the flavor degrades much faster. In case you want to grind them beforehand for ease, mix the grounds with cooking oil to form a paste and put it sealed in the jar. Oil helps to preserve the flavor and aroma for a longer time.