Do not throw away seeds of pumpkin. Clean, dry and store them. Roasted pumpkin seeds make delicious achaar or chutney- one of my favorite. Earlier I have posted recipes of various types achaar made from roasted tomatoes. Pumpkin seeds are good source of protein and various minerals such as manganese, phosphorous, magnesium, copper, zinc and iron. The roasted pumpkin seed achaar is popular among indigenous communities of Nepal such as Magar, Rai, Limbu etc.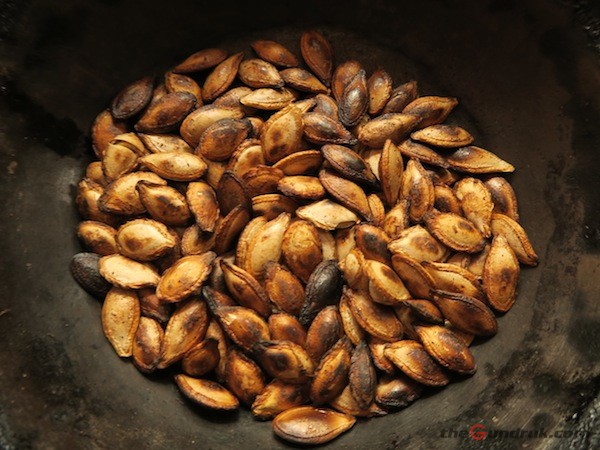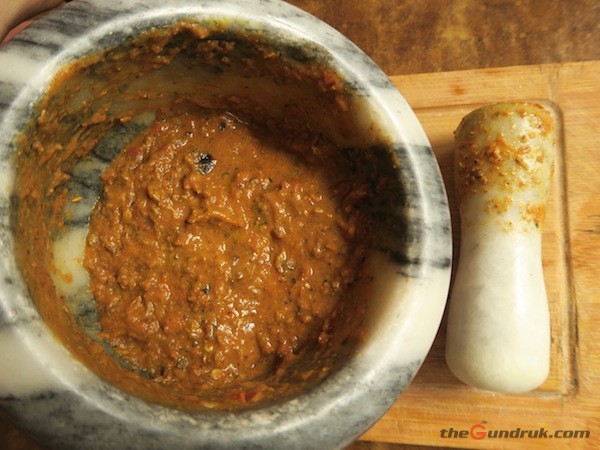 Ingredients
1 cup Cherry Tomatoes or 2-3 medium size Tomatoes
2 tbs Pumpkin seed
½ tsp Szechuan pepper
2 Garlic cloves
1-2 Fresh Red Chilies
Salt
Lime
Method
Roast pumpkin seeds in small cast-iron skillet or pan until they pop out and are brown. Cover the pan with lid to stop seeds to bounce out and keep the pan in constant motion so that the seeds are evenly roasted. Transfer the seeds to mortar and pestle, and let them cool down.
In the same pan, roast tomatoes. Turn off the heat and let them cool down.
In mortar and pestle with roasted pumpkin seed, add some salt and Szechuan pepper. Grind them together until they are fine.
Add red chilies and garlic cloves, and grind them to paste. And then add tomatoes and grind them together. Add some lime juice.
The achaar is ready. It has nutty and smoky flavor.  You may serve it as a side dish with Daal Bhaat Tarkari or Roti. You can even make it dipping sauce for momo.