Many of us might know little about these underground mushrooms, but are popular in western Terai. The common name of these puffballs looking wild mushrooms is Phutki or Bhutki Chyau ((Schleroderma sp.). It generally grows in Sal (Shorea robusta) forest and harvested during early monsoon season.  It is also reported that forest fire is set by ethnic groups to collect Phutki mushroom [1]. As this type of mushroom grows under soil, it needs to be washed several times before cooking. They are very found to be very delicious to eat and has unique flavor and texture… the reason why people doesn't bothered to clean this with water at least a dozen times before it is ready to be cooked. It is generally cooked as other vegetables or mushrooms.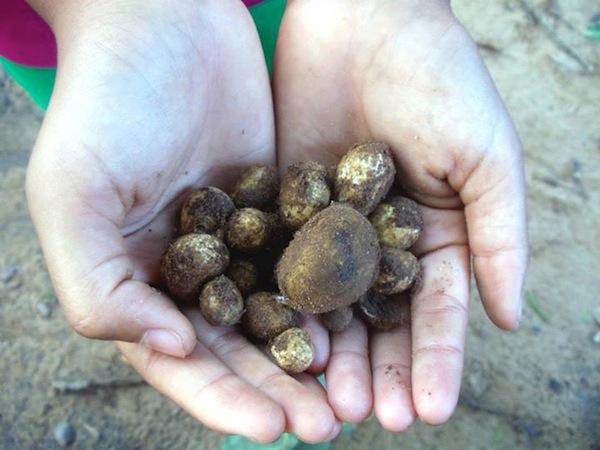 Now they can be found selling in the roadside in western Terai and midhills having Sal forest. It is comparatively pricey than other vegetables. The price may range from NRs. 350-500 per kg.
If you have more information about Phutki/Bhutki  Chyau and local recipes of these types of mushrooms, please leave a comment or do email us at thegundruk(at)gmail.com.
[1] FAO (2006). Global Forest Resources Assessment 2005 – Report on fires in the South Asian Region. Fire Management Working Paper 14. www.fao.org/forestry/site/fire-alerts/en