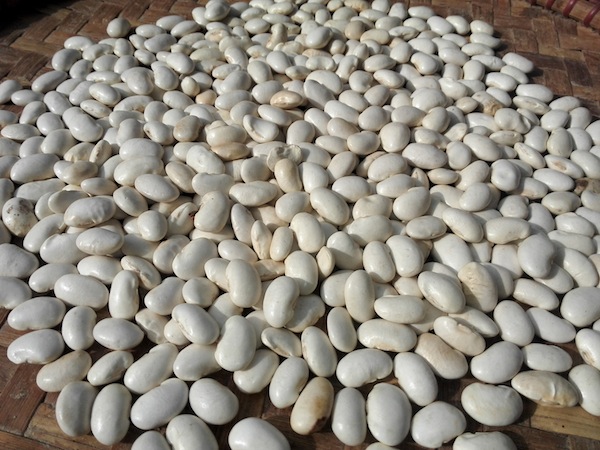 Lukla Simi is one of my favorite varieties of beans. The name is derived from the place: Lukla region of Solukhumbu district – gateway to Mount Everest. The flavors of the vegetables and beans grown in high altitude are generally superior to those grown in lower altitudes. It has creamy texture and sweet flavor when cooked. Here is how I make its curry or soup- simple and easy: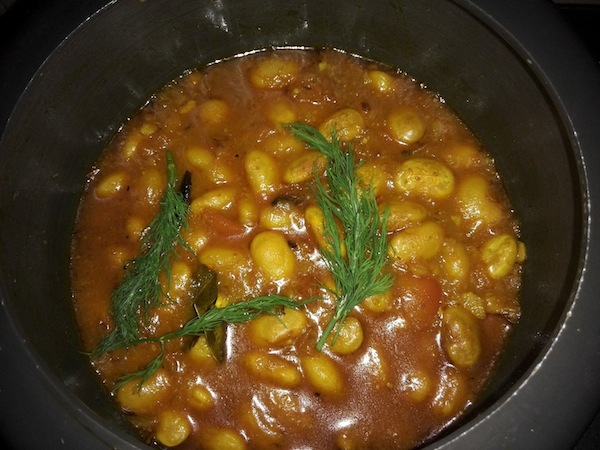 Ingredients
2 cups Lukla Simi (beans)
1 cup Chopped Tomatoes
1 medium size Onion (finely slices)
2-3 Garlic cloves
Small Ginger
2-3 Dried Red Chilies
2-3 Cardamoms
2-3 Cloves
1 Cinnamon stick
2-3 Bay or Cassia leaves
1 tsp Cumin powder
1 tsp Coriander powder
½ tsp Turmeric powder
½ tsp Black pepper (coarsely ground)
2-3 tbs Vegetable Oil
Salt
Fresh Coriander leaves or Dill (for garnish)
Method
Soak two cups of Lukla simi (beans) overnight in around four cups of water.
In a pressure cooker, heat 2-3 tbs of vegetable oil and add dried red chilies, cardamoms, cloves, cinnamon stick and bay or cassia leaves and fry it for around half a minute. Then add sliced onion, smashed and finely sliced ginger and garlic. Cook it until they are light brown.
Add turmeric powder and then chopped tomatoes, salt, cumin powder, coriander powder and black pepper. Cook with frequent stirring, until the tomatoes are cooked and melt down.
Then add soaked and drained beans, stir and cook it for around two minutes. Pour 2 ½ cups of water, put the lid-on, turn down the heat to lowest and pressure cook it slowly for around 45 minutes. If you are not using pressure cooker, you have to cook it for around 90 minutes or more.
Turn off the heat and let it cool down by it's own. It will take around 10 mins. Take off the lid and you can add some water if you want. You can also add some garam masala to give the heat and enhance flavor. If you are adding some more water, bring it to boil without the lid-on. Then garnish with some fresh herbs such as coriander or dill, and serve it hot with steamed rice or breads.