Kaguno (foxtail millet) is cultivated in high-hills and mid-hills of Nepal. It is mainly cultivated in the Karnali region, and also in Kaski and Lamjung districts [1]. As more and more people have shifted to rice as a staple, Kaguno has now become neglected grain, and its production is declining. One of the important characteristics of the grain is that it can easily grow in an arid region with low soil fertility. When cooked, it has very soft texture, a bit of sweetness, and is delicious to eat. Apparently, it has more protein content than quinoa, and rich in fibers and minerals. If such neglected grains can be promoted, it will address the issue of food security in Nepal, especially in areas such as Karnali which is supposedly a food-deficient region.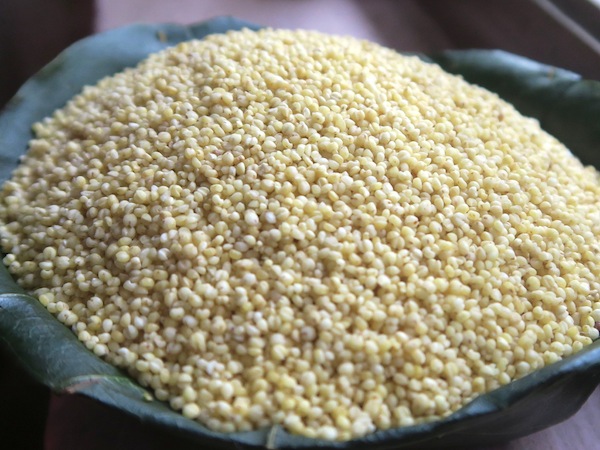 Found that it makes a very good salad and a good locally produce alternative to imported expensive quinoa. Try using roasted mustard oil (a key ingredient used in Newari cuisine) for dressing, which has a nutty and smoky flavor, lightly pungent punch and aromatic.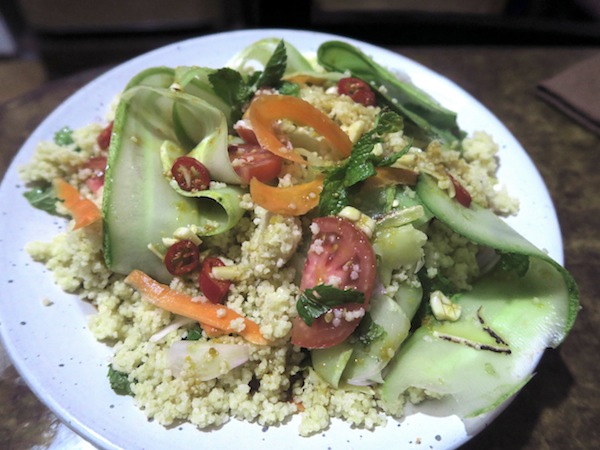 Ingredients
½ cup Kaguno (Foxtail millet)
1 medium size Cucumber
1 medium size Carrot
1 small size Onion
2-3 medium size Tomatoes
Cheese (optional)
1 tbs Vegetable Oil
A handful of Fresh Mint
Pinch of Salt
For dressing
3-4 Garlic Cloves
1 Red Chili
1/2 tsp Black Pepper grounds
1 tbs Honey or Sugar
3-4 tbs Roasted Mustard Oil
1-2 Lemon or Lime
1 tsp Salt
*servings for 3
Method
Wash a half cup of kaguno couple of times to remove impurities. Soak it in water for about 15 mins. Drain the water out. Boil it with about a cup of water, pinch of salt and a tablespoon drizzle of vegetable oil in low-medium heat for 10 to 12 minutes with lid on. When cooked, stir it with a spoon to make sure it doesn't form big lumps, and let it cool down.
Peel the cucumber (not watery core) and carrot into ribbon strip using a potato peeler or cut it into the size you want. Cut tomatoes and onions. Put all cut cucumber, carrots, onion and tomatoes, and cooked kaguno in a large salad bowl. Throw a handful of fresh mint leaves, and shredded or sliced cheese if preferred. You can also add fresh rayo saag (broad mustard leaf) or any other salad greens.
For making dressings, place roasted mustard oil in the bowl. Then add finely sliced garlic and chili, black pepper grounds, honey or sugar, salt and lemon juice. Mix it vigorously using a spoon to make dressings.
Pour the dressing evenly all over the salad. Mix it lightly and serve.
If you want to buy organic locally produce Kaguno in Kathmandu: Check Kathmandu Organics (online store)!