I am not a coffee expert but trust me, you don't really need expensive coffee roaster and coffee maker to make a good cup of coffee at home. Roasting green coffee beans simply requires heat. You can roast your green beans at home… you just have to make sure that the beans are evenly roasted. If you love coffee, roasting your own green beans may be therapeutic too. Brewing a cup of coffee made from freshly roasted coffee beans is heavenly.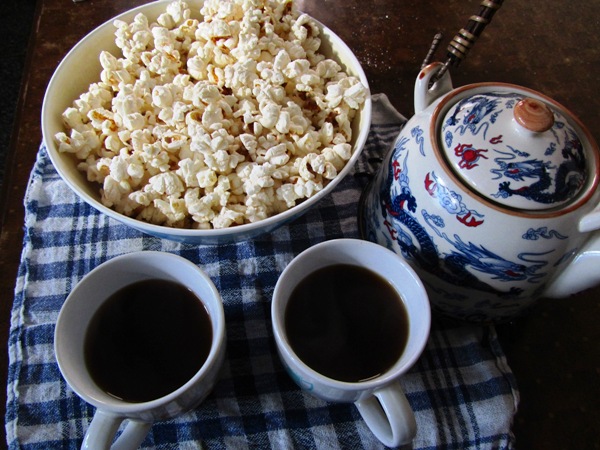 Here is the simple method of roasting and grinding beans and brewing coffee in your kitchen:
Roasting
You need regular frying pan or cast iron pan or kasaudi (metal with narrow neck traditionally used for cooking rice and curry) pot preferably with thick base for roasting beans.  Clean it properly (twice or thrice if needed with hot water) to make sure that there is no residual flavor. From my experience, kasaudi is better than the pan as green beans are more evenly roasted and also usually have a thick base.
Start by heating pan or kasaudi on medium heat until the pan is really hot. Add 2 cups of green beans and stir the beans constantly with spoon or spatula. Beans must be agitated continuously for an even roast.
After around 10-11 minutes of roasting, the beans start to make a first crackling sound. At this time the beans will start releasing the aroma. You will also see the beans shedding out its light weight outer skin (chaff) while roasting.
Continue stirring. After about 2-3 minutes, you will start hearing series of crackling sound and start smelling the charred coffee aroma. Check the color of coffee beans frequently and roast the beans until they reach your desired roast color. I prefer dark roast.
Once the beans are roasted to your desired color, remove from the heat immediately and transfer to large metal colander or plate to cool. Stir the beans continuously to speed the cooling process and also removing the chaff. It should be cooled as quickly as possible. The coffee beans will continue to roast from residual internal heat even after removing the heat source.
To remove the remaining chaff, massage the beans with your hand and you can simply blow the chaff by tossing or you can use your hair dryer to blow off the chaff.
Resting
Fresh roasted beans reaches its peak flavor and aroma in about 24 hours after resting. A 24 hour rest period is not necessary but is preferred by many coffee lovers to allow the beans to fully develop their flavor and aroma.
Grinding
Grind the whole roasted coffee beans in a regular blade grinder. You can also grind it manually in mortar and pestle (make sure it doesn't have any spice flavor from previous use). Avoid grinding the coffee too fine- better it has sandy texture. Too finely ground coffee will expose too much surface area to the water while brewing and produce bitter and harsh taste. It will also slow down the filtering.
Brewing
You don't really need sophisticated, expensive coffee maker or brewing machine to make a good cup of coffee. The most important is a freshly roasted coffee beans.
You can simply use coffee filter or teapot or regular pot (with lid) to make tea. I use a kind of clever drip filter with the metal filter (no need of filter paper). Put the desired amount of coffee powder in the coffee filter or mess of the teapot (usually about two tablespoons per cup) and pour hot water slowly. Leave it to brew for 3-4 minutes with the lid on. You may also add very little amount of salt which will help to suppress the bitterness of the coffee while drinking.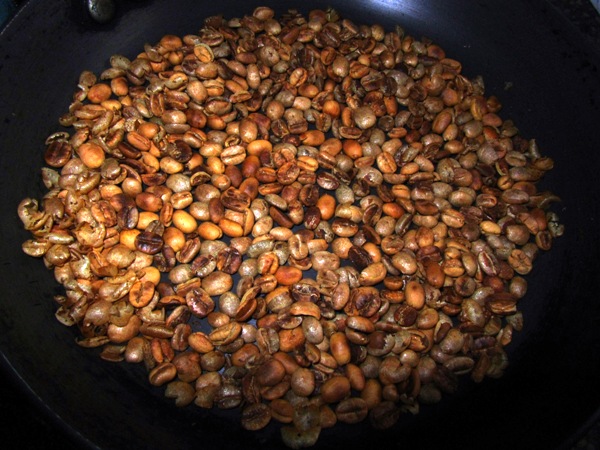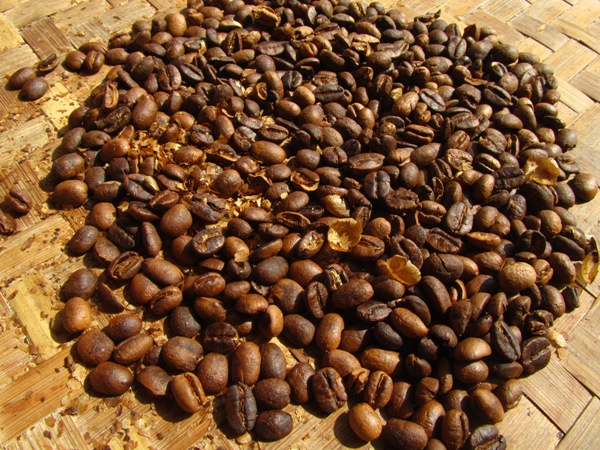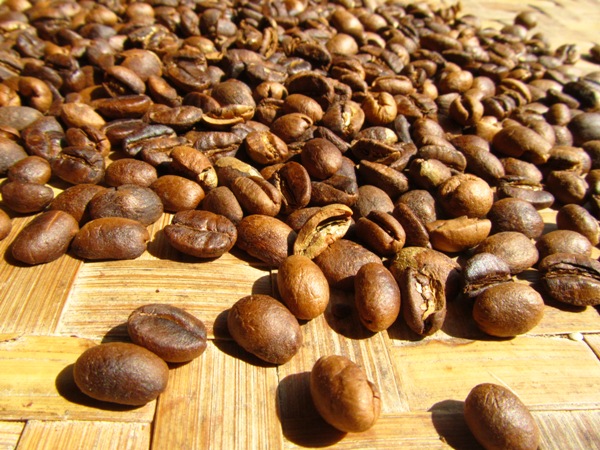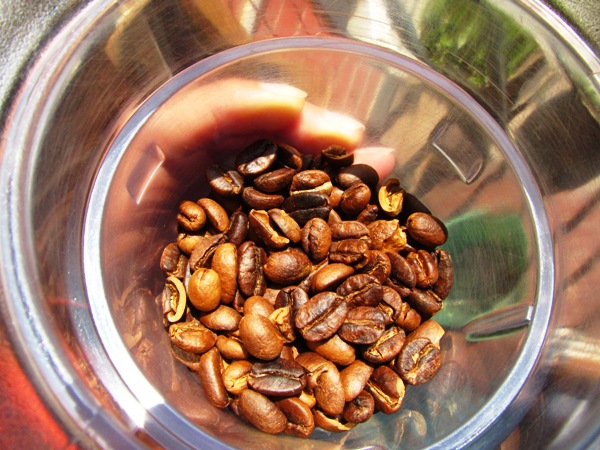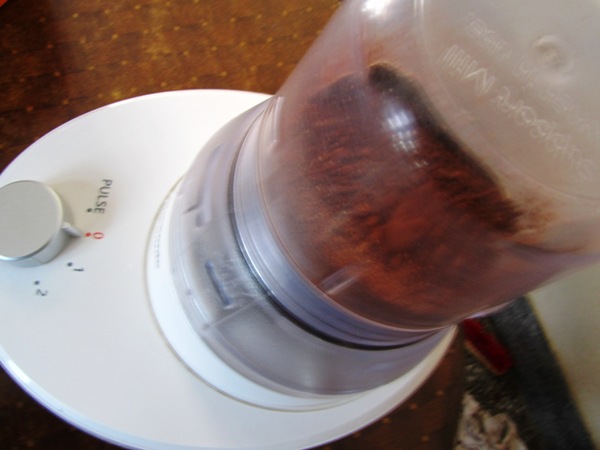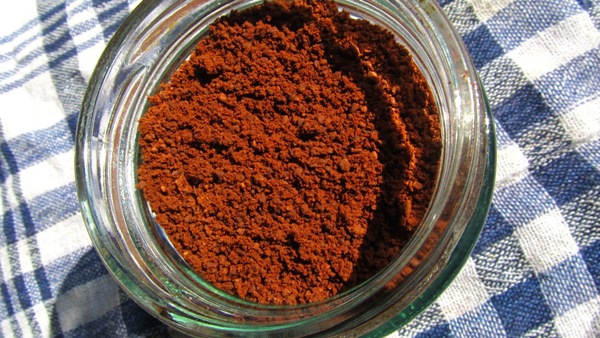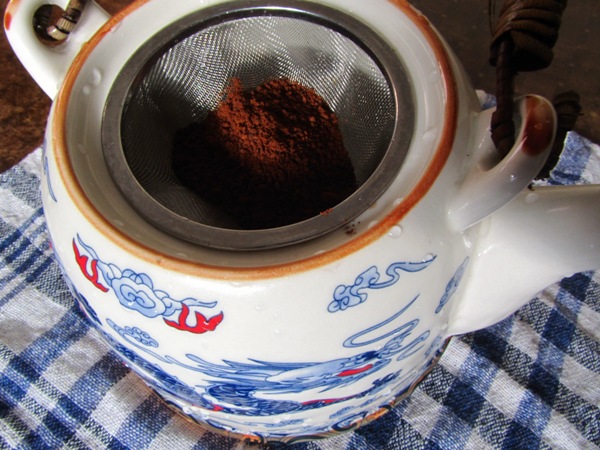 Believe me nothing smells quite as good as aroma of freshly ground coffee. Here is why I encourage you to make your own coffee from freshly roasted coffee beans rather than buying commercial coffee powder or roasted beans. The aroma and flavor of the coffee beans will degrade with time. So it's better to roast coffee beans at home needed for a week.
 Coffee Roast Style Chart
Roast Color

Name of Roast

Bean Suface


Ave. Bean Temp.
(at end of roast)

Acidity

Body

Aroma

Sweetness

Comments

380- 400 oF

"First crack"

Very light roast that is rarely used. Can taste grainy and sour.


Medium light Brown/ American

400- 415 oF

Common roast in eastern US

415- 435 oF

"second crack"

Common roast in western US

Medium-dark brown/ Full City/ Viennese/ Light French

435- 445 oF

Common roast in Pacific northwest

Dark brown/ French/ Espresso

445-460 oF

Common roast for France and Italy

Very dark (nearly black)/ Dark French/ Spanish

460- 480 oF

Burned tones are distinct or even dominate. Not popular in the US.
*Note: the above colors may not be accurate due to color changes that can occur with individual computer and web browser settings.
Reference: http://www.breworganic.com/coffee/howtoroast.htm