Winter is here, and to keep the body warm, Newa in Kathmandu has culture of making and celebrating chaku integrating to the winter festivals. Chaku traders are now busy making the chaku, and it is still made in a traditional way.
Chaku, a jaggery taffy, is typically Newa. Sugarcane jaggery is boiled until caramelized and then its warm sticky mass is pulled and stretched hundreds of time to make smooth shiny chaku. It is a laborious process. The stretching-pulling changes the color from dark to brown, makes it glossy, and aerates to make it light, brittle and chewy. Caramelization helps in creating this light bitterness that balances the sweetness of jaggery.
There is no evidence that when and how the culture of chaku developed or introduced in Kathmandu Valley. It is not just Kathmandu that has the culture of making taffy. My friend from Mustang told me that there is even culture of making taffy in Mustang, which is only made during the festival and locally known as ghorang. Jaggery is one of the oldest forms of sweeteners and was produced in Indian subcontinent for thousand of years—before 600 BCE. Historical evidence suggests that there is considerable area with sugarcane farming in Kathmandu too—the name of the place 'Tukucha besi' came from the Newa word of sugarace and even the older name 'Icchumati' came from the sanskrit word for sugarcane, ichhu. While the culture of making jaggery and crystallized form sugar might have come from India, the know-how of making taffy (fanid) probably came from Iran. If so, how did the Newa adopt the culture? Did it travel via south or north? Is the tradition of a version of making chaku with khuwa and nuts essentially of Newa origin? How was the idea of putting chaku in yomari came—was it inspired from the modaka, one of the early sweets in Indian sub-continent and with mythical story linked to lord Ganesh?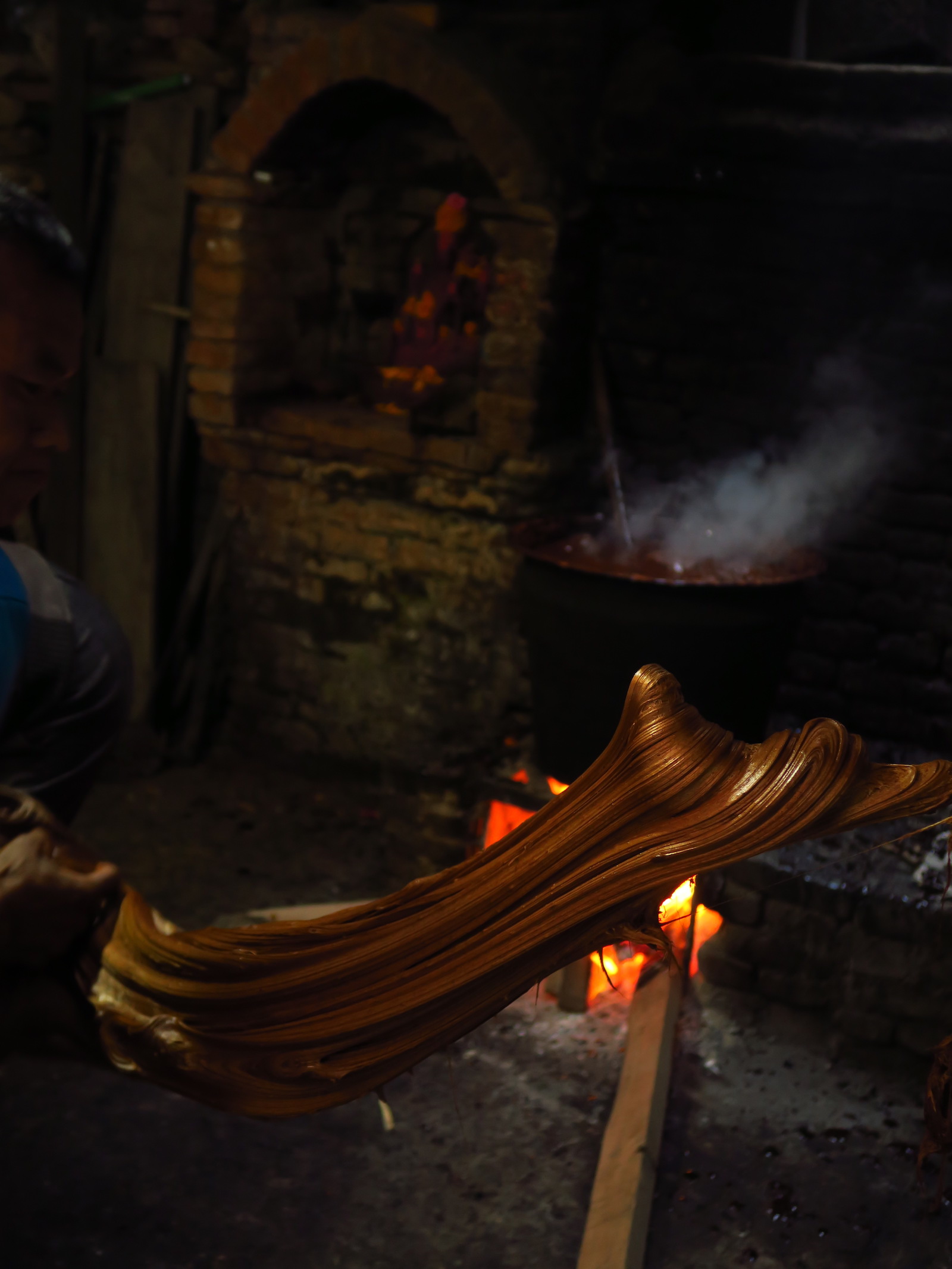 Note: Photos were taken at a small several-generations-old chaku making factory at Tangal, Patan.